Londonderry, New Hampshire
Pro Star Aviation marks 25 years as New England's premier MRO
Pro Star Aviation, an innovative Business Aviation and Special Missions aerospace maintenance and modification center, proudly announces its 25th anniversary, highlighting a remarkable journey of growth, innovation, and unwavering commitment to exceptional service.
Since securing hangar space at Boston-Manchester Regional Airport in 1998, Pro Star Aviation has consistently set new standards in the aviation industry, solidifying its position as a true contender in the Northeast.
Securing key OEM partnerships with Honeywell, Collins, and Universal Avionics at their first Aircraft Electronics Association Convention (AEA) was crucial to their success. Pro Star Aviation set the bar in its inaugural achievement when it obtained its first Supplemental Type Certificate in a Lear 60 in just four months.
This milestone marked a turning point and set the stage for the company's future accomplishments. With a relentless pursuit of excellence and a passion for aviation, Pro Star Aviation swiftly garnered recognition as a trusted and reliable MRO provider.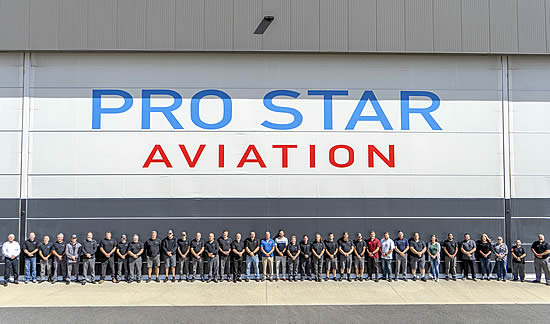 In 2009, Pro Star Aviation's expertise, dedication to craftsmanship, and customer service helped secure the Pilatus Authorized Service Center for the Northeast from a pool of twelve contenders. For Pro Star Aviation, this further solidified its reputation as an industry leader and reinforced its commitment to excellence.
Pro Star Aviation attributes its ongoing success to something far more profound than technical prowess and industry accolades. The core of Pro Star Aviation's triumph lies in its dedication to the "family first" philosophy. Pro Star Aviation has cultivated a company culture that sets them apart by prioritizing its team members' well-being, fostering a supportive work environment, and nurturing a solid camaraderie.
"We are immensely proud to celebrate 25 years of Pro Star Aviation's outstanding contributions to the aviation industry," said Kevin Harriman, Managing Partner of Pro Star Aviation.
"Our unwavering commitment to providing exceptional service, combined with our 'family first' philosophy, has been instrumental in our success. We owe our achievements to our exceptional team, who consistently go above and beyond to deliver exceptional service for our aircraft owners and operators."