Scotland
Loganair celebrates the introduction of new ATR aircraft into Glasgow
Loganair, the UK's largest regional airline, is introducing its first ATR aircraft to Glasgow Airport as part of a multimillion investment to upgrade and futureproof its fleet.
The new ATR-42-600 aircraft which are larger, quieter, and more efficient than the Saab 340s they replace, will operate on services linking Glasgow with Islay, Benbecula, Sumburgh and Donegal from July, followed by Kirkwall and Derry services from August.
These services will benefit from up to a 45pc increase in capacity as the airline aims to offer greater availability of lower fares. The introduction of the ATRs will also enable greater year-round connectivity to domestic and international destinations via Glasgow with Loganair and its interline partners.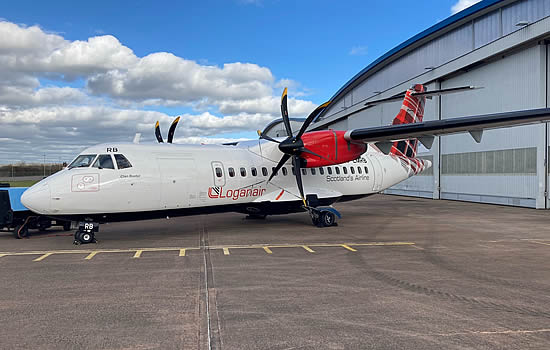 Customers will benefit from an improved cabin experience including larger overhead luggage storage, four-abreast seating, and a quieter, more comfortable flight. Increased hold capacity also supports Loganair's carriage of pets. The airline is the only operator in the UK which charges such a low fee of just £50 one-way for this service rather than a cargo rate which other carriers apply, and which can be significantly higher.
The first of the new aircraft began operations on Monday (3rd. July) with an 8am departure to Islay. The flight was fully booked, indicating that the additional seat capacity will be well-received by island travellers.
The transition to new ATR aircraft on services at Glasgow heralds the ongoing replacement of the venerable Saab 340s. These have been the mainstay of Loganair's island services since their introduction in 1999. Some Saab services will continue until the end of the summer before the airline formally bids farewell to the aircraft which have served its Scottish island services for more than 20 years.
The new ATR aircraft will also serve the Glasgow to Donegal route and selected services between Glasgow and City of Derry.
Jonathan Hinkles, CEO, Loganair, said: "This is a major milestone in Loganair's investment plans to renew our fleet, and it futureproofs the essential air links to Scotland's island communities which is Loganair's privilege to serve. Investment in new equipment has been undertaken by Loganair on a purely commercial basis and without recourse to public subsidy."