United Kingdom
London Oxford Airport has ambitions to be a leading centre for 'green tech' sectors
Seeks to establish a new £35m+ R&D Science Park
London Oxford Airport, the UK's fifth-ranked busiest business aviation airport, is pivoting to offer a prospective new centre for innovation and green tech with a proposed new R&D science park at the entrance to the Airport.
While focused on the burgeoning life sciences sector, it states the new facility would also appeal to new Advanced Air Mobility (AAM) and Urban Air Mobility (UAM) players and their affiliates, championing innovations in motors, batteries, composites, hydrogen, synthetic and alternative fuels, all of which are already evolving in the vicinity.
The estimated £35+ million initiative will aid and encourage the incubation of innovation and tech start-ups and spin-offs, typically from university-inspired projects.
The scheme proposes five new research and development buildings housed in a green campus environment, offering over 200,400 ft². It will feature a stand-alone café facility, within a generous new landscaped courtyard space. The Science Park will offer space for up to 17 tenants with units from around 7,700 ft², up to 56,300ft² for a complete building.
In readiness, the airport has already embarked on demolishing some old buildings, including the former 1960's-era Oxford Aviation Services trainee accommodation block. The project will take an estimated 24 months to complete. Some of the positions will also have airside frontage, potentially more attractive for any aviation-related activities.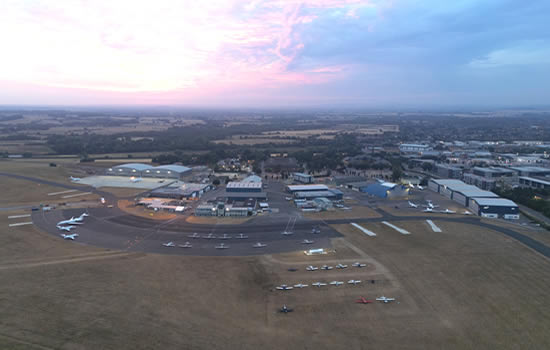 "While Cambridge has arguably been a frontrunner on courting many R&D enterprises and start-ups in the last couple of decades, Oxford has definitely caught up. It's very much the most vibrant, top choice city now for fostering innovation," said James Dillon-Godfray, Head of Business Development at London Oxford Airport. "This new initiative answers some of Oxfordshire's demand for high-quality, laboratory-enabled space for technology and life science companies to grow and thrive."
"The scheme will sit alongside similar developments right next door at the new Oxford Technology Park and Begbroke Science Park, further cementing Oxford's leading position in the life science and R&D research sectors," he added.
Furthermore, PWC has just highlighted "Oxford has been the highest performing city in our Index since 2017" in its Good Growth for Cities 2023 report.
London Oxford Airport - home to several next gen programmes
The eVTOL sector is starting to knock on London Oxford's door, adding to Germany's Lilium (through tenant operator Volare Aviation, which has 10 aircraft on order). Oxford already plays host to a sales office for Textron Aviation with its foray into electric aircraft through Pipistrel and its new eTextron brand. Last year PAL-V International, designers of the world's first genuine 'flying car' took space at Oxford. The airport's largest resident, Airbus Helicopters, has embarked on the building of a brand new £50 million hangar, bringing together all its Oxford activities into one, single, environmentally-efficient facility.
Due for completion in 2024, coinciding with Airbus Helicopters' 50th anniversary, its new site will cover 14-acres. Parent Airbus is advancing with a raft of technological innovations too through its Zero Emission Development Centre in South West UK as it works to introduce hydrogen-powered commercial flights by 2035.
Alternative fuel company OxCCU is new tenant
On the sustainable fuel front, London Oxford Airport is pleased to work new start-up OxCCU, which is developing technologies to create synthetic fuels. To facilitate its research, the company is building a test facility compound adjacent to the airport's new £1.5m fuel farm this summer.