Milan, Italy
Sirio and SEA Prime unveil new state-of-the-art Hangar X at Milan Linate Prime
Sirio S.p.A. and SEA Prime - a company of the SEA Group, which, with the Milano Prime brand, is a leading business aviation airport manager in Italy and in Europe - have unveiled a new, state-of-the-art hangar at Milan Linate Prime airport.
The facility, called Hangar X, represents a major infrastructure growth milestone for SEA Prime and Sirio, a management and maintenance company, which provides the European maintenance services for sister company Flexjet's fleet.
The new 4,700m² Hangar X is the 11th hangar of Milan Linate Prime airport, increasing to 30,000m² the dedicated hangar space at the airport and adds to Sirio's existing leased infrastructure on the same site, giving a total space of 10,625m².
The dedicated maintenance hangar will allow Sirio to expand its capacity and offer the entire maintenance process in one single infrastructure.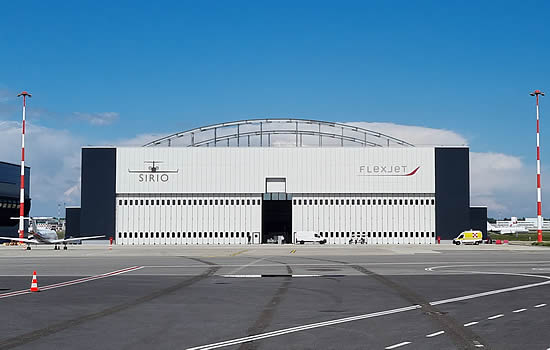 Premium jet operator Flexjet will be a key beneficiary of the increased maintenance capacity, which supports its growing European jet division.
Purpose built as a state-of-the-art base and line maintenance facility, it features underfloor heating, a crane and a design that provides natural light from all four sides to the hangar floor and can accommodate the next generation of business aircraft.
Since it became an Aircraft Maintenance Organisation in 1993, Sirio has grown to provide support for 11 types of business jet, for a wide range of inspections and maintenance solutions.
In addition to Flexjet, it offers maintenance services to a fleet of managed aircraft and selected third-party operators. With its maintenance division comprised of over 40 highly experienced specialists, Sirio almost doubled its maintenance man hours between 2021 and 2022, from 11,500 to 20,000.
Pierluigi Di Palma, President of ENAC, stated: "Today we inaugurate an innovative space that will enable us to intercept new market segments in aviation maintenance, a further demonstration that this sector can look to the future and anticipate the operator's needs.
"Not of secondary importance are the economic and developmental effects: the hangar enables the business aviation activity at Milano Linate Prime to gain more value and to generate employment and economic turnover in favour of the entire territory, increasing the competitive growth of the compartment worldwide."
At the opening ceremony, Armando Brunini, Chief Executive Officer of SEA said, "The new infrastructure at Milano Linate Prime represents an important milestone for the SEA Group in a growing business environment with a highly rated environmental performance, consistently with our Group's sustainability goals."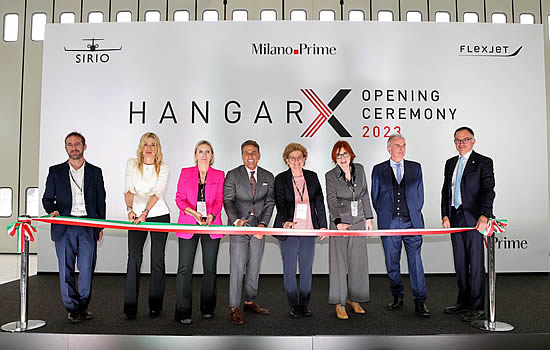 Chiara Dorigotti, Chief Executive Officer of SEA Prime (second from left) Kenn Ricci, Principal of Directional Aviation (fourth from left) Pierluigi Di Palma, President of ENAC (second from right) Armando Brunini, Chief Executive Officer of SEA (far right).
Chiara Dorigotti, Chief Executive Officer of SEA Prime added "SEA Prime's investment follows the double-digit business aviation traffic growth in 2022 of 20% vs 2021, which continues in the first quarter of 2023, and meets the increasing demand for premium hangar space at Milano Prime. We are proud of this new achievement setting the pace for further expansion."
Attending and speaking at the opening ceremony was Kenn Ricci, Principal of Directional Aviation, the parent company of both Sirio and Flexjet. "Aircraft maintenance is a lynchpin of our industry, and it is fantastic to see this truly impressive new facility brought to life, underpinning the next phase of growth for Sirio", he said.
"For Flexjet, having expansive, industry-leading maintenance support within the same group differentiates us based on safety, reliability and efficiency - allowing us greater control over our fleet and dispatch reliability and the ability to offer the very highest levels of service.
"This follows our model in the United States, where we have a fully dedicated in-house maintenance resource for Flexjet, following the acquisition of Constant Aviation earlier this year. Together this gives our global organisation the largest maintenance support structure in business aviation."

Tom Engelhard, Chief Executive Officer of Sirio added: "Thirty years on since we launched our maintenance division, we are proud and delighted to unveil its new home here at Milan Linate Airport. These innovative facilities will allow our team of specialists to provide Sirio's leading maintenance offering to an increased number of aircraft, in an exceptionally efficient way."
The new Hangar X has been designed by One Works S.p.A. and built over a period of twelve months by the contractor Di Vincenzo Dino & C. S.p.A. under the supervision of SEA Group's Design and Infrastructure Development Team.
Under the globally recognised BREEAM (Building Research Establishment Environmental Assessment Method) sustainability standards, the project was awarded a design rating of 'Excellent' and a score of 84.7% for sustainability features, including a wastewater recovery and recycling system and solar energy panels across the entire roof.