Dual Polarization

Chris Moore, President of Satcom Direct, explains how working with long-time partner Inmarsat brings the power of dual polarisation connectivity to business aviation.
How do you get more throughput from your satellite? With dual polarity signals, which effectively double the amount of data transmitted. How does your aircraft access this additional throughput? By connecting with an antenna that can receive dual polarisation transmission.
This is the next high-speed solution we at Satcom Direct are proud to have worked to evolve with Inmarsat.
Inmarsat operates 14 geosynchronous satellites, some 22,236 miles above our planet. Five operate in the Ka-band spectrum to support the Global Xpress network, the first and only high-speed mobile broadband network seamlessly spanning the globe. The fifth satellite in the chain, the GX5, is a very high throughput satellite delivering more capacity than the rest of the fleet put together, thanks to its dual polarity signals.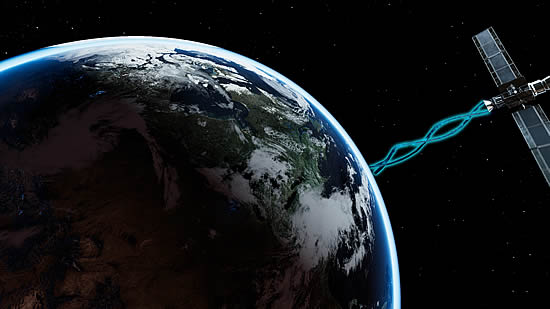 Inmarsat operates 14 geosynchronous satellites, some 22,236 miles above our planet.
We are particularly proud that SD's Plane Simple Ka-band terminal is the first in the business aviation sector to optimize this technology successfully. The result is that passengers signing up for this offering when it enters commercial service will access more speed and more data, more consistently, to keep everyone connected, no matter how many people or devices are connected. This is the closest to a terrestrial connectivity experience available in aviation.
The difference between this and other satellite connectivity signals stems from directional spin. It is this that makes the dual polarity so powerful. When a signal is launched from an antenna to a satellite, the Ka-band wave spirals through the atmosphere to avoid clashing with incoming Ka-band signals spiralling back from the satellite.
The signals are like double helixes and constantly move in the opposite direction to each other. In addition, the antenna and satellite seek out the individual specific signals, which without any obstructions, are effectively strengthened by the motion through space. Or, put another way, imagine a room full of people speaking four languages: Spanish, Mandarin, Hindustani, and English. Everyone can speak simultaneously without disrupting others because they only listen for their own language. Similarly, the signals are making the connections more quickly with the satellite and antenna, as nothing else is blocking them.
This technology transmits twice as much data as signals are conveyed backwards and forward simultaneously rather than in one single wave. This achieves what we all seek - more data, more quickly, and fewer interruptions.
For Inmarsat, this dual polarization enables the evolution of the Jet ConneX airtime solution. For Satcom Direct, it enables more Ka-band spectrum transmission between the Plane Simple Ka-band terminal and the satellite. But, most significantly is what it means for our customers. It means more devices, enabled to be more productive much more of the time.
The Inmarsat GX5 satellite already delivers this dual polarisation to antennas in Europe and the Middle Eastern. As Inmarsat adds more satellites with dual polarisation capacity in the next 12 months, it brings exciting possibilities to Plane Simple Ka-band terminal customers who can connect everything, everywhere, all the time.
Connecting beyond all expectations keeps the SD team focused on innovating new technology. We know the appetite for data-driven applications is growing, and we understand that being up in the air no longer means being out of touch. Customers expect to remain productive, educated, and informed, as well as entertained during each and every flight.
These are just a few reasons SD originates agnostic products and services that enable us to deliver tailored, purpose-built technology systems that seamlessly work with best-in-class partners like Inmarsat. We are focused on managing a transmission so cleanly and efficiently that you can forget about your connectivity and maintain business as usual.