Vallentuna, Sweden
Saving AOG
:

How aircraft exterior cleaning robots reduce down time before maintenance
Although airlines usually schedule maintenance checks during low seasons, there are instances when they need to perform these checks during peak periods. However, grounding an aircraft during a high season can be costly, as it means that aircraft simply can't fly while the demand is great.
Although safety is undeniably the most important factor and maintenance checks are a necessity, airlines often look for ways to optimise this process and reduce AOG (Aircraft on Ground) time.
Prior to every maintenance check, the exterior of an aircraft must undergo thorough cleaning to enable maintenance personnel to inspect the aircraft's structure for any signs of damage or wear, such as cracks, dents, or corrosion.
A clean exterior also facilitates inspectors' detection of any defects or issues with the aircraft's engines or systems. Dirt, grime, and debris can obscure potential problems, rendering them difficult to identify during inspections.
Although essential, cleaning the exterior of an aircraft can be a time-consuming process. However, Jo Alex Tanem, CEO of Nordic Dino Robotics AB, the company behind the innovative Nordic Dino system for cleaning aircraft exteriors, believes that this is an area where airlines can reduce AOG time without compromising safety.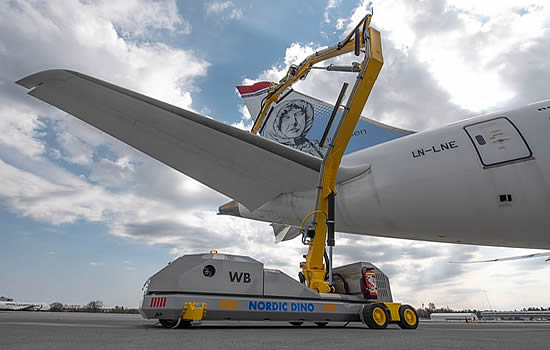 Tanem notes that their data indicates that using the Nordic Dino robots can reduce aircraft exterior cleaning times by up to 80%. "For example, while it takes 10.5 man-hours to clean the fuselage of a Boeing 737 aircraft by hand, using these robots can help accomplish the same task in just 3 man-hours, thereby shortening the required AOG time from 3 to 1 hour.
Similarly, when preparing Airbus A330 or Boeing 777 for maintenance, it takes 36 man-hours to wash it by hand and only 12 with the assistance of a robot, reducing the AOG time from 6 to 2 hours," he explains.
And the larger aircraft get, the more impressive the time savings. "Cleaning the exterior of an Airbus A380 by hand takes a whopping 112 man-hours, but with Nordic Dino, it only takes 21 man-hours. This significant reduction in cleaning time also reduces the AOG time from 10.5 hours to just 3.5 hours," Jo Alex Tanem adds.
Not only do aircraft exterior cleaning robots save significant AOG time and reduce airline operational costs, but they also address the issue of staff shortages during the peak summer season. With the implementation of these robots, fewer staff members are required, which is crucial in ensuring efficient operations and optimal customer service during this busy time.
The safety and well-being of passengers should always be the top priority for every airline. To ensure this, timely and sufficient maintenance procedures are crucial. While the maintenance check itself should not be rushed, preparations leading up to it can be optimised to save airlines significant AOG time and ensure smooth and sustainable operations.