Daytona Beach, Florida
Researchers work to make air taxis quieter, backed by $1.4m NASA grant
High noise levels during flight have long been a barrier to the advancement of urban air mobility (UAM) vehicles, or "air taxis."
Thanks to new research being conducted at Embry-Riddle Aeronautical University and backed by a recently awarded $1.4m NASA grant, low-noise multirotor aircraft are becoming a reality - one that could precipitate a boom of autonomous flight options available in a city near you.
"By some estimates, UAM operations may become a reality in some urban areas by 2024-2025, first piloted then gradually shifting to autonomous operations controlled from the ground," said Dr. Vladimir Golubev, Embry-Riddle professor of Aerospace Engineering and a principal investigator on the project.
Working in collaboration with Boston University, Virginia Tech, Tuskegee University and Joby Aviation, Golubev's team will focus specifically on how air taxis can take off and land quietly at vertiports located in dense urban environments where wind gusts tend to be unpredictable. These turbulent flight conditions present unique aerodynamic and aeroacoustic challenges.
"Those need to be controlled through development of accurate response-prediction tools and optimization strategies," Golubev added.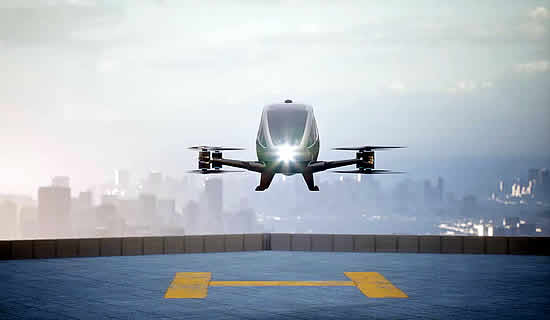 Over the three-year span of the project, the team will also provide guidance on suitable locations for city-based rooftop vertiports and flight corridors that would minimize noise during takeoff and landings.
"Noise is a critical aspect for public acceptance," Golubev said of electric-powered UAM vehicles, noting that major strides have already been made to mitigate their sound and pressure levels.
Last year, for example, NASA and Joby Aviation released preliminary findings from a simulation to capture noise profile data from a full-size UAM prototype. A remotely piloted aircraft loaded to near-maximum weight capacity (the equivalent of a pilot plus four passengers) was flown during a two-week test period at Joby's Electric Flight Base in California. The aircraft registered decibel levels almost 1,000 times (30dB) quieter than that of a typical helicopter.
Embry-Riddle's research, conducted as part of NASA's University Leadership Initiative, will address the sustainability of such noise reduction in highly unsteady flow conditions. Work will be led by Golubev, along with co-principal investigators Dr. Tasos Lyrintzis, distinguished professor and chair of the Aerospace Engineering Department, and Dr. Reda Mankbadi, distinguished professor. Four Ph.D. candidates and several undergraduate students will also be involved.
"The advent of UAM will revolutionize the future of transportation," Lyrintzis said, noting that this is the largest federal grant the Aerospace Engineering Department has ever received. "However, one of the persistent issues that needs to be addressed is noise. The proposed NASA project addresses several key issues for noise reduction, and the hope is that it will help move UAM closer to reality."
A bright (and quiet) future
By focusing on the sound levels associated with UAM's vertical lift capabilities, the team hopes to reduce the environmental impact of these vehicles, helping to ease their entry into new markets.
"Addressing this aerodynamically generated noise is a new technology challenge, and the demand for trained engineers is high," said Mankbadi. "Because of this market demand, one of our tasks is to involve undergraduate students to train them on the design and development of small multi-rotor vehicles and to prepare them for this emerging market."
Graduate students will also play a part by focusing on creating computational simulations of noise aerodynamics and controlling multi-rotor vehicles in urban environments.
"This multidisciplinary approach enables the lead teams to partner with others, including student populations who are underrepresented or have not been involved before in aviation research," said Koushik Datta, University Leadership Initiative project manager. "As we look to future growth in Advanced Air Mobility and an increasing emphasis on creating truly sustainable aviation, it's important we involve today's students in helping us solve tomorrow's challenges."
Additionally, an outreach program will be developed as part of the project to raise awareness and educate the community on how this emerging technology will be incorporated safely into our skies.
"Several students have already been working in this research area to produce preliminary results and pave the way to this award," Golubev said, citing a handful of students who have planted a flag in this topic as an area of ongoing research.
One of those students is Samuel Afari, an Aerospace Engineering Ph.D. candidate set to graduate in May, who Golubev called a "main contributor" to the research team.
"Participating in this work will definitely add more depth to my expertise and hopefully drive the innovation of urban air mobility," Afari said. "After graduation, I will be working as a lead engineer with Cadence CFD, where I will be validating and testing a number of approaches to modeling the aerodynamics and acoustics of such eVTOL vehicles."
Work on the project will begin later this year, in September.
"Dr. Golubev's team will do groundbreaking work to bring the noise of air taxis down to an acceptable level," said Dr. Jim Gregory, College of Engineering dean. "Their work will also provide critical insight that improves safety and ride quality for passengers. This program is a great example of how Embry-Riddle researchers are creating the future of aerospace."