Thomasberg, Austria
F/LIST receives Red Dot Design Award 2023 for Aenigma
F/LIST, a leading manufacturer of high-quality aircraft interiors, luxury residences and yacht fittings, has been awarded the prestigious Red Dot Design Award 2023 for its innovative bio-based material, F/LIST Aenigma.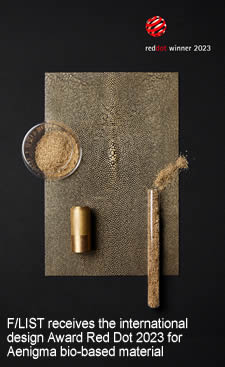 The Red Dot Design Award is an international design competition that honours outstanding design achievements in various categories. This year, F/LIST Aenigma is recognized for its exceptional design and high-quality features and has been named the winner of the "Product Design" category.
F/LIST Aenigma is a revolutionary material that is engineered to meet the highest standards of quality and durability. It is part of a first-of-a-kind sustainable material series that was unveiled at the NBAA-BACE 2022 and originates from F/LIST's multi-disciplinary innovation hub called the F/LAB.
The decorative material has solved the puzzle of fusing traditional jewelry techniques and aerospace technology with cutting-edge chemistry to combine elements as varied as F/LIST stone by-products and ground mother-of-pearl.
"The incredible blend has evolved into a technical, glamorous material that would be as at home on the catwalk as on the runway. With this material, we are only scratching the surface; the market potential for customers is endless," explains Melanie Prince, Head of Innovation F/LIST.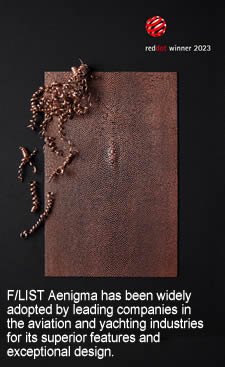 Metallic manta ray skin, glistening geometric patterns, and textured glowing surfaces form the basis of the limitless range of possibilities which can be customized with colour, texture, and thickness for use on any surface. It is a lightweight and flexible material that can be used for a wide range of applications, including aircraft interiors and yacht fittings. The material is made from a combination of high-performance fibers and a special resin matrix that provide excellent resistance to wear, tear, and impact.
"We are thrilled to receive this prestigious award," says Katharina List-Nagl, CEO of F/LIST. "It is a testament to our commitment to innovation and excellence in design. We are proud to offer our customers a material that combines cutting-edge technology with outstanding performance and is also sustainable."
F/LIST Aenigma has been widely adopted by leading companies in the aviation and yachting industries for its superior features and exceptional design. The material is available in a wide range of colors and finishes, allowing designers to create unique and customized interiors.