Fort Worth, Texas
American Aero FTW lands at the top of best FBO list - again
For the sixth consecutive year, American Aero FTW, an FBO serving private aviation travelers at Fort Worth Meacham International Airport, topped the list of the best FBOs in the world in the annual AIN FBO Reader Survey.
In the 2023 survey, American Aero is once again ranked the best FBO in Texas and the South-Central Region and tied for the #2 spot worldwide - in an extraordinarily tight competition that included more than 4,500 operators.
The survey report states: "American Aero FTW's facility was designed from the start to incorporate virtually every feature to improve the customer experience, and it has certainly accomplished that goal, according to AIN's readers who have placed it firmly in the top 5 percent of all FBOs since 2017 when its current facility opened."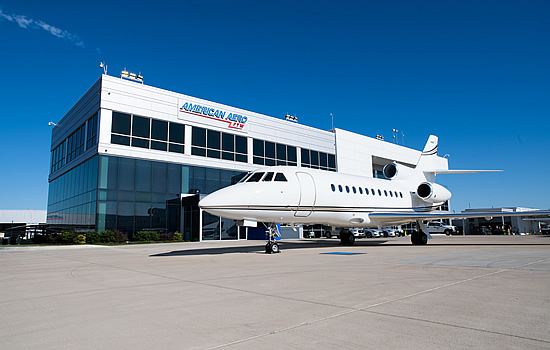 The AIN survey is the industry's only independent evaluation of fixed-base operators. Results are based on reviews of passengers, pilots, flight crews, and dispatchers who are asked to evaluate passenger and crew amenities, customer service representatives, line service, and facilities.
"This recognition is a reflection of our unwavering commitment to redefine the FBO experience and set new standards for customer service and safety," said American Aero General Manager Angela Thurmond. "Whether you're flying a Gulfstream jet, a Piper Cub, or a military cargo plane, we will do everything we can to make sure you have an extraordinary experience."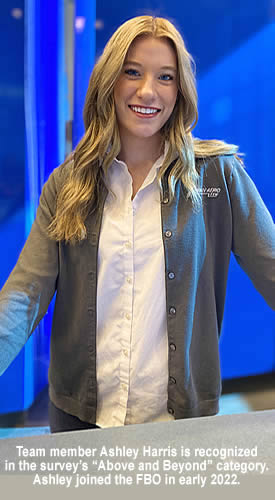 Thurmond said her team, which is trained in Ritz-Carlton customer service protocol and NATA Safety 1st procedures, is motivated to excel. That's the reason, year after year, an American Aero team member is recognized in the survey's "Above and Beyond" category. The 2023 recipient of that award is Customer Service Representative Ashley Harris, who joined the FBO in early 2022.
"Ashley represents the American Aero spirit with every customer interaction," Thurmond said. "She goes to great lengths to make sure each guest feels welcomed and cared for as they travel through the Fort Worth-Dallas area."
American Aero offers 11 acres of open ramp, with an additional 4.5 acres for planned ramp and hangar expansion. The 8,600-square-foot FBO was designed to maximize safety, efficiency, and comfort for flight crews and passengers - from a private crew lounge with en suite shower and a soundproof sleep room to a fully stocked, complimentary refreshment bar. American Aero also leads the industry in ground handling safety, with the longest held and highest industry safety accreditation - International Standard of Business Aviation Handling (IS-BAH) Stage 3 certification from the International Business Aviation Council (IBAC).
"American Aero is leading the industry in creating an exceptional customer experience by design," said American Aero Vice President Bob Agostino, who is best known for creating the Bombardier Safety Standdown. "That has been our mission from day one. We continually push the envelope to deliver exceptional ground handling and customer service. That will always set us apart."