Bristol, UK
Lucy Air Ambulance For Children chooses Capital Air Ambulance as its Key Delivery Partner
Capital Air Ambulance has announced an exciting new chapter in its longstanding relationship with Lucy Air Ambulance for Children (Lucy AAC).
Specialising in flying babies and critically ill children to hospital, Lucy AAC has chosen Capital as its Key Delivery Partner, positioning the Bristol-based air ambulance operator to closely support the national charity's ongoing growth.
Meanwhile, Capital's parent company Pula Aviation Services Limited (PASL) has selected Lucy ACC as its chosen charity, signifying the aviation services provider's intention to support Lucy as it expands operations.
The mutual recognition comes at a time of change for the air ambulance charity, with new developments revealed at a special showcase event on Wednesday 29th March. PASL and Capital joined Lucy AAC as it hosted the first-of-its-kind event at the Centreline AV Hangar, Bristol airport, welcoming over 80 guests to meet flight crew and learn about its specialist care capabilities.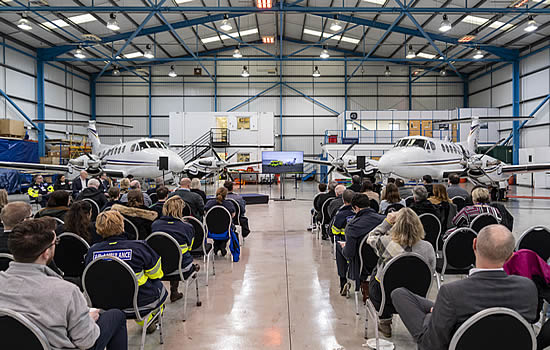 Lucy AAC created this Showcase to highlight its services, and announce it will soon be changing its name to honour the daughter of two of its trustees; Emilia 'Lia' Schoennagel, who passed away in September 2022 at only five years old. Since then, Lia's family has worked with Lucy AAC's management team to raise a significant amount for the charity, which will enable it to fund more air transfers, train additional medical staff and continue to develop its partnership with the NHS.
From now on Lucy AAC will become Lia's Wings, to celebrate Emilia and her family as the charity grows. "We are embracing the next chapter of our charity's evolution with a new identity and expanded purpose, thanks to Lia," says Charlotte Young, CEO of Lucy AAC.
"Lia's parents, Patrick and Melissa, channelled the love they have for their daughter in such a remarkable way. We've made it our goal to ensure Lia's memory will live on through our work, as we strive to save and change children's lives in her name."
"We are extremely privileged that Lia's Wings can continue to work with Capital, as the charity grows and expands services to ensure its neonatal and paediatric services reach those who need it most," adds Lisa Humphries, business development director at Capital Air Ambulance.
"Combined with the recent launch of Capital's paediatric service - meaning we are now certified to transport critically-ill children across all ages - we're incredibly excited for the future of Lia's Wings and remain ready to support its crucial mission to deliver safe, life-saving care to young children in vulnerable times."