Daytona Beach, Florida
Pilot Shortage
:

FAA, Embry-Riddle cultivate aviation workforce with expanded high school training
Embry-Riddle Aeronautical University has received a $485k grant from the Federal Aviation Administration to help meet growing job demand in the aviation and aerospace industries by providing free training for high school students hoping to become pilots, "drone" operators and aerospace engineers.
"Embry-Riddle is in the perfect position to help increase the pilot workforce, and to continue improving the quality of this workforce," said Dr. Carolina Anderson, associate professor of Aeronautical Science and principal investigator on the project.
According to The Boeing Company's Pilot and Technician Outlook, there will be a need for 610,000 new aviation maintenance technicians and 602,000 new pilots over the next 20 years.
This FAA-backed initiative, led by Embry-Riddle's College of Aviation and Gaetz Aerospace Institute, seeks to address that shortage, in part, by developing online ground schools in private pilot and remote pilot operations as well as course offerings in Aerospace Engineering. The project will defray the considerable cost to high schools in providing aviation education, as well as incorporate desktop flight-training devices, small drones, 3D printers and virtual reality systems. Students will also earn college credits, high school honors credits and/or industry certifications.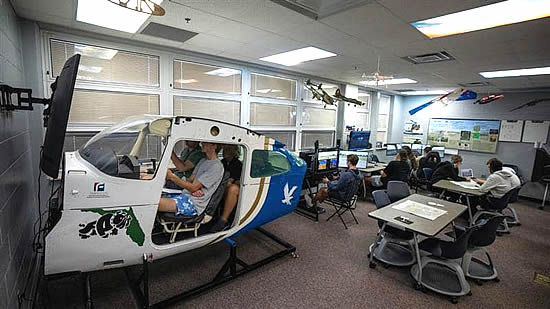 Embry-Riddle is expanding its aviation-training curriculum, which takes place in high school classes like these at Flagler Palm Coast High School, in Florida, where students practice flight objectives during professor Charles Smith's Principles of Aeronautical Science dual-enrollment course | Photo: Colleen Conklin.
"The aviation industry is at a crossroads. The workforce needs are unprecedented," said Dr. Colleen Conklin, assistant professor and executive director of Embry-Riddle's Gaetz Aerospace Institute. "We believe programs such as this will directly feed the aviation workforce pipeline."
The program builds on work by the Gaetz Aerospace Institute, which in the past two years has provided programs to nearly 200 middle and high schools, primarily in Florida. The institute offers dual-enrollment courses in aviation, engineering and uncrewed systems, as well as the academy's SMART@ER curriculum focused on courses and outreach in space, manufacturing, aerospace/aviation, robotics and technology.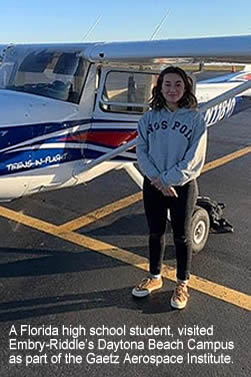 The FAA grant will also allow Embry-Riddle to share its education model throughout the country, starting with at least 10 more high schools.
"We are currently recruiting schools to participate and take advantage of this tremendous opportunity," Conklin added.
Embry-Riddle's Special VFR Productions will also produce "cinema-quality" videos with 3D motion graphics, special effects and professional voiceover for the curriculum, building off of the university's "proven experience in developing aviation education and flight training tools," according to the grant proposal.
"This project combines my two passions: aviation and education," said Anderson, who began flying gliders at age 14 under her father's supervision. "Having the opportunity to expose high school students all over the country to STEM and aviation is what is most exciting to me."
Also involved in the project are Michele Halleran, professor of Aeronautical Science; Dr. Ken Byrnes, associate professor, chair of the Flight Department and assistant dean of the College of Aviation; Dr. Robert Thomas, Samantha Bowyer and Sam Harris, all assistant professors of Aeronautical Science; Kate Barnette, assistant professor and director of education programs for GAI; and Dave Moorefield, assistant professor and GAI director of flight operations.
"As one of the world's largest and most respected universities specializing in aviation and aerospace," the proposal states, "[Embry-Riddle] will leverage its collective knowledge and expertise to create and deliver state-of-the-art curriculum and education tools."