Piqua, Ohio
Hartzell propeller flies on first flight of hydrogen-powered airliner
When Universal Hydrogen's De Havilland Dash 8 hydrogen fuel cell-powered testbed first flew earlier this month, its powertrain included a prop designed and tested for the experimental aircraft by Hartzell Propeller.
The 91-inch diameter five-blade swept airfoil carbon fiber propeller utilized derivative blades, hub and retention components from an existing 14 CFR Part 35 certified propeller. The specially designed Hartzell prop is smaller than the standard Dash 8 prop, but provided thrust to keep the aircraft airborne when the other jet fuel powered turbine engine was throttled back during first flight.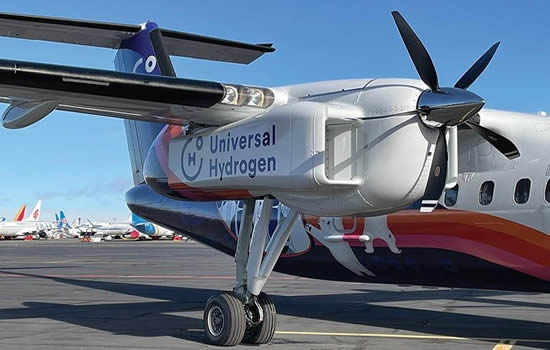 magniX-series electric propulsion system and specially designed Hartzell Propeller five-blade swept airfoil carbon fiber prop powers testbed Dash 8.
"This project with Universal Hydrogen is one of many programs where Hartzell Propeller is working with and supporting advanced air mobility manufacturers. Hartzell Propeller has been around for over a hundred years, and carbon-free flight can power our next century," said Hartzell Propeller President JJ Frigge.
"We've been working with this team for almost two years as we step up our investments working on future new aircraft design opportunities. Hartzell Propeller is pleased to be a part of this historic first flight of a hydrogen fuel cell-powered regional airliner."
Hartzell also customized a governor for Universal Hydrogen and continues to develop governor advancements for green-powered aircraft. In this first test flight, one of the airplane's turbine engines was replaced with Universal Hydrogen's fuel cell-electric, megawatt-class powertrain. The other aircraft engine was powered by conventional fossil fuel for safety.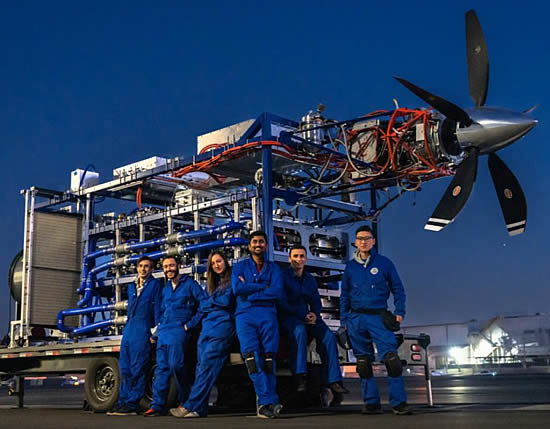 Universal Hydrogen's team of experts and the specialized Hartzell prop mated to a magniX-series electric propulsion system.
Universal Hydrogen's first flight marked the largest hydrogen fuel cell-powered airplane ever to take to the skies and the largest airplane to cruise principally on hydrogen. The airplane, nicknamed Lightning McClean, flew for 15 minutes, reaching an altitude of 3,500 MSL. The flight was conducted under an FAA Special Airworthiness Certificate and the program is planned to culminate in 2025 with entry into passenger service of ATR 72 regional aircraft converted to run solely on hydrogen.