London
Flexjet unveils new European private helicopter division
Flexjet has welcomed its first super-midsize Sikorsky S-76 helicopter to its European fleet, as it becomes the first private jet operator in Europe to launch an in-house, integrated helicopter division.
The new service, initially focused on the UK, aims to redefine luxury point-to-point private travel, in a first of its kind move in Europe, and follows a similar launch last year by the company in the United States, which offers helicopter operations in the north-eastern US and Florida.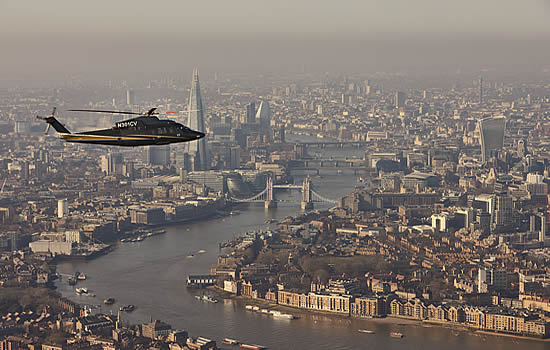 Flexjet Sikorsky S-76 over London.
Shared ownership provider Flexjet will offer helicopter programmes both as a standalone service and as an extension to its existing private jet Owners, with the new venture significantly enhancing its Gulfstream G650 programme, which launched in Europe last September. Jet Owners on the ultra-long-range jet programme will benefit from complementary helicopter transfers to and from their jet at airports in London or the US operating regions, to enhance their travel experience with a seamless 'last mile' solution.
Marine Eugène, Flexjet European Managing Director, said: "No other private jet provider can offer access to an in-house helicopter fleet, which is yet another example of what makes our service stand out from our competitors.
"Following the successful model already pioneered by Flexjet in the US, our new UK helicopter division defines us as the leader in combined fixed-wing operations and private urban mobility.
"We're always striving to go that extra mile, and this unique offering certainly communicates Flexjet's relentless commitment to giving the most comfortable, efficient and memorable experience possible, to the most discerning global travellers."
The Sikorsky S-76 is one of the world's most respected and longest-established super-midsize helicopters, with its reputation built on more than 40 years of safe flight history.
Its dual-redundancy safety features include twin-turbine engine reliability; a four-blade rotor system for enhanced comfort and safety; and dual autopilot systems. Every helicopter flight is operated by two certified, IFR qualified pilots.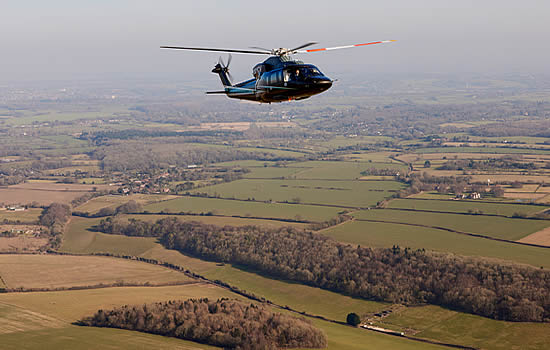 Flexjet Sikorsky S-76 over UK countryside.
Its extensive flight range of 300 nautical miles allows point-to-point connections both within London and the UK, and as far afield as the south of Scotland, Dublin or Paris.
Already offering its jet programmes across Europe and the Middle East, Flexjet intends to expand its fleet of Sikorsky S-76s and to extend helicopter operations to other regions in Europe in the coming years, as part of its global expansion plans.
Alongside the Sikorsky S-76, which will be targeted at regular helicopter programme fliers, Flexjet will offer on-demand helicopter charters on its operated and managed fleet of Agusta AW109 and AW169 helicopters.
These were previously operated by Halo Aviation, the company acquired by Flexjet's parent company in 2021. The subsequent integration has created a dedicated Flexjet helicopter team with significant operational expertise, and a roster of highly experienced helicopter pilots.
Eli Flint, Flexjet President of Global Helicopter Operations, said: "After such a successful launch in the US last year, we're extremely excited to be unveiling our Flexjet helicopter offering in Europe, led by a team of highly experienced professionals.
"We see significant market potential for our premium helicopter programmes here, and we're raising the bar in rotary operations in every respect."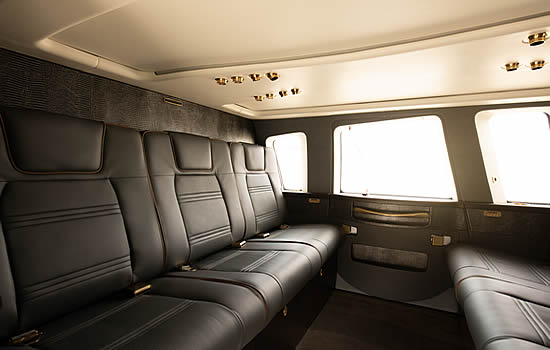 Flexjet Sikorsky S-76 Phantom interior.
Each Flexjet Sikorsky S-76 helicopter seats up to eight passengers, and features Flexjet's unrivalled attention to detail across the bespoke interiors from its LXi Cabin Collection. Details include handstitched leather seats, and plush metal and leather accents.
The Flexjet helicopter operation and Sikorsky S-76 will also feature at this year's Royal Ascot where Flexjet will host the event's private heliport, as the Official Private Aviation Supplier for one of the most prestigious events in the British social calendar.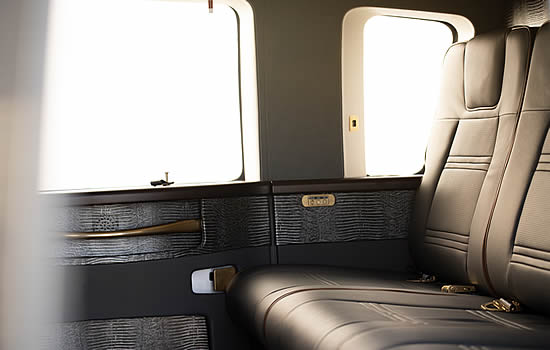 Flexjet Sikorsky S-76 Phantom interior.
As with its European jet programmes, every Flexjet helicopter flight will be inclusive of offsetting at 300% of carbon emissions, to recognise both CO2 and non-CO2 pollutants.
Working with the aviation sustainability consultancy 4AIR, Flexjet's industry-leading sustainability programme also allows aircraft owners to invest in actions to reduce emissions by 5%. This includes the use of Sustainable Aviation Fuel (SAF) and investing in the non-profit Aviation Climate Fund, which supports leading research and development for future flight technologies.
These actions are included as a default in Flexjet's Gulfstream G650 programmes in Europe, which are specifically rated at 4AIR's highest level, Level 4 (Platinum).