United Kingdom
Disrupting the next gen
LYTE Aviation's founder to present her vision for a next-gen 40-seat eVTOL urban regional aircraft
The future face of regional aviation doesn't have to be complex, futuristic looking, asserts Freshta Farzam, Founder and CEO of aviation disruptor LYTE Aviation.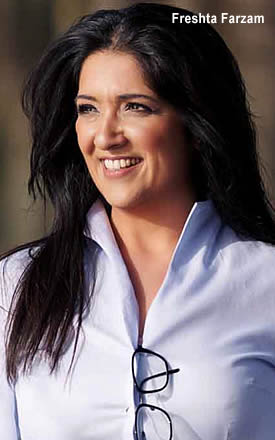 With 10 years' experience in the green hydrogen and aviation sectors, Freshta's new company, registered in the UK, fronts a distinctively conventional airframe design for 40 passengers, that will take off and land vertically like a helicopter.
But, unlike other next gen designs involving electric propulsion and heavy batteries, her project will be a tandem tiltwing design, with gearing allowing for forward flight and hover. This simplification means that, subject to funding, a full-scale prototype could be ready within two years.
Freshta, a graduate of the University of Applied Sciences in Hamburg, has been quietly working on her design for the past three years with an expert aerospace team who collectively have 200 years of aviation experience. Appearances at events, right up to this week's Arab Aviation Summit in Ras Al Khaimah, UAE, have helped get the feasibility of her programme noticed and piqued investor interest.
Inmarsat and Inflight Canada are early partners
An early partner is British aircraft connectivity solutions specialist Inmarsat. LYTE's newly ratified partnership agreement with Inmarsat, one of the largest recognised suppliers of satellite communication services worldwide, grants the company access to advanced communication capabilities needed to operate its aircraft in continental airspace and isolated areas of the world.
Inflight Canada, a leading Transport Canada, FAA and EASA approved aerospace design organisation and inflight specialist which supports aerospace projects from conception, engineering and integration through to maintenance and manufacturing, will partner LYTE for the 'reversible' cargo modification.
On Thursday 23rd March, Freshta will present her vision for a 40-seat, heavy h/eVTOL, dubbed SkyBus in passenger configuration and SkyTruck as a cargo variant with a 4.5 ton payload capacity at the Helicopter Investor 2023 conference in Kensington, London, giving insight on whether heavyweight eVTOLs can be electrified.