Fort Lauderdale
VIP Completions unveils fully refurbished Global Express
Highly personalized décor characterizes owner's unique style
Completions and refurbishment specialist, VIP Completions, has unveiled a spectacular Bombardier Global Express that it recently delivered to an unnamed client.
The Global Express is a long range business aircraft with a 6,000-nautical-mile range. Typically configured for 12 to 16 passengers, more than 800 Global Express models were built between 1999 and 2005. Performance and comfort define the Global Express and make it very popular among discerning aircraft buyers.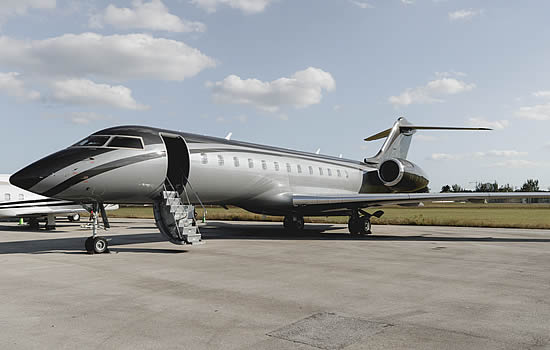 "We are very proud of this project," says Ben Shirazi, President, VIP Completions. "This aircraft is truly a work of art. The style is clean, bright and characterized by a minimalist color palette. It features many unique design elements. We delivered this aircraft to a long-standing valued client and collaborated with her personal designer to deliver an exceptional level of customization. For example, the divan features a weave and texture the was inspired by the classic Chanel bouclé jacket - one of our client's fashion trademarks."

Cabin: before & after
Design highlights include:
Ten luxurious custom-designed seats upholstered with contrasting premium Garrett leathers and intricate diamond pattern stitchwork.
Divan upholstered in elegant Mademoiselle fabric by Great Plains.
Matte black finish veneer on wood monuments (done in VIP Completions' new state-of-the-art spray booth).
Credenza and table tops with exotic leather inlays in 'carbon' and 'croco'.
Luxurious silk/wool blend carpeting by Tai Ping throughout the cabin.
Large format stone tiles in galley and lavatory areas.
Custom-designed lavatory countertops with a single-slab stone effect and unique vessel sinks in carbon and satin finish plating.
Elegant new exterior color scheme by Flying Colours Corp - 'starlight silver mica' and 'phantom gray mica'.

Galley: before & after
Cabin management system (CMS) and in-flight entertainment (IFE) highlights include:
CMS control via Crestron touch panels embedded at each seat location and in the galley.
Custom ALTO audio system calibrated for the cabin using ALTO's MySound™ optimization tool to ensure perfect sound.
Upgraded high-definition monitors.
Dynamic RGB lighting.
On-board Plex media server that provides virtually limitless content options.
"The CMS and IFE upgrades meet and exceed the caliber of comparable new aircraft entering service today. The exterior also makes a bold statement, standing out on any ramp and embodying its owner's sophisticated sense of style. Our team has really set a new standard for grace and elegance in business aircraft completions," adds Ben Shirazi.
---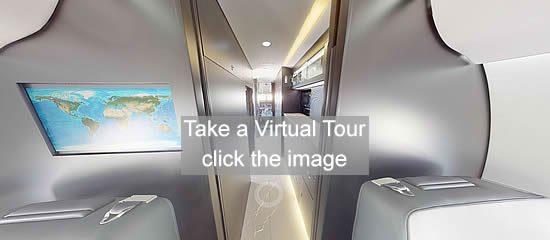 ---