Fort Lauderdale & Nashville
Major improvements at Atlantic's Fort Lauderdale and Nashville locations
Atlantic Aviation's ongoing commitment to significant enhancements to aviation infrastructure coast to coast is moving forward at record pace.
Major construction projects are now complete or are well underway at several of the company's locations, including Atlantic's facilities at Fort Lauderdale Executive Airport (FXE) and Nashville International Airport (BNA).
In Florida, Atlantic Aviation Fort Lauderdale just opened their newly constructed state-of-the-art facility on the field. This 7,000 square-foot executive terminal is located just off the west end of the airport's longest runway and will offer visiting aircraft and based customers not only the very best in comfort and convenience - but also more than four acres of ramp space and bright, expansive views from the terminal lobby.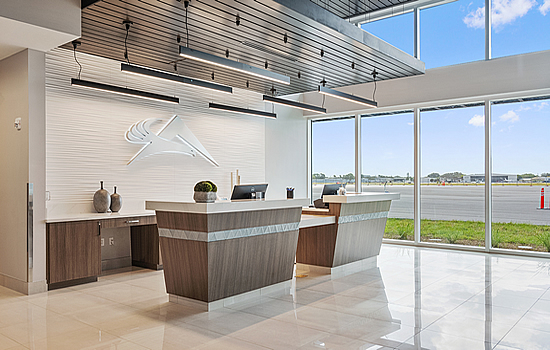 Atlantic FXE's meticulously designed front desk offers a welcoming and open feel for greeting guests as they enter the new facility.
"From absolute first-class décor to high tech conference rooms and compelling crew services, no detail has been overlooked," said Kurt Schmidt, Senior Vice President of Operations - Southeast Region. "We're excited to welcome customers to our new facility, and I feel certain they'll be amazed at all that has been done." The newly constructed FBO at FXE replaces Atlantic's older terminal and hangars across the field - which will now provide additional capacity for the company's based customers.
The opening of the new facility at FXE adds to Atlantic's already large footprint at one of the nation's busiest business aviation airports and completes phase one of the company's expanded presence there. Plans for additional phases are being firmed up this year and are anticipated to include additional community hangars.
In Tennessee, Atlantic Aviation Nashville is well into a year-long construction project on the site of their original facility at BNA, which is being expanded to include additional property previously occupied by the Tennessee Department of Transportation. This project encompasses a total of 24.5 acres and includes a new 12,000 sq. ft. state-of-the-art terminal and 30,000 sq. ft. hangar, as well as significantly expanded ramp space and a larger fuel farm.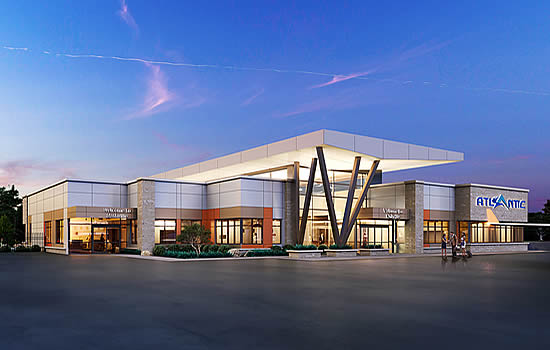 A rendering provides insight into what is to come at Atlantic BNA as this construction project has just begun.
"We really wanted to raise the bar with this new facility," said Kris Mayle, Atlantic's Area Director. "In that regard, 'state-of-the-art' is actually a bit modest, as our completely new FBO will feature a host of high-quality materials, amenities, and technology designed to enhance the overall experience for passengers and their crews, as well as our own team members - from safe and efficient line service to customer care."
These amenities include a lobby area that will rival a five-star hotel, a technology-equipped Business Center, a café for customers, expanded crew lounge offering quiet rooms and private shower area, as well as an expanded training area and unobstructed views of ramp operations for team members. And, in a nod to Nashville's entertainment population, a private VIP lounge will also be featured. The new facilities at BNA are slated for completion by year-end.
Along with work at their Fort Lauderdale and Nashville locations, Atlantic Aviation has additional construction and renovation projects underway at several of its other bases. As those projects continue moving forward, more details and descriptions will become available.