International Women's Day
Recognising Women in Aviation this International Women's Day
The aviation industry is an inspiring career avenue for many; always moving, always changing and always improving.
However, its workforce remains imbalanced. Around 70 per cent of the industry's workforce are men, and women are outnumbered in every role other than cabin crew. Research shows that gender diverse teams improve performance, innovation and revenue.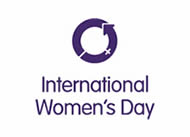 For companies seeking to grow and truly diversify their workforce, fostering a more inclusive environment and providing role models in leadership can go a long way in attracting and retaining talent.
This International Women's Day, it is important to recognise which companies are making a positive impact, and ways more women can join the workforce, climb the ladder and reach senior leadership roles.
Global aviation services group, Air Partner, spoke with several females across its diverse business to find out more about what more could be done to encourage women to pursue a career in aviation.
Commenting on how more women can be encouraged to join the industry, Kayh Ribeiro, Private Jets Account Manager at Air Partner US, says: "My advice to any woman who wants to get into aviation is to not be afraid. There are endless opportunities to enter the industry, whether it's as an account manager, in finance or as a pilot."
Grace McKellar, Account Executive, Group Charter at Air Partner, adds: "One fact that shocks is me is that fewer than five per cent of pilots are women."
However, the industry must not only attract but retain its talent. According to a study by the International Aviation Women's Association (IAWA) and Oliver Wyman, as many as 59% of women have considered leaving the aviation industry, compared to just 45% of men. The top three reasons driving this for women were implicit bias discrimination, a perception of limited opportunities to progress and a lack of flexibility.
The COVID-pandemic may have revolutionised working practices, with flexible working becoming the 'norm', giving more working mothers the opportunity to keep their jobs. However, more changes need to be made to attract, recruit and retain female talent.
Dr Cristina Ruscitto, Senior Researcher at Baines Simmons, comments: "A lot still needs to be done to close the gap between men and women in terms of equal pay and equal opportunity."
Sharing how the barriers can further be addressed, Kristine Andrade, Finance Assistant at Air Partner US, says: "Speak up. Communication is the best way to address the barriers because most problems within any business stem from a lack of communication."
Air Partner has implemented a Diversity, Equality, Inclusion, and Belonging (DEIB) and Employee Advisory Panel to encourage communication and give a platform to voices that are often marginalised.
To help encourage and normalise more open conversations about women's issues in the workplace, Air Partner is working with the training provider Miss Menopause so that more female staff that may be struggling with symptoms are supported. The menopause is often a 'taboo' subject at work, despite symptoms that can be debilitating.
Research shows that 10% of women leave their jobs, and many reduce their hours or pass up promotions because of their symptoms. Air Partner's work with Miss Menopause will help support women who go through this life event with dignity and respect.
Ensuring women are seen, heard and valued can go a long way to retain their talent, as can strong mentors that offer support throughout their career journeys.
Commenting on the importance of professional development, Miranda Taft, Chief of Staff at Air Partner US, says: "It's so important that as women, we support one another in our careers and professional development. But equally, I think it's incredibly important that the male leaders in the industry take an active role in encouraging and developing female talent within their own businesses."
Rola Arnaout, Regional Office and Client Relations Manager, Lebanon, Kenyon, adds: "More work should be done to reach true gender parity."
To encourage female talent and help tackle unconscious bias, Air Partner opted for a blind recruitment process for its Broker Academy, resulting in more than half of its new hires being women. The recruits receive three-months' training before being assigned to a six-month placement in the private jet, group charter or cargo team, dependent on their unique skill set and fit, with expert mentors throughout.
Despite being a male-dominated industry, more women are and will continue to play a crucial role in aviation as more companies and female voices work together towards achieving a balanced future. This future will not only help dismantle traditional gender notions within the industry but support the development of diverse thinking that will encourage innovation and growth from current challenges.