Women in Aviation International
WAI2023 Conference hosts record number of attendees and exhibitors
Three days focused on professional development, education seminars, mentorship, scholarship awards, and Girls in Aviation Day Long Beach
Women in Aviation International held one of its largest and most successful annual gatherings during the 34th Annual Women in Aviation International Conference at Long Beach Convention Center in Long Beach, California, February 23-25.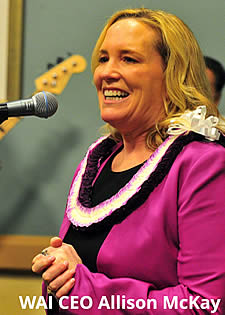 With its unique blend of world-class speakers, busy exhibit hall, an array of education sessions, and more than 120 scholarship awards, the WAI2023 conference delivered numerous opportunities to connect and network with female peers in the aviation and aerospace industry.
"WAI's strength is in our membership. A more passionate, diverse, and inclusive group doesn't exist anywhere in the industry," said WAI CEO Allison McKay. "We gather to celebrate, support, and advance each other while expanding our knowledge and skills, and raising our own expectations for what's possible.
"This week's conference brought our largest group of members together with more exhibitors and hiring companies in history. We hosted dozens of networking and education sessions, assembled another extraordinary group of keynote speakers, honored unique trailblazers during our annual Pioneer Hall of Fame induction, and presented nearly $890,000 in scholarships to deserving WAI members.
"Thanks to the generous support of our sponsors, our passionate members and volunteers, and an impressive collection of exhibitors, WAI2023 was an amazing venue as we prepare to celebrate Women's History month in March. Without a doubt, WAI continues to advance our mission to connect, engage, and inspire our current and future workforce of diverse and accomplished members," she added.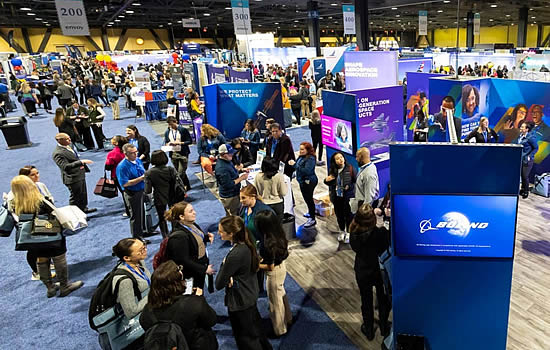 A highlight of every conference is the induction of women into WAI's International Pioneer Hall of Fame. This year's inductees include Nancy Bird, founder of the Australian Women Pilots Association; Martha and John King, co-owners of the King Schools; Col. Merryl Tengesdal, USAF (ret.), the first and only Black woman to pilot the U-2 Dragon Lady reconnaissance aircraft.
Visits to the sold-out exhibit hall were interspersed with general sessions on Friday and Saturday mornings, with dozens of education sessions and professional development seminars and workshops held Thursday through Saturday where attendees could choose which sessions were best for their career goals and personal interests.
During the WAI membership meeting, Christine Bohl, Leah Greene, and Dawit Lemma were elected as new board members, and Andrea Berry and Brittany Tough were re-elected. In addition, WAI announced an all-new Mentor Connect program for members with a focus on setting and achieving goals, training, and best mentoring practices. WAI also announced a new WAI Giving Circle to support future growth of educational content and resources for its members.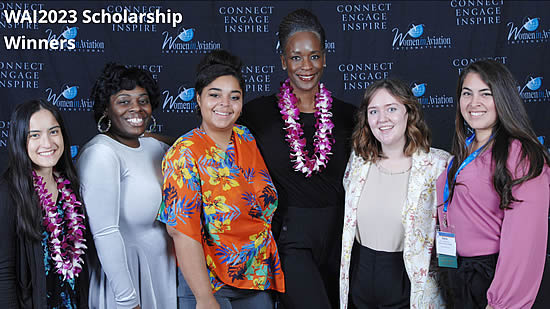 New this year, WAI expanded its scholarship program by partnering with Harvard University for an Emerging Leaders professional development program. Applications are due by March 15, 2023, for this fully paid three-day learning experience. More WAI international scholarships will be announced in the second quarter, and WAI2024 scholarship opportunities will be available for member applications beginning July 1, 2023.
Girls in Aviation Day Long Beach
On Saturday, February 25, 250 girls along with their chaperones, were hosted by more than 100 WAI volunteers, at Girls in Aviation Day Long Beach at the Long Beach Convention Center. The girls, ages 8-18, visited over 20 activity stations and heard about six different aviation careers during a career panel.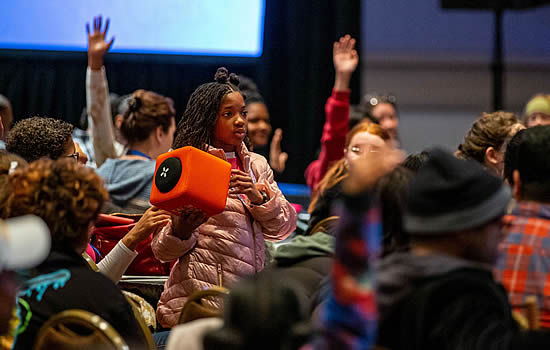 Stephanie Chung, Wheels Up global brand ambassador, had a conversation with the attendees about always striving for excellence. The older girls had the opportunity to meet with college representatives about their aviation-focused programs including California Aeronautical University, Central Washington University, Cypress College, Drone Soccer, Embry-Riddle Aeronautical University, Liberty University School of Aeronautics, Saint Louis University, SUU Aviation, United Aviate Academy, Utah Valley University-Aviation Science, and Western Michigan University College of Aviation Each participant earned a WAI Aviation Girl Fun Patch.
Other conference highlights include:
A total attendance of over 4,500 includes 136 international representatives from 32 countries including Canada, Ghana, Norway, United Kingdom, Nigeria, Kenya, Germany, and others.
The WAI Chapter network has reached 167 chapters in 23 countries worldwide.
The exhibit hall hosted nearly 200 separate companies and organizations, representing all aspects of the aviation community, and livestream video coverage on WAI's new YouTube channel @WAIOnAir.
123 scholarships were distributed to WAI members at every stage of life for both academic use, lifestyle enhancement, and flight training, including type ratings. A total $889,140 in scholarships was awarded, bringing the total scholarships awarded since 1995 to more than $15.4 million.
Several industry milestones were celebrated during conference including Wings with Jazz Band's 20 years of performing at conference, Women in Corporate Aviation's 30-year anniversary, Women in Combat Operation's 30th anniversary, as well as 50 years of Women Flying in Naval Aviation.

The 35th Annual Women in Aviation International Conference will be held March 21-23, 2024, at the Orlando World Center in Orlando, Florida. For more information, visit www.wai.org/2024-conference.
See also: UAS applauds Maya Ghazal's achievements as she headlines at leading Women's Aviation Conference