United States
Signature Aviation becomes first aviation firm to achieve carbon neutrality across global network
Signature Aviation, the world's largest private aviation terminal operator, has achieved carbon neutrality for 2022 across its global network of more than 200 FBO locations.
Signature's investment in carbon neutrality covers greenhouse gas emissions from all of its ground equipment, vehicles, facilities, electrical and natural gas heating and buildings (known as Scope 1 and Scope 2 emissions). It also announced its commitment to maintaining carbon neutral operations for every year going forward, becoming the first private aviation company to make such a network-wide commitment.
Signature has accomplished this milestone by first reducing its own emissions through electrification of vehicles, energy efficiency and on-site solar power across its facilities, and gridbased renewable energy, and then with carbon offsets for the remaining emissions.
Signature's entire offsets investment came from the Elk Creek Mine project near Paonia, Colorado, approximately 80 miles from the heart of Colorado's ski country. As Signature continues its investment in reducing its own emissions in future years, it anticipates that offsets will contribute a smaller amount of its investment in carbon neutrality.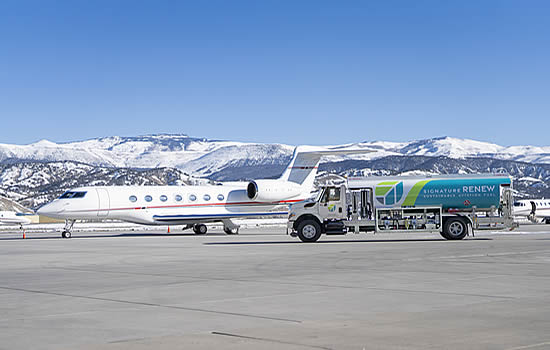 Signature Aviation is one of seven companies that have submitted an application for the FBO lease at the Aspen/Pitkin County Airport.
"We recognize the significant challenges and responsibilities for the Aspen/Pitkin County Airport, and we look forward to meeting those challenges, if we are the successful respondent, as the world's most environmentally focused private aviation terminal operator," said Tony Lefebvre, Chief Executive Officer of Signature Aviation.
"Our past year of conversations with the Aspen community have impressed upon us the community's passion for reducing its carbon footprint. We are committed to helping Pitkin County achieve its goal of a 30% reduction in emissions by 2030 and the Net Zero by 2050 commitment, should we be the successful bidder. This commitment is consistent with Signature's values and actions to-date across our company."
Building on ambitious sustainability targets throughout its global network, Signature has additionally utilized its Eagle County Airport FBO location as a test bed for sustainable innovation.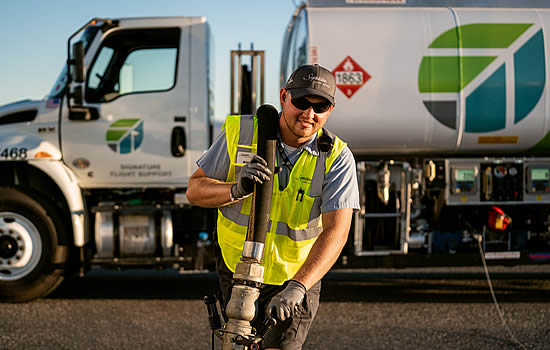 The location was Signature's first to achieve carbon neutrality in the fall of 2022, propelled by the establishment of a supply chain for SAF in the Colorado Rockies, on-site solar generation, and a range of facility and fleet upgrades that resulted in a 15 percent reduction in fossil-fuel emissions last year.
Signature is a leader in sustainability and has reduced its greenhouse gas emissions by 22% since 2018. It has 30 LEED Certified projects completed, and 10% of ground service equipment is electric powered. 14 of Signature's sites have been awarded the Tier-3 NATA, the industry's highest sustainability distinction, which is the most of any company in general aviation. Finally, Signature has led the industry in sustainable aviation fuel (SAF), with over 16 million gallons of SAF delivered (approximately 80% of general aviation SAF sold in US).
Signature's industry-leading commitments to its current and future FBOs would include the continuation of its network-wide carbon neutrality initiative, growing the supply of SAF within the Rocky Mountain region, and offsetting the emissions of all aircrafts in Aspen for both private and airline flights. This is in addition to building onto Signature's tangible reductions in its own carbon footprint reductions, which includes the largest electric tow vehicle fleet in private aviation and the most construction projects to date certified to LEED environmental design standards among FBO companies. Signature has also utilized solar power longer than any other FBO operator.
Today's carbon neutrality announcement is a key step in Signature Aviation's work towards goals set forth in 2020 aligned with the target of the Paris Agreementto limit warming to no more than 1.5⁰C.
"We've set out to achieve ambitious emissions reduction targets, and rather than just making promises, we are proud to deliver real, quantifiable progress by becoming the first FBO to achieve carbon neutrality across its entire global network," said Lefebvre. "Committing to carbon neutrality from this moment on builds on a real track record of significant environmental investments that have already yielded a 22% reduction in our own emissions since 2018."
"It was important for us to take our entire network to carbon neutrality instead of ceremonially doing so at a few regional locations," added Lefebvre. "Climate change is a global challenge and the commitment to carbon neutral operations going forward ensures we are reaching every community that Signature serves today and will in in the future."