Wales
Gama Aviation awarded seven year HEMS contract with Wales Air Ambulance Charity
New seven year, £65m Air Ambulance contract award
Global aviation services provider, Gama Aviation Plc, has been awarded a seven-year contract for the provision of Helicopter Medical Emergency Service ('HEMS') by the Wales Air Ambulance Charity ('WAAC').
The new contract, commencing 1st January 2024, is for the operation and maintenance of five Airbus H145 emergency medical service helicopters, two of which will be supplied by the Group. A primary fleet of four helicopters will operate from the WAAC's current facilities in Cardiff, Caernarfon, Welshpool and Dafen providing comprehensive nationwide HEMS coverage across Wales. The fifth helicopter will provide back-up for the maintenance downtime of the primary fleet to ensure service continuity.
This contract is expected to deliver overall revenues of c.£65m over its 7-year term with margins consistent with those derived from the Group's other Special Mission activities.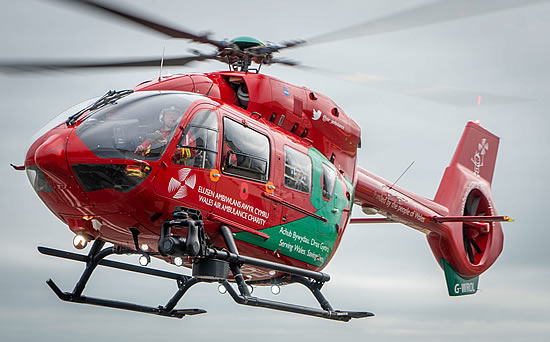 Photo: walesairambulance.com
The Company will invest in standing-up the operation, deploying the requisite capabilities, and other working capital requirements during H2, 2023 to enable the service delivery on 1st January 2024. This c.£2.4m of investment will be funded from the Group's working capital resources and facilities. The two helicopters to be supplied by the Group will be procured under operating or finance leases for the term of the contract award.
Mark Smith, Managing Director, Special Mission, commented: "We are extremely pleased to have been awarded this contract by the Charity. We look forward to working closely with the Charity's team as we stand-up the aircraft, flight, maintenance crews and other resources that are required to deliver this important, national, service."
Marwan Khalek, Group Chief Executive Officer, commented: "I am delighted that we will be partnering with the Charity for the next seven years to support the important service they deliver to communities across Wales. This contract award is further evidence of the execution of our Group's focused growth strategy and marks another significant milestone for our Special Mission business unit in the air ambulance market."