Luxaviation UK's Suzy Gautrey
:

an inspirational pilot
With a passion for flying and a determination to succeed, Luxaviation UK's Suzy Gautrey explains how she is fulfilling her dream as a full-time pilot.
Joining my local Air Cadets in London at 13 ignited a lifelong passion for aviation in me. I learnt the principles of flight, navigation and aircraft recognition there. Then at 16, I took my first flight, an amazing experience of aerobatics in a de Havilland Canada DHC-1 Chipmunk. From that moment, I knew I wanted to be a pilot!
But turning a childhood passion into a career isn't always easy. Without friends or family working in aviation, I didn't have anyone close who could advise me on the path to becoming a pilot. And when I asked about flying as a career at school, I was told I'd be more suited to working in another field. I'm proud to have proved that observation wrong.
I thought about joining the RAF but it was still a very male-dominated career at that time and I decided to pursue the civilian route into aviation instead.
So, rather than applying to the RAF, I trained at Bonus Aviation, based at Cranfield Airport, taking the self-funded, part-time route. I started with my Private Pilot Licence (PPL) and then added elements such as Night Rating, my Commercial Pilot Licence (CPL), Instrument Rating and Instructor Rating as my finances permitted.
My first flying job was as an instructor, which I adored and I started flying the Cessna Citation XL/XLS full-time for Luxaviation UK in July 2022.
I'm now looking forward to a long and exciting career as a pilot but I can already look back on wonderful times in the air.
I particularly remember demonstrating the characteristics of stalling an aircraft to a group of engineering students at Cranfield University. I was flying a British Aerospace Jetstream 31 for the National Flying Laboratory Centre, working through various aerodynamic principles. As we recovered from the stall manoeuvre, the students screamed with joy at the associated change in G-force. When we landed, they told me the experience had not only been amazing but also more informative than any theoretical lesson in a classroom.
Absolute professionalism is always critical in our industry, naturally, but it's also important to remember - and wonderful to see - the sheer joy aviation brings people.
And since I became a pilot with Luxaviation UK, I've continued to see that joy on people's faces (without deliberately stalling any aircraft!). One memory that sticks with me is when we took a woman to a surprise destination, Brescia in Italy, for her 50th birthday. She had no idea where we were going and so, unlike a normal flight, we gave her no clue if we would be flying for 20 minutes or five hours, or whether we would be landing in exotic warmth or a dramatic cold climate.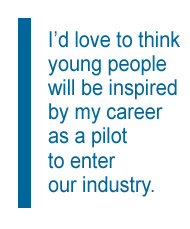 Looking forward, I really want aviation to provide opportunities for everyone with talent. When I was growing up, I didn't have the information I needed to make educated choices about becoming a pilot. Now, online resources are developing all the time and although sectors of aviation remain heavily male-dominated, the overall landscape is changing to become more welcoming to women. Even something as simple as a photo of a female pilot in the media could help a girl or a woman realise that her dreams of flying aircraft are achievable.
Money remains a barrier to progress, sadly. Training to become a professional pilot now costs over £100,000. I was lucky I could put money aside when working full-time to pay for my basic training but not everyone has that opportunity open to them. It would be great if aviation could follow the lead of the rail industry and provide talented people with financial support for initial training.
I'm really happy with how my aviation career is developing. My colleagues are fantastic, from the flight deck and cabin crew to the airport and office staff and the continuing airworthiness management organisation (CAMO) to dispatch teams. We all support each other to get the job done safely and efficiently.
I love the dynamic nature of business aviation, with never a dull moment and no two days the same. I'm constantly visiting new destinations and often lucky enough to stay a while in fantastic places until the return flight. Our passengers are great, fascinating people, often interested in my work too, so we have some wonderful conversations.
I'd love to think young people will be inspired by my career as a pilot to enter our industry. Believe in yourself and keep going until you find an organisation that appreciates your value.