Customer support, a core SD component

By Michael Skou Christensen, Chief Commercial Officer Satcom Direct
Satcom Direct is well known for introducing firsts to the aviation market. We are driven by the spirit of innovation and currently hold 18 technology patents.
The last twelve months have focused on bringing our first Plane Simple Ku-band tail-mount antenna to market, following that we'll be adding a Plane Simple Ka-band terminal, and then an Electronically Steered Antenna with incredible new micro horn technology for optimizing L-band airtime. This is in addition to more than 2000 Satcom Direct Routers flying on the global executive aviation fleet, positioning them as one of the world's preferred cabin connectivity solutions.
At the same time, with our network-agnostic approach, we are strengthening relationships with existing airtime partner, Inmarsat and establishing new ones with Intelsat and OneWeb. The result is an impressive suite of connectivity solutions tailored to individual customer missions.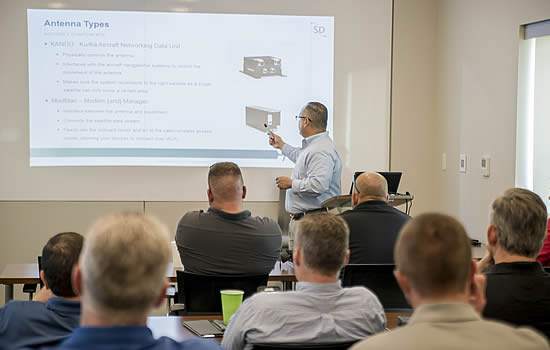 Training the sector is essential when it comes to better understanding connectivity.
The motivation behind our product and service development activity is always our customers. Customers sit at the core of everything we do. Our responsibility is to ensure they receive the ultimate experience from their Satcom Direct solutions and feel confident in optimizing the portfolio of services, products, and experiences we deliver. It enhances their inflight experience, supports operational efficiencies, and supports asset value retention through aircraft performance monitoring.
We believe in connecting our customers beyond expectations wherever they are. We provide the products, airtime, software, cybersecurity, and infrastructure to enable this. However, it is not just the technology that distinguishes us from our competitors but our genuine focus on customer support. We constantly invest in this area of our business.
As our product range is expanding rapidly, so we're growing our team to ensure we deliver consistent, reliable, 24/7/365 support globally. Each of our carefully selected colleagues is extensively onboarded and trained. Initiation comes in the form of SD 101, the primary training everybody receives about the business, its history, our global offering, and the SD philosophy. Invariably the recruits have filled specific roles, and we subsequently train them in their area of expertise. This may be working in our high-tech NOCs (network operations centres), customer account management, network activation, cybersecurity services or product support.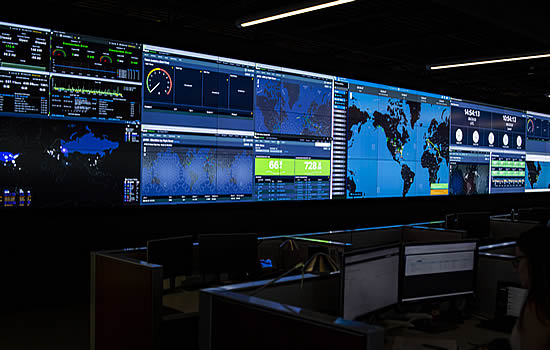 NOC at SD World Headquarters.
We ask employees likely to interact with customers to become aero IT accredited. This is an information technology certification for the configuration and troubleshooting of networks and Satcom systems onboard. Passing the course ensures that all our team are using the same vocabulary as our customers. The support team also speaks more than ten of the most widely spoken global languages; we figuratively and literally speak our client's language. Ease of communication delivers numerous tangible benefits making any conversation more effective in terms of troubleshooting, upgrading, and adding new services.
We recently extended our NOC at Farnborough, UK, which supports our team's aim to follow-the-sun. No matter where a customer is, there is a real person to connect with when needed. In addition, that person will be familiar with the system and stay connected with the customers until the coverage is maximized or any outage concerns are resolved. The team is also proactive. Should a customer be flying into airspace where connectivity may be easily compromised or are flying through an area where coverage is reduced, we can give the flight deck, and the customer, a real-time heads up.
Education is an essential part of SD operations, not just for our team, but for our customers too. Our Entry into Service program invites customers to visit one of our training facilities or have a certified SD trainer visit theirs to detail the system. Entry into Service VIP sees one of the team join an aircraft on-wing to demonstrate how to maximize the systems during flight.
Entry into service training happens on the wing too.
Complementing our extensive curriculum, our Connecting with Customers (CwC) customer appreciation events are designed to update users with the latest technology and partner developments in a dedicated environment.
Our next CwC is 14-18 February and we already have more than 300 of our business and government aviation users signed up to join the workshops, open sessions, break-out classes, and partner presentations, as well as to enjoy the renowned SD hospitality. For us, our clients represent our future, and while the connectivity horizon is changing, we work hard to ensure SD customers are supported throughout their connectivity journey.