Washington, DC
NBAA announces new Business Aircraft Scheduler Certificate Program ahead of SDC2023
To assist schedulers in advancing their careers, the National Business Aviation Association announced a new Business Aircraft Scheduler Certificate Program, ahead of the opening of the 2023 NBAA Schedulers & Dispatchers Conference (SDC2023) taking place January 24th-26th at Music City Center, Nashville,TN.
"NBAA strives to provide valuable learning opportunities for its members from all sectors of business aviation, and this latest credential will allow schedulers and others in the flight department to affirm they are among the best in the industry," said NBAA Director, Certification Tyler Austin. "This program is ideal for flight department personnel who have been assigned aircraft scheduling responsibilities or professionals looking to work in business aviation operations."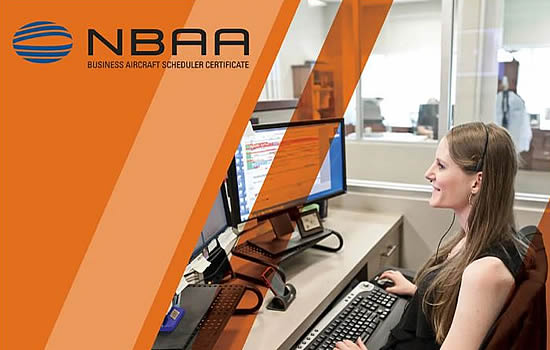 Developed In collaboration with Part 91 scheduler subject matter experts and Universal Weather and Aviation, Inc., the assessment-based certificate program will provide participants a comprehensive introductory to mid-level training on the duties of a business aircraft scheduler. The program includes nine asynchronous learning modules testing in key areas of aircraft scheduling at an introductory level:
• Module 1: Business Aviation Basics
• Module 2: Mission Control
• Module 3: Global Regulations
• Module 4: Technology
• Module 5: Crew Scheduling
• Module 6: Safety & Security
• Module 7: Finance, Legal & Tax Responsibilities
• Module 8: Pre-trip Logistics
• Module 9: Real-time Trip Support
Successful program participants will receive a certificate and a digital badge to validate their knowledge with their peers. The Business Aircraft Scheduler Certificate also is approved for NBAA Certified Aviation manager program (CAM) credit. Those that complete the course and pass the final assessment will be awarded four points toward their CAM application or CAM recertification.
Learn more about the Business Aircraft Scheduler Certificate