United Kingdom
Harrods Aviation expands footprint at London Stansted by acquiring the FBO business, Fayair
Harrods Aviation is expanding its FBO footprint to serve increasing demand at London Stansted Airport, with the purchase of it's neighbouring business, Fayair, through the acquisition of the whole of the share capital of Fayair (Stansted) Limited.
The acquisition allows Harrods Aviation to expand its existing fixed FBO capabilities by an additional 130,000 sq ft, including a 38,750 sq ft hangar and 91,500 sq ft of private ramp parking, to serve its fast-growing customer base. This brings its world-class facilities to a total operational footprint of approximately half a million square feet across London's Luton and Stansted airports.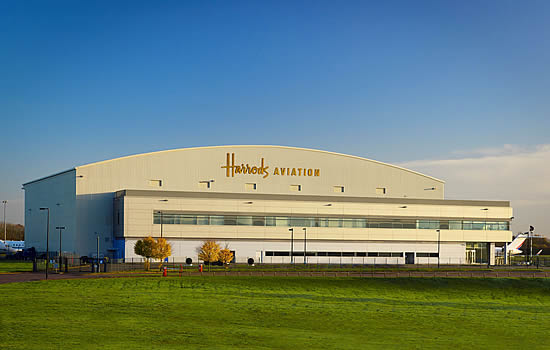 Rendering of newly designed Hangar 12 at Harrods Aviation, London Stansted Airport.
In recent times, as the pandemic has receded and London has reopened its doors to international travellers, there has been an increase in demand for FBO services, particularly at Stansted Airport. More jets have been travelling through London Stansted, due to its favourable operating hours and convenient location, close to the North-East of London with favourable road access to the city.
Paul Norton, Managing Director of Harrods Aviation, said: "This investment allows us to support the growth of this thriving gateway to London, while retaining the excellent customer service synonymous with Harrods Aviation."
The acquisition will also help to support the growing demand at Stansted for quality, trained staff. Paul Norton added: "We are delighted to welcome new employees into our hard-working, valued team. We are excited by the opportunity to expand our expertise and offer outstanding services to more international customers at London Stansted."