Nuremberg, Germany
FAI Air Ambulance receives European Aeromedical Institute accreditation for the fifth time
FAI rent-a-jet GmbH's Air Ambulance Division has received accreditation from the European Aeromedical Institute (EURAMI) for the fifth time for both long-range, intercontinental fixed wing and regional fixed wing air ambulance services.
This includes medical endorsements of adult critical care, advanced adult critical care, pediatric critical care and neonatal critical care. The accreditation covers 15 aircraft in the FAI fleet which includes its Bombardier family models - Global Express, Challenger 850, Challenger 604 and Learjet 60.
EURAMI awards accreditation to aeromedical providers once they have completed an audit which includes satisfying a host of strict eligibility criteria. These include operator experience; safety record; aircraft suitability, medical care quality, medical equipment and staff qualifications to name but a few.
FAI achieved a remarkable result of 100% in the "Must Haves" section and 99% in the "EURAMI Standards" section. Accreditation is important for providers like FAI as it is an endorsement of quality, safety and excellence in aeromedical transportation.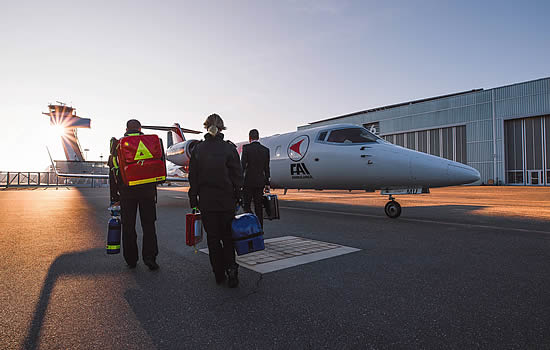 FAI Air Ambulance at its Nuremberg headquarters
Volker Lemke, Head of FAI´s Air Ambulance Division, comments: "We are very pleased to be recognised once again as an approved EURAMI accredited provider. This is a significant award for FAI and it reflects our company ethos which is a commitment to safety and an outstanding level of service to our customers, patients and all who fly with us."
FAI rent-a-jet is one of the world's largest air ambulance jet operators. Its 10-strong air ambulance fleet, comprising Learjet 60, Challenger 604 and most recently, its Global Express and Challenger 850, are based at FAI´s Headquarters at Albrecht Dürer International Airport Nuremberg. The business is supported by more than 250 full-time staff plus 50 physicians, nurses and paramedics. The company also specialises in air support in hostile areas for the world´s largest NGO.
FAI was named International Travel & Health Insurance Journal´s (ITIJ) Air Ambulance Company of the Year in 2021, 2020 and 2012. In December 2022, coinciding with MEBA 2022 in Dubai, FAI was awarded "20 years of Aviation Excellence in the Middle East" by MEA Business at the Aviation Innovation Awards. Its air ambulance operations are a significant part of its UAE business, accounting for 20% of its business overall.