United Kingdom
FAA approves Britten-Norman Islander BN2T-45 type
UK aircraft manufacturer Britten-Norman has gained United States Federal Aviation Administration type certification for the Rolls Royce model 250 powered BN2T-4S Islander turboprop aircraft.
The BN2T-4S is the larger variant of the piston BN2B Islander and comes with an increased MTOW of 8,500lbs. Certification is included under FAA Type Certificate reference A17EU Revision 22.
This change is an important milestone for Britten-Norman and compliments existing type certificates for the aircraft with the UK CAA and EASA. The new certification opens up new markets for the company in the USA and internationally. BN2T-4S Islanders are currently in manufacture at the company's Solent manufacturing facilities at Daedalus and Bembridge in the UK. In addition to new aircraft, Britten-Norman also holds stock of factory refurbished pre-owned aircraft.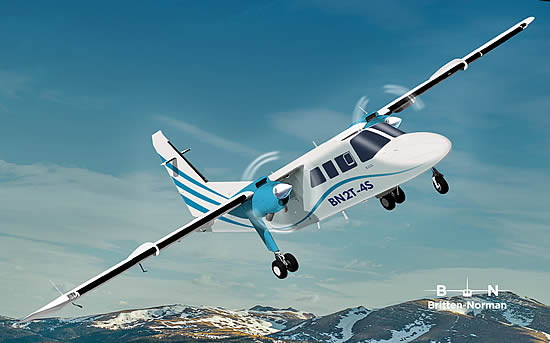 Mark Shipp, Technical Director comments: "Obtaining type certification for any aircraft is a major achievement and requires a huge amount of effort and hard work satisfying the regulator that the product is not only safe but also meets the most stringent standards. The USA is the world's largest aviation market and the FAA is a hugely respected regulator of that market. We are very proud to have had the opportunity to work closely with the FAA to achieve this important goal and now look forward to the opportunities this will bring."
The Islander aircraft continues to develop its successful proven track record as a thoroughbred work horse. The aircraft is available in multiple configurations, including commuter, medevac, surveillance, and maritime patrol.
Britten-Norman is currently progressing type certification approval for the BN2T-4S Islander in India and Canada.