London
ALTEA design bespoke new galley inserts
Diversifying and innovating the way crockery and flatware can be stored on private jets
From concept to completion, ALTEA's London HQ design studio is known for its luxury interior aircraft design and their meticulous attention to detail.
Recently, one of their focuses has been on developing bespoke new galley inserts that are designed to store and protect delicate items such as flatware. The inserts utilise foams, leathers, and fabrics to ensure such items remain quiet whilst stowed, as well as providing the luxury finish that is signature to ALTEA's designs. These inserts diversify and innovate the way crockery and flatware can be stored on private jets.
Due to limited stowage space onboard, extensive research is carried out beforehand to determine the best suited method of manufacture for these drawer inserts.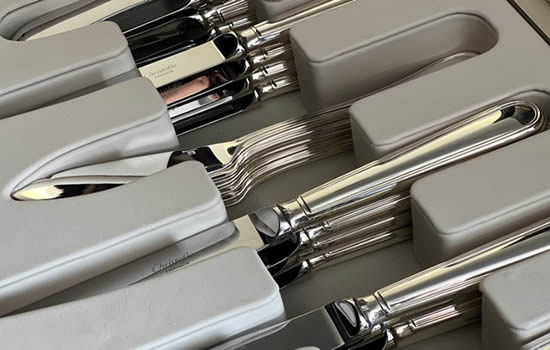 3D CAD software is used to scan the crockery's distinct shape, and from here the method of manufacture is decided; this could involve water jet cutting of foam, to 3D printing using the latest rapid prototype materials. The designs are then sent to high tech specialists along with ALTEA's traditional go-to leather masters, who can trim in leathers and man-made textiles.
"Operators and owners want their dedicated flatware, cutlery etc to fit perfectly into the purpose-built drawers. These spaces are quite often very small so sometimes we must get creative on how to use the space, which then dictates our method of manufacture and materials," says Robin Dunlop, Partner at ALTEA.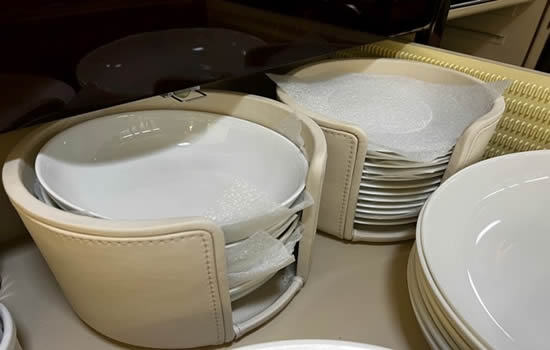 In creating the inserts, the company must abide by certain design considerations to ensure they are safe for use on the aircraft. Whilst ALTEA consistently utilise safety compliant décor materials, no specific testing is required for many of these types of items. Operators and owners frequently treat these products as carry-on items.
The main challenge ALTEA faces in the design of galley inserts is due to the fluctuations in tolerance of other manufacturers. The chinaware industry work with fairly wide tolerances on the sizing of their products, which can create problems in fitting some items to the stowage space. To overcome this problem, ALTEA methodically 3D scans and measures each item, as well as the space required to store items nested together. This ensures the perfect fit that operators and owners are looking for.
The inserts are robust and designed to last for as long as the cabin interior itself, or when the owner makes the decision to refurbish their aircraft. This is where ALTEA's retrofit service is utilised and they can redesign the drawer inserts to fit any particular stowage space. ALTEA also designs other items that can be offered as a retrofit service to existing operators and owners, such as bespoke pillows with custom fabrics, blankets from the finest merino wools, and coat hangers, hand stitched in leathers to match the cabin interior.
See also: ALTEA's perspective on the regional aviation market 2023