United Kingdom
The ACA commemorates Emiliano Sala with Fly Legal Day
Global trade organisation The Air Charter Association (The ACA) is raising awareness of the dangers of illegal charter flights and honouring Emiliano Sala with its annual Fly Legal Day, taking place on 21 January.
Premier League footballer Emiliano Sala and his pilot, David Ibbotson, tragically lost their lives when an illegally chartered aircraft crashed into the English Channel on 21 January 2019. Marking the four-year anniversary, The ACA is again calling on industry partners to support its mission to widen awareness and help travellers recognise the dangers of illegal charter.
Glenn Hogben, Chief Executive, The ACA, says: "We're inviting all our members and industry colleagues around the world to unite in raising awareness about illegal charter and its associated dangers. Sadly, while rare, chartering illegally remains an ongoing issue in our industry and, together, we can spread the word about this and prevent future tragedies like the Sala case.
"21 January 2023 will mark our second annual Fly Legal Day. The ACA's priority is always to uphold the highest industry standards, trust, professionalism and above all else, safety. Booking with one of our trusted member companies ensures those involved in organising air charter, and the passengers, will avoid illegal charter flights and prevent putting anyone at significant risk."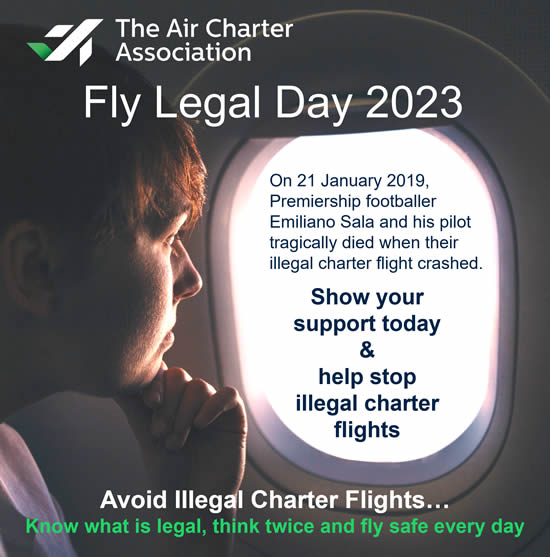 An illegal charter is an unlicensed aircraft charter operation, where the operator does not have an AOC (Air Operator Certificate), or Air Carrier Certificate (US) and is operating a private aircraft for which the operator, aircraft owner and/or pilot is not legally licensed to accept payment for their flying or aircraft.
Join The ACA on Saturday 21 January 2023 and show your support on social media to raise awareness and help travellers recognise the dangers of illegal charter.
A media pack is available for social media posts.