Astana, Kazakhstan
Balance Aviation authorizes Service Center for PC-12s, PC-24s in Kazakhstan
Balance Aviation, the exclusive authorized Pilatus Sales and Service Center in Armenia, Azerbaijan, Bulgaria, Cyprus, Georgia, Greece, Uzbekistan, and Kazakhstan, has appointed Pure Technics as the Pilatus Aircraft service center in Kazakhstan.
A ceremony celebrating the occasion took place at the service center at Nursultan Nazarbayev International Airport, Astana, on December 1, attended by representatives of Aviation Administration of Kazakhstan and airport executives.
The Pure Technics service center provides a full cycle of after-sales service and airworthiness management, including operational and periodic maintenance, for the entire line of the РС-12 single-engine turboprop aircraft and the РС-24 twin-engine jet.
The center is fully equipped to carry out maintenance work on the Swiss aircraft. Its specialists have all the necessary qualifications and the center has modern equipment, the necessary range of special tools, and a stock of consumables to ensure the smooth operation of the aircraft.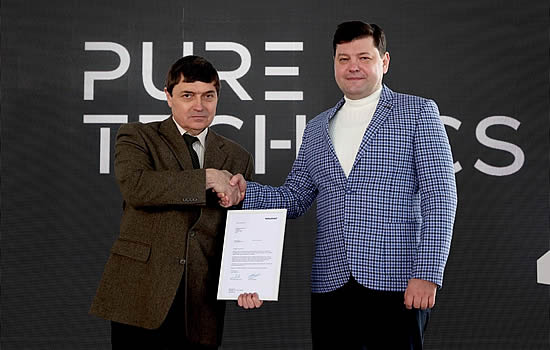 "The opening and authorization of the service center in Kazakhstan is a significant milestone in the development of Pilatus Aircraft global after-sales service network. The convenient geographical location greatly simplifies the operation and airworthiness maintenance of the aircraft of the famous Swiss brand in Central Asia, as well as opens up new opportunities for owners and operators. This is an important achievement for us, which brings the quality of after-sales support for our customers to a new level," said Dmitry Sokolov, After Sales Service Director, Balance Aviation.
Several PC-24 super-versatile jets and models of the legendary PC-12 turboprop line are already in service in Kazakhstan and other Central Asian countries. Their unique performance, as well as the efficiency, reliability and safety make them indispensable for the development of business and special mission aviation.
Balance Aviation began operating as the exclusive sales and service center for Pilatus aircraft in the region earlier this year. The company's offices are located in Limassol, Cyprus, and Almaty, Republic of Kazakhstan.
Pure Technics opened a service center at Nursultan Nazarbayev Airport in April 2022. In July 2022 the company received its MRO certificate from the aviation authorities of Kazakhstan, as well as validation by the aviation authorities of the Republic of Uzbekistan.