Washington, DC
GAMA inducted into International Air & Space Hall of Fame
The General Aviation Manufacturers Association (GAMA) was inducted into the International Air & Space Hall of Fame as part of the Distinguished Class of 2022, during a celebration ceremony on November 19, at the San Diego Air & Space Museum.
"It truly is an honor to have our global association recognized for the dedicated work our board members, company subject matter experts and the GAMA staff perform collectively to engage regulators, politicians, and the safety, science and security agencies as well as executive branch leaders to advance our industry," said GAMA President and CEO, Pete Bunce.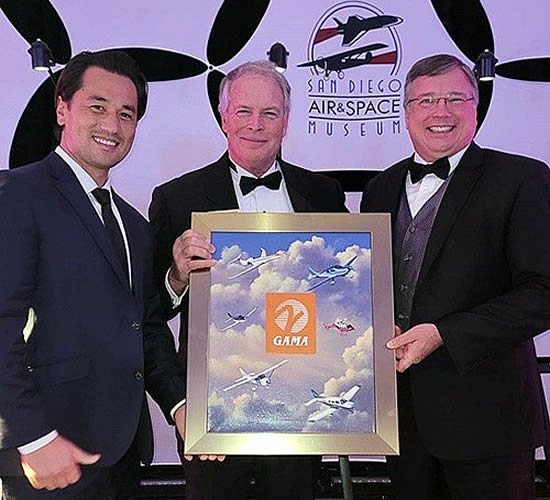 GAMA's David Dunning, Director of Global Innovation and Policy, Pete Bunce, President and CEO, and Walter Desrosier, Vice President of Engineering & Maintenance, at the International Air & Space Hall of Fame celebration.
"In particular, this recognition acknowledges the forward thinking of our Board of Directors to grow our world-wide presence by opening up a Brussels office near the European Commission over a decade ago as well as expand our membership beyond airplane manufacturers to include maintenance and repair organizations, rotorcraft manufacturers and in 2016, establish an associate membership category for companies working in the emerging sector of advanced air mobility," Bunce continued..
"However, the GAMA board's greatest success has been to attract, support and promote an incredibly talented staff of subject matter experts with an unmatched knowledge of the technical, regulatory and governmental processes needed to effectively work with regulators, legislators and authorities. This hall of fame induction belongs to the remarkable team I have the privilege to lead and support as they apply their incredible expertise day-in and day-out to strengthen the general aviation industry."