Colorado
Atlantic Aviation offers consistent supply of SAF at all Colorado locations
Furthering its commitment to sustainability leadership, Atlantic Aviation, in partnership with Avfuel Corporation and Neste, has established a continuous supply of sustainable aviation fuel (SAF) at all four of the company's FBO locations in Colorado.
These include Atlantic's facilities in Aspen (ASE), Telluride/Montrose (MTJ), Steamboat Springs/Hayden (HDN), and Aspen/Rifle (RIL). Avfuel Corporation, one of Atlantic Aviation's primary fuel supply partners, will be delivering all SAF loads leveraging renewable diesel fuel, ensuring that as much environmental benefit as possible is realized in each SAF transaction.
Neste's SAF is compatible with existing jet engine systems as an equivalent drop-in fuel; it is refined using sustainable feedstocks, so the environmental benefits of SAF are most highly realized when the fuel is created, rather than when it is burned. Utilizing a roughly 30% blend, SAF pumped at Atlantic Aviation offers a meaningful reduction in lifecycle GHG emissions versus conventional jet fuel - an approximate 19 metric ton reduction in carbon emissions over the fuel's lifecycle per 8,000-gallon delivery.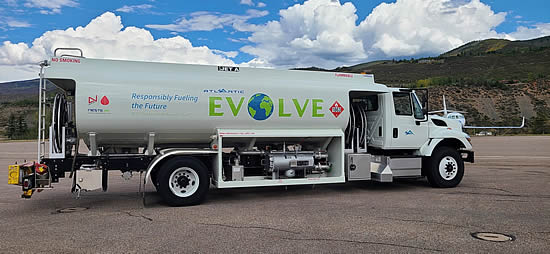 Atlantic Aviation now provides a continuous supply of sustainable aviation fuel (SAF) at all four of its
Colorado locations, including Aspen (ASE), Montrose (MTJ), Hayden / Steamboat (HDN), and Aspen / Rifle
(RIL). Atlantic is an acknowledged leader in sustainability initiatives for both the company and its customers.
"We are committed to enabling our customers to economically achieve their sustainability goals through the strategic expansion of SAF," said Brian Corbett, Chief Commercial and Sustainability Officer for Atlantic Aviation. "We view offering alternatives to fossil fuels as the most viable and impactful near-term step to achieving a greener future and are committed to supporting customer sustainability goals accordingly."
SAF is also continuously available at Atlantic Aviation locations in California, including the company's FBOs in Palm Springs/Thermal (TRM), San Jose (SJC), and Los Angeles (LAX), and can be purchased more widely with Atlantic Aviation via the book & claim process.
In these four Colorado markets, Atlantic Aviation's additional sustainability initiatives include achievement of scope 1 & 2 carbon neutrality (and five other FBOs in the US) via partnership with Carbonfund.org, along with scope 3 carbon neutrality in Pitkin County - offsetting the sale of all general and commercial aviation gallons sold at that airport. These four locations were also recently certified by the National Air Transportation Association (NATA) as Tier 3 Green Aviation Businesses - the highest and most demanding level of sustainability certification offered by the organization (only five FBOs in the US are certified Tier 3 via NATA).
"Striving to reduce our impact on the environment is a promise we've made to our customers, our staff, and to the communities we serve," continued Mr. Corbett, a Colorado resident. "We employ hundreds of people in Colorado and have a corporate office in the state; we know that environmental sustainability is vitally important in our mountains - aligning with our hosts is inherent to Atlantic's community engagement approach."