London
CharterSync integrates RocketRoute for ultra-accurate transit times
Award-winning air cargo charter business, CharterSync, has enhanced its platform with the integration of RocketRoute, which will provide aircraft profiling and flight planning data to ensure CharterSync offers ultra-accurate transit times instantly.
With RocketRoute offering auto-routing and full monitoring of current and forecasted weather conditions, the integration will enable CharterSync to provide precise flight times, allowing operators to become more effective in planning for fuel burn, while also providing more accurate costs for ad-hoc cargo charters.
RocketRoute will integrate automatically into the CharterSync quoting process, with fields automatically completed to provide accurate timings and remove the need for any manual calculations.
This integration will benefit operators - who will save time on quoting - as well as clients, who will receive more transparent and accurate times and costings more quickly.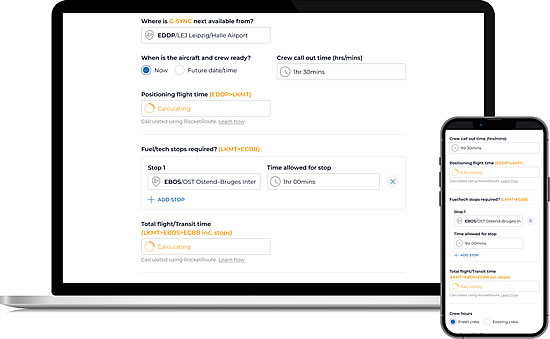 Simon Watson, co-founder and director, CharterSync, says: "Creating quotes manually can be a time-consuming process that sometimes leads to human error. Clients also want total confidence in flight times when they are viewing quotes. Our RocketRoute integration addresses these issues and underlines our total commitment to continually improving our platform. This integration is just the start of our partnership with RocketRoute as we work to provide even greater benefits to airlines and freight forwarders and further enhance the game-changing speed, simplicity, and flexibility of CharterSync's booking process."
Steven Morgan, Senior Business Development Manager, RocketRoute, says: "We're proud to partner with CharterSync on instantly providing more accurate flight times through their platform. We're excited that CharterSync can leverage value from our flight planning optimization engine in advancing their offering. We look forward to growing our partnership and supporting CharterSync's growth."
CharterSync's innovative and customer-focused business model has previously been recognised by its peers in the air cargo and logistics industries, as well as the wider UK business community. The company recently won 'The Technology Innovation Award' at the Lloyds Bank British Business Excellence Awards ceremony, which took place in London last week. In addition, CharterSync was crowned 'Air Business of the Year' at the UK Logistics Awards in December 2021 and won 'Best Use of Technology' at the Supply Chain Excellence Awards in November 2021.