Fort Lauderdale, Florida
VIP Completions acquires Dassault Falcon 2000 as demonstration aircraft
Owned aircraft provides ideal platform for company to showcase completions and refurbishment expertise
VIP Completions, providers of aircraft completions and refurbishment services, has announced that it will use a recently-completed Dassault Falcon 2000 as a demonstration aircraft to showcase its expertise in completions and refurbishment.
With more than 600 aircraft delivered since its inception, the Falcon 2000-series is a proven super-mid-size business jet with impressive performance capabilities. Leveraging this powerful and adaptable platform, the VIP Completions team has created a unique aircraft that offers a superb in-flight experience.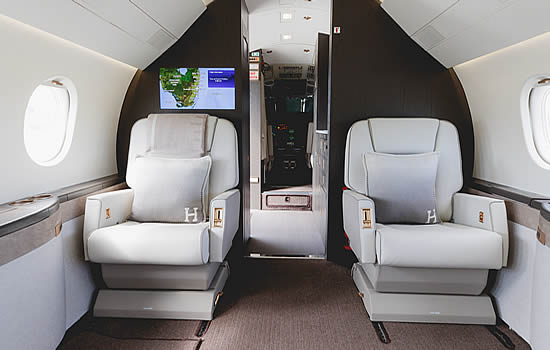 Design highlights include:
• Ten luxurious custom-designed seats upholstered with premium Garrett leathers
• Richly grained oak woodwork in a warm matte brown finish (done in VIP Completions' new state-of-the-art spray booth)
• Carpeting and cabin details in luxurious Loro Piana fabrics
• Custom bar area adjacent to galley and open to cabin
• Custom-designed lavatory countertop designed with single-slab stone effect
• Elegant new exterior color scheme – white and silver stripe details.
Cabin management system (CMS) and in-flight entertainment (IFE) highlights include:
• CMS control via Crestron touch panels embedded at each seat location and in the galley
• Custom ALTO audio system calibrated for cabin using ALTO's MySound™ optimization tool to ensure perfect sound
• Upgraded high definition monitors
• Dynamic RGB lighting
• On-board Plex media server that provides virtually limitless content options.

VIP Completions' Dassault Falcon 2000 'Before and After' [click to enlarge]
"Owning our own business jet is the perfect way to demonstrate what we do," says Ben Shirazi, President, VIP Completions. "The Falcon 2000 is an excellent aircraft and an ideal platform for our team to display their creativity and talent. It will be based at our Fort Lauderdale-Hollywood International Airport (FLL) facility and will be shown at NBAA Regional Forums across the country."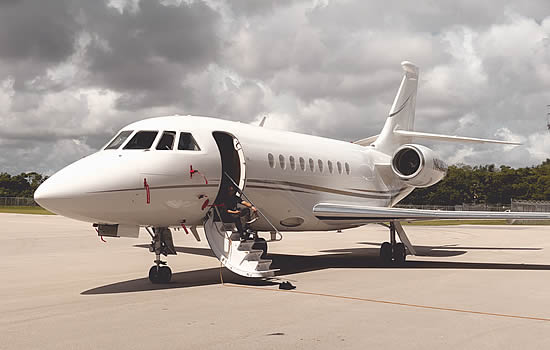 "We are very proud of this project. We are truly putting our best foot forward by presenting inspired designs, unique materials, a beautiful color palette, appointments from top designers and the latest technologies. Our Falcon embodies the elegance of contemporary private aviation. We invite interested parties to contact us at their convenience," he adds.