NBAA-BACE
Gulfstream announces G700 World Tour
Two fully outfitted G700 test aircraft to be showcased to customers across continents
Two fully outfitted Gulfstream G700 production test aircraft will embark on an extensive world tour to showcase Gulfstream's flagship and the most spacious cabin in the industry to customers.
The G700 world tour will commence directly after this week's NBAA Business Aviation Convention & Exhibition (NBAA-BACE) and builds on the test program's impressive real-world performance capabilities, which already include eight international city-pair speed records.
"These outfitted G700 aircraft currently flying feature two of the most stunning interiors in business aviation," said Mark Burns, president, Gulfstream. "After being on display for the industry at NBAA-BACE in Orlando, Florida, the G700 will fly to major events and private showings across 20 cities and six continents as part of our efforts to give customers direct access to the aircraft. The strategic route of the G700 world tour reflects the strong demand we are seeing in established markets, such as Europe and the Middle East, and in growing markets for us, including Southeast Asia, India and Africa."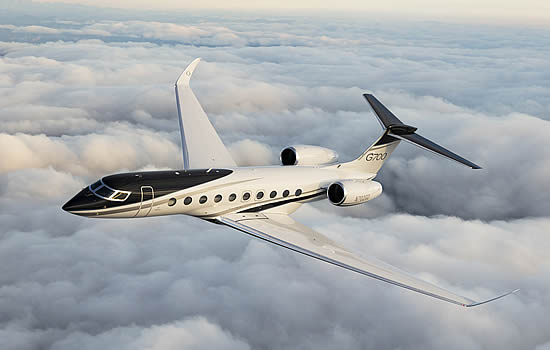 The G700 world tour will take the aircraft to South America, Europe, Africa, Asia and Australia as well as events including the Future Investment Initiative in Riyadh, Saudi Arabia; the Bahrain International Airshow; and the Middle East & North Africa Business Aviation Association (MEBAA) Show in Dubai.
The first fully outfitted G700 production test aircraft first flew in April 2021 and was joined by the second outfitted aircraft this past September. To ensure uncompromised cabin maturity upon entry into service, Gulfstream is taking the interior through thousands of test points and flight hours. The production test aircraft showcase the industry's only ultragalley, with more than 10 feet/3 meters of counter space; a grand suite with fixed bed and bright, spacious lavatory with full vanity and shower; the dynamic circadian lighting system; an all-new award-winning seat design; and the lowest cabin altitude in the industry at 2,916 ft/889 m when flying at 41,000 ft/12,497 m.
Manufacturing facilities expanded to meet growing demand
$150.7m investment to ensure streamlined, efficient operations for next-gen fleet production.
In further news, Gulfstream announced plans to continue expanding its Savannah aircraft and wing manufacturing facilities to meet customer demand for the next-generation Gulfstream G400.
The 262,000 square-foot/24,340 square-meter expansions add dedicated G400 production and wing lines as well as additional material delivery and distribution areas. The expansion also augments ongoing growth at Gulfstream's wing production facility adjacent to the G400, G500 and G600 manufacturing building.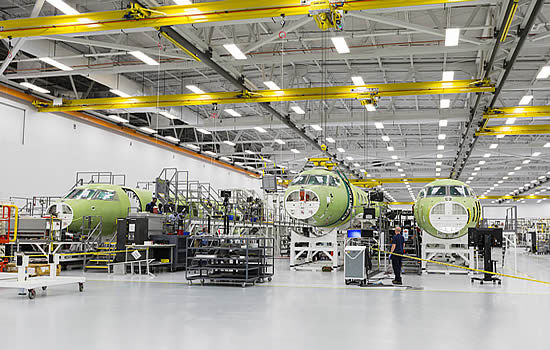 "This planned expansion is part of our long-term strategic plan and investment strategy we envisioned to accommodate our next-generation family of aircraft," said Mark Burns. "We intentionally designed these aircraft and facilities with a range of commonalities to increase operational efficiency and flexibility. This strategy, combined with the investments we've made in advanced precision manufacturing, allow Gulfstream to achieve industry-leading quality and consistency."
In addition to G400, G500 and G600 manufacturing, Gulfstream's Savannah headquarters houses production of the flagship Gulfstream G700, the all-new Gulfstream G800 and the award-winning Gulfstream G650ER, along with wings and empennages for those aircraft. Interior completions are also performed in Savannah, as well as at Gulfstream's facilities in St. Louis, Dallas, and Appleton, Wisconsin.
Component repair and overhaul facility to be added in Texas
Gulfstream has announced plans to add a new component repair and overhaul facility in the Dallas-Fort Worth, Texas, metropolitan area. The facility will focus on component repair and maintenance supporting Gulfstream's commitment to aircraft lifecycle reliability and durability.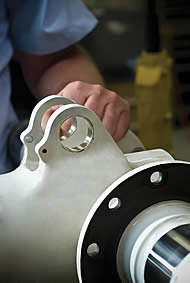 The 100,000-square-foot/9,290-square-meter facility will initially focus on wheels, brakes and landing gear and is expected to open in the first half of 2023. As the Gulfstream fleet continues to grow, the Dallas-Fort Worth component repair and overhaul facility will ultimately expand its repair and overhaul services to aircraft structures, avionics and other components.
"The Dallas-Fort Worth area is a prime location for our new component overhaul and repair facility," said Derek Zimmerman, president, Gulfstream Customer Support. "Its close proximity to the Dallas Fort Worth International Airport adds a convenient location adjacent to one of the United States' largest air cargo operations, allowing us to move these components and parts quickly and efficiently to customers around the country. This facility also complements our service center at Fort Worth Alliance Airport and Gulfstream's completions and Customer Support service operations at Dallas Love Field Airport to create even more accessibility and options for our customers."
Also in the Dallas-Fort Worth area, Gulfstream Customer Support recently celebrated the official opening of an allnew service center, a 162,000-square-foot/15,050-square-meter maintenance, repair and overhaul facility at Fort Worth Alliance Airport. Completions for the Gulfstream G280 and Gulfstream G600 are conducted at the Dallas Love Field site, where Gulfstream Customer Support also provides service to operators.
In addition to the new Dallas-Fort Worth facility, Gulfstream Customer Support also conducts component repair and overhaul maintenance at its Savannah, Georgia; Appleton, Wisconsin; St. Louis, Missouri; Farnborough, England; and Lincoln, California, facilities.
New hangar space at Mesa, Arizona
New hangar space is to be added adjacent to Gulfstream Customer Support's all-new Mesa, Arizona, service center, which continues to progress toward completion next year at Phoenix-Mesa Gateway Airport.
The new hangar is located at the SkyBridge development at the airport and augments hangar space Gulfstream established at the facility in March. Gulfstream Customer Support announced the new Mesa facility in November 2021 and broke ground last May. The
new 225,000-square-foot/20,908 square-meter service center comprises a more than $100 million investment and will significantly expand Gulfstream's maintenance, repair and overhaul (MRO) capabilities in the Western United States.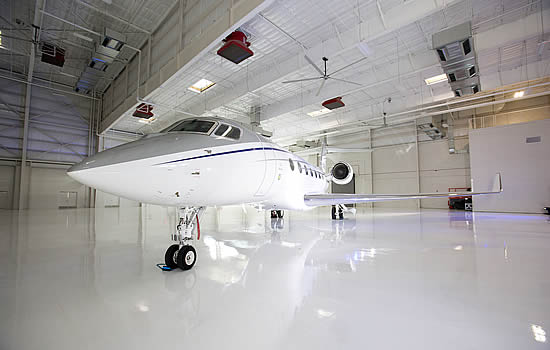 "Since we announced the new Mesa facility last November, the response has been outstanding," said Derek Zimmerman. "The addition of this new hangar space doubles our current capacity and is part of our commitment to enhancing convenience for our customers. This expansion also allows us to continue to develop our workforce in Mesa and hire more technicians who will be well-known to customers when the new facility opens next year."
With the additional hangar space, Gulfstream's current footprint grows to 112,480 sq ft/10,450 sq m for routine inspections and maintenance for Gulfstream in-service aircraft as well as aircraft on ground (AOG) support for immediate customer needs.
Workforce development is a significant area of focus for Gulfstream across sites, and in Mesa, Gulfstream Customer Support established partnerships with Arizona State University and Chandler-Gilbert Community College. More than 80 employees have already been trained and hired to support customer aircraft at the facility, and Gulfstream anticipates that number to grow to more than 200 when the larger facility is complete.
Customer support expanded in West Africa
A new authorized warranty facility agreement with ExecuJet Aviation Nigeria (EJAN) in Lagos will provide warranty and maintenance service and spare parts for Gulfstream G450, Gulfstream G550, Gulfstream G650 and Gulfstream G650ER aircraft in West Africa.
The 275,000-square-foot/25,548-square-meter VIP aircraft terminal facility encompasses an international departure/arrival terminal, FBO and maintenance facility. It is the largest in sub-Saharan Africa and includes a 50,000-sq-ft/4,645-sq-m hangar space that can accommodate up to four G550 jets simultaneously. In preparation for service, EJAN technicians have completed FlightSafety International training programs specific to Gulfstream aircraft.
"As we have expanded our service network with new, modern facilities, we are also expanding our footprint of authorized warranty facilities as the Gulfstream fleet continues to grow around the world, including in West Africa," said Derek Zimmerman. "We are pleased to partner with ExecuJet Aviation Nigeria as our latest service provider to give our customers in the region a new option for their warranty and maintenance needs."
EJAN, the largest facility of its kind in West Africa, is adjacent to the Murtala Muhammed International Airport and located in a free trade zone for parts and maintenance.