Dassault news from NBAA-BACE
Falcon 6X enters final stage of flight trials following successful world proving campaign
Dassault Aviation's new Falcon 6X is entering the final phase of its certification flight test campaign with EASA and FAA, setting the stage for the extra wide body twin to enter service in mid-2023.
"The 6X has distinguished itself as an extremely remarkable aircraft, sailing through its certification campaign and consistently wowing pilots and engineers with its flawless performance," said Dassault Aviation Chairman and CEO Eric Trappier. "It will soon be impressing customers, too."
Last summer, one of the three flight test aircraft underwent hot weather trials in the Tunisian desert. These tests, run at temperatures up to 48°C (118°F), were intended to confirm that the aircraft could function properly in high heat and with proper cooling while flying circuits over the desert at 10,000 feet. They complemented cold soak trials run last winter in northern Canada to demonstrate safe operation at ultra-cold temperatures down to -38°C (-36°F).
High elevation flight trials at a 9,070 feet (2,764 m) high strip in Telluride, Colorado have also been successfully completed.
In August, the aircraft's 13,500-pound-thrust Pratt & Whitney 812D engine received EASA certification. FAA approval is pending. A full flight simulator has entered operation at CAE Burgess Hill in the UK and will be ready to begin training 6X customer crews in April.
The toughest test of all - the real world
Late July, the first production 6X touched down after a round-the-world demonstration tour intended to show the full maturity and reliability of aircraft systems. The campaign included 50 flights over five continents and covered 50,000 nm.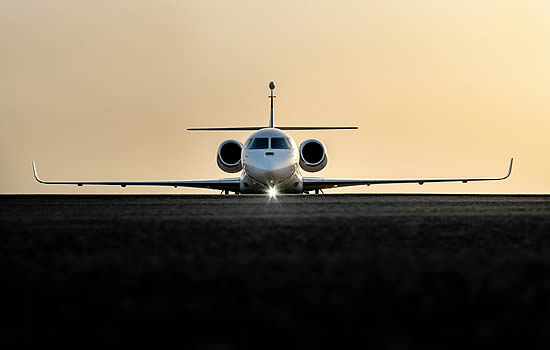 "The tour was a rigorous real world test to ensure Dassault can deliver a mature product with full operational readiness of all systems from day one," said Trappier. "Pilots gave all systems, including new features of the EASy IV flight deck, high marks and assessed performance as 'spot on'."
Connectivity during the demonstration flight was reported to be excellent, even in the most remote legs of the tour. In-flight, measurements and passenger reactions confirmed that the 6X will be the quietest Falcon yet.
The 6X operated at a high tempo, logging up to five flights on some days. The longest leg of the tour was Paris to Los Angeles, flown in 11 hours in 25 minutes. The flight, which covered 5,150 nautical miles against strong headwinds, was completed with full reserve fuel.
The 19th Falcon 6X is currently on the final assembly line and three customer aircraft are in completion at the Dassault interior facility in Little Rock, Arkansas.
---
Falcon 10X enters production phase
With parts manufacture now in full swing, Dassault Aviation is gearing up to produce initial subassemblies for the Falcon 10X, which will set a new standard in the ultra-long range business jet segment.
"All the elements for another great Falcon are literally coming together in our various production facilities," remarked Eric Trappier. "This new aircraft, the largest purpose-built business jet on the market, will embody the latest technology and set a new benchmark for passenger experience."
The first long-lead items including the landing gear, have been manufactured and are ready for assembly. A first fully representative composite wing is also being prepared for static and fatigue testing.
Development of the aircraft's Rolls-Royce Pearl 10X is progressing well, too. Tests to date have demonstrated the reliability of the engine and shown it will fully meet its performance requirements. To date, Rolls-Royce has logged over 1,000 test hours on the 18,000 pound-plus thrust engine, including runs on 100 percent sustainable aviation fuel (SAF). Ground tests of the first complete power plant, including its new nacelle and EBU (Engine Build Up), are in preparation.
Rolls-Royce recently broke ground on a new production support facility adjacent to the aircraft final assembly line in Bordeaux-Mérignac. The flight test campaign for the Pearl 10X will take place on a Rolls-Royce flying test bed, scheduled to beginin 2023.
New approach in ground testing
With the Falcon 10X, Dassault is taking a new approach to ground testing, which will be used to demonstrate the maturity of all systems well before the aircraft even takes to the air.
Two multi-system test benches at Dassault's Istres, France, flight test center will be utilized for the extensive ground test campaign. The benches are nearly identical and each is equipped with a full flight deck and subsystems computer suites representative of those used on the actual aircraft.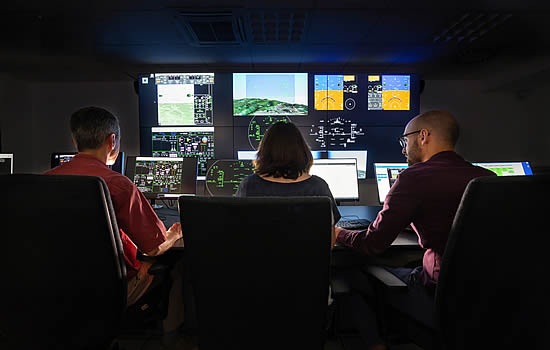 These test benches will verify proper functioning of avionics, engine controls, flight controls, hydraulics, electrical distribution, braking, fire protection and other aircraft systems. A third test bench, at Dassault Aviation headquarters in Saint-Cloud, outside Paris, replicates the flight deck and flight control system.
---
Major maintenance facility to be built in Melbourne, Florida
Dassault Falcon Jet, a wholly-owned subsidiary of Dassault Aviation, announced it will build a new maintenance facility at Melbourne Orlando International Airport (KMLB) as part of the company's worldwide expansion of its maintenance, repair and overhaul network.
"This new factory service center will considerably grow our presence in the US, positioning us to keep up with demand for state-of-the-art maintenance services as the Falcon fleet grows and as new models such as the Falcon 10X and the extra widebody Falcon 6X enter service," said Eric Trappier.
Intended to serve customers across North and South America and beyond, the 175,000 square-foot complex will accommodate all current Falcon models, (including the new, ultra-long range Falcon 10X, the largest purpose-built business jet), and will be capable of performing major maintenance and modifications on up to 18 Falcon models simultaneously.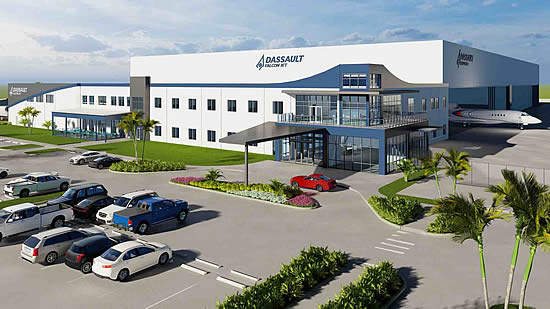 "We extensively evaluated several areas before we found that the business environment in Florida, along with its highly skilled workforce on the Space Coast, to be the perfect combination for this project," continued Trappier. "We appreciate the cooperative support received from the Governor's office and the State of Florida. Their support and leadership made this possible."
Governor Ron DeSantis said, "We have made it our priority to invest in our workforce to attract the world's top companies to Florida. Today's announcement from Dassault Falcon Jet shows how these investments are paying dividend. This new facility will bring high-paying jobs to Melbourne and lead to strong economic growth throughout Central Florida."
The Melbourne facility will be a heavy maintenance platform capable of handling a full range of inspection, repair and overhaul activities, from line maintenance through C checks, as well as engineering and modification services. It will be equipped with workshops, customer offices and lounges, along with a large warehouse to support shop activity and serve as a regional distribution hub. Additionally, the site will be home to a 54,000 square-foot paint shop.
Melbourne is located on Florida's famed Space Coast that regionally employs about 35,000 people in aviation and aerospace and benefits from excellent technical training dispensed by nearby educational institutions such as Embry Riddle Aeronautical University and the Florida Institute of Technology.
Melbourne is just the latest in a series of moves planned to extend and reinforce Dassault Aviation's global MRO footprint. Next year, the company's ExecuJet MRO Services unit will open a new heavy maintenance facility in Dubai, United Arab Emirates, and start building a new heavy maintenance facility in Kuala Lumpur, Malaysia, to enhance maintenance offerings in the Eastern Hemisphere. The company now has 40 factory service locations and 20 authorized service centers around the world.
Construction in Melbourne is expected to begin in the second quarter of 2023 and opening is set for late 2024.
---
Dassault EASy IV flight deck to enhance situational awareness and aircraft operations for new and in-service Falcons
Dassault Aviation has introduced the fourth generation of the award-winning EASy flight deck, with more vivid displays, more processing power, new capabilities and additional safety features.
Based on a Honeywell Primus Epic-based system, EASy IV will be standard on the Falcon 6X, due to enter service by mid-2023, and, beginning in 2023, on all new-build Falcon 8X aircraft. It will also be available as an upgrade on earlier Falcon 7X and 8X aircraft.
"The EASy flight deck has long been the industry benchmark for situational awareness and crew coordination, and we are very pleased to release this latest upgrade to our customers," said Carlos Brana Executive Vice President of Civil Aircraft. "EASy IV will enable them to bring their operations up to the latest industry standards and significantly enhance their aircraft value."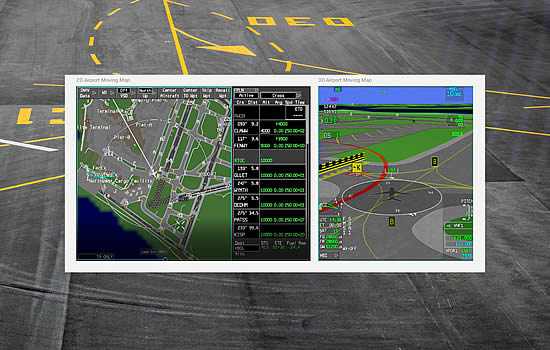 Enhanced situational awareness
With EASy IV, an advanced interactive navigation map (INAV) better depicts airspace restrictions and terrain resolution and, combined with a new interactive vertical situation display (VSD), gives a better picture of thunderstorm vertical development. These features provide pilots with a better sense of where they are heading in three dimensions while decluttering the flight display, and allowing them to layer navigation, weather and traffic information as desired.
Additional new features greatly reduce the risk of runway incursion. On the ground, 2D/3D airport moving maps (AMM) give a sharp display of runways, taxiways, ramps and other airport features, making ground navigation easier at crowded airports, particularly in low visibility. A new TCAS system includes ADS-B In and Out, so pilots will see traffic in the air and on the airport map.
Operators can also add SiriusXM weather products with all the graphic and text weather data it provides. These images cover all of the US, Canada and the Caribbean.
Streamlined aircraft operations
The latest version of Honeywell's NextGen FMS provides yet additional capabilities, including new RNP AR approaches for improved access to runways affected by terrain or high-density traffic. New graphic CPDLC features provide seamless data communications for different phases of flight, reducing crew workload. And the system offers broader compliance with various datalink standards.
New Jeppesen chart features are also integrated into EASy IV, including a night mode that keeps an even light level on the flight deck during night approaches. Charts feature a new Panoramic mode and an aircraft symbol georeferenced to approach charts, adding another valuable situational awareness cue.
By upgrading to EASy IV, Falcon 7X operators can add a valuable feature that is standard on the Falcon 8X - an enhanced auto-throttle option. This allows pilots to secure one engine while retaining automation for the other two.
Improved operational safety features
An improved takeoff and landing data (TOLD) function allows additional inputs for more precise calculation of realistic landing distances. This enables operators to meet new EASA and FAA mandates on runway performance calculations EASA and to comply with the latest regulations for landing distance at time of arrival (LTDA).
A new runway overrun and alerting system (ROAAS) analyzes aircraft trajectory and TOLD performance to determine if the aircraft can come to a full stop within the remaining runway length. Early PFD alerts improve pilot perception of runway end margin and safer approaches and go arounds.
EASy history
Dassault introduced the orginal groundbreaking EASy (Enhanced Avionics System) flight deck way back in 2002 on the Falcon 900EX, bringing a new level of situational awareness and flight planning ease to the business jet community. EASy IV continues that tradition, offering more capabilty for pilots while meeting the new demands of advanced air traffic management systems.