Singapore
Southeast Asia's first helicopter flight using SAF takes off from Seletar Airport
A Bell 505 helicopter powered by Safran's Arrius 2R and fueled with Neste's Sustainable Aviation Fuel (SAF) took off in Singapore for a demonstration flight.
This remarkable milestone for the helicopter industry in Southeast Asia was achieved through a cooperation between the three companies to exhibit the commitment of the helicopter community to the aviation emissions reduction goal and adopting SAF as a key element in helping achieve these goals. Jet Aviation and Shell Aviation enabled the blending of SAF through their facilities at Seletar Airport in Singapore.
Speaking to Global Sky Media, Valerie Patuel, Managing Director of Safran Helicopter Engines Asia said: "With our products, we are proud to play an active role in the decarbonization initiatives in Asia-Pacific. We strongly believe in SAF, as it contributes to significantly reducing CO2 emissions. All our helicopter engines are already certified to operate on up to 50% SAF, and we are fully ready to assist all helicopter operators worldwide in their transition from conventional fossil fuels to SAF."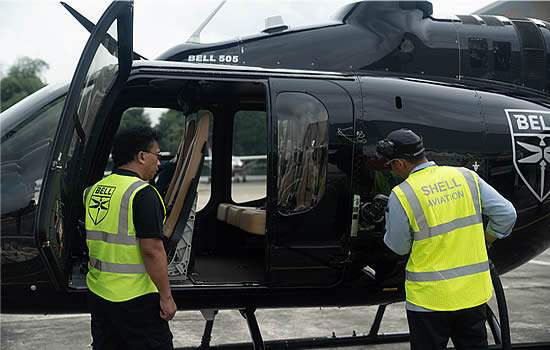 Image courtesy Neste
"Bell has been in Southeast Asia for more than 40 years and we are proud to operate the first SAF helicopter flight here on our Bell 505," said Jacinto Monge, Managing Director, Asia Pacific, Bell. "Today's flight demonstrates our commitment to incorporating SAF into our customer demonstration aircraft globally, supporting Textron to achieve its Sustainable Footprint goal of reducing its greenhouse gas emissions by 20% by 2025."
Indeed, Neste MY Sustainable Aviation Fuel reduces greenhouse gas emissions by up to 80% over the fuel's life cycle compared to fossil jet fuel use. SAF delivers the performance of conventional jet fuel but with a significantly smaller carbon footprint on a life cycle basis. Neste MY SAF is produced 100% from sustainably-sourced, renewable waste and residue raw materials, such as used cooking oil and animal fat waste.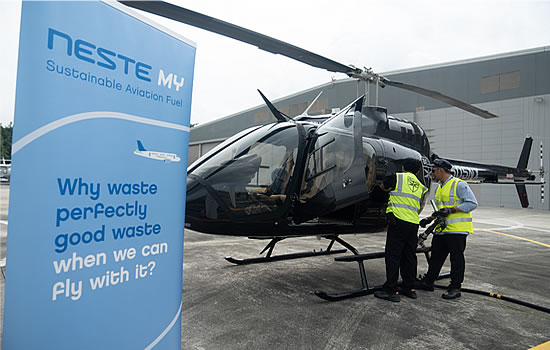 Image courtesy Neste
"The ambitious emissions reduction goals of the aviation industry can only be achieved through wide-scale adoption and use of sustainable aviation fuel and cooperation across the stakeholders in the aviation ecosystem. With this demo flight, we showcase that SAF can safely and easily be used also for helicopter operations. I am also proud that this milestone was achieved in Singapore. With the expansion of our Singapore refinery nearing completion, and the ongoing modification of our Rotterdam refinery, we will be able to produce up to 1.5 million tons of SAF by the end of 2023, ready to support aviation globally and in the Asia-Pacific region," says Sami Jauhiainen, Vice President, Renewable Aviation in APAC at Neste.