Scotland and Malta
Air Charter Scotland highlights expanded EASA CAMO approval
Following regulatory approval from the UK Civil Aviation Authority (CAA) and Europe's EASA, Air Charter Scotland Ltd (ACSL) and its Malta based European subsidiary Air Charter Scotland Europe Ltd (ACSE), are now able to offer full Continuing Airworthiness Management Organisation (CAMO) services both in the UK and Europe.
The accreditation is a culmination of 18 months' work started just before the UK's departure from the EU.
ACSL and ACSE, a leading air charter and aircraft management company, now has a team of seven engaged in CAMO activity, overseen by Continuing Airworthiness Manager Richard Rooney. Stephen Pollock, Continued Airworthiness Manager - Europe, is looking after the European side of the operation, based out of Malta and sub-contracting out to the UK team.
With expanded CAMO approval in the UK and Europe Air Charter Scotland can liaise with regulators for an aircraft owner, appraise aircraft manuals, address airworthiness directives/service bulletins and support maintenance with preferred MRO companies, as well as perform on site surveys and audits.
"This means we can do much more activity inhouse, expanding our managed charter fleet with wider expertise, including offering technical services in the UK and Europe to third party operators and to owners. We can ensure that every aircraft we manage for them is compliant with full safety standards." commented Richard Rooney.
"This is significant as we add more aircraft owners. They have peace of mind we are fully conversant with the flux in regulations supporting both the UK and European markets."
Air Charter Scotland's foray into third party CAMO support occurred this summer when it helped European charter operator Elit'Avia. ACS supported the transfer of a UK-registered Embraer Phenom 300 onto the 9H Maltese aircraft registry. As a G-registry operator, it supported Elit'Avia with the process of achieving an export certificate of airworthiness, assisting with communications between the UK Civil Aviation Authority and Transport Malta. COO Iain Houseman approached Air Charter Scotland COO Derek Thomson to assist with the process of full research on the aircraft's records, including inspection and preparation for commercial operations. The goal was achieved inside three weeks, concluding a very complex administrative situation.
Two new Embraer Praetor 600 business jets join managed charter fleet
"We are delighted to have this widened CAMO capability," said COO Derek Thomson. "Congratulations to Richard, Stephen and their team for all their hard work.
The timing of its CAMO accreditation proved especially opportune, enabling an Air Charter Scotland team, headed by Derek Thomson, to fly to Melbourne, FL to complete the formal acceptance of its first of two Embraer Praetor 600 business jets ahead of a ferry flight to its new home at Liverpool John Lennon Airport.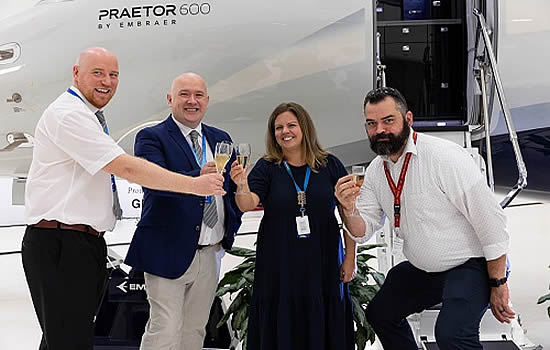 (L to R): Air Charter Scotland's Continuing Airworthiness Manager, Richard Rooney; Air Charter Scotland's COO Derek Thomson; Embraer Customer Account Manager, Jenny Manning and Embraer Delivery Specialist, Jeremiah Orr with the new Praetor 600 at Embraer Aircraft - Melbourne, FL ahead of ferry flight to the UK.
The super mid-sized jet (G-GDAB) will be managed and offered for charter on behalf of a private owner out of Liverpool and London Luton Airports. It will be joined by G-MCEN arrives at the end of October.
In addition, a Cessna Citation CJ1 with Tamarack winglets which previously operated with the company is now back and available for charter, under the registration G-COBN. Positioned out of London Luton Airport, the aircraft will be marketed by Embracing Executive Travel and will be floating one when on charter.