Flying Alert for Flying Freedom

By Nick Cook, Director of Flight Deck Services Satcom Direct.
---
Space debris is not a subject that is frequently discussed in business aviation, yet the likelihood of foreign object debris hitting an aircraft is possible, although slim. Scientists estimate that chances of being struck are around one in a trillion, but the amount of space flotsam making its way back to earth is growing.
In the last six months, we have seen at least five incidents of falling space debris. As recently as May this year, debris from a rocket launched by the Russian Space Agency fell into the Pacific Ocean, with common flight routes in the North Pacific Ocean affected. Space rubbish appears to be the latest addition to the Foreign Object Debris (FOD) portfolio.
FOD damage can occur when any type of debris strikes or is sucked into an aircraft's engines, and at altitude can be fatal. Situational alerts for terrestrial, or extraterrestrial FOD, are one of the many tools that can be supported by a Satcom Direct FlightDeck Freedom (FDF) subscription. In the case of the North Pacific debris flight crew would have received an automated alert if the rocket remnants would have impacted the flight route.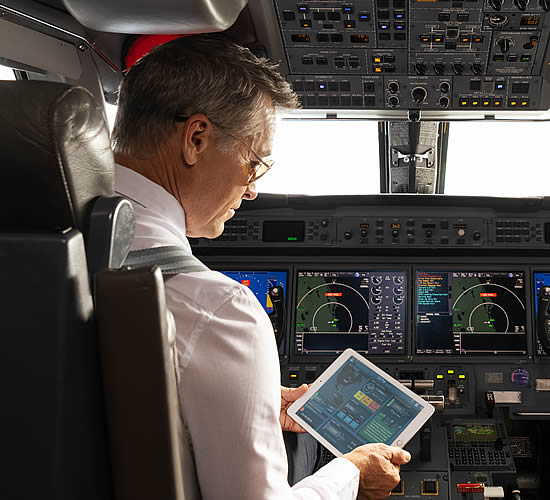 Pilots can modify flight plans pre- and during post-flight with FlightDeck Freedom.
FDF is the only datalink communications platform to integrate both flight deck and cabin communications and connects to over 20 leading international trip planning services. The open architecture FDF platform turns raw data into actionable intelligence and solutions for flight crew and support staff on the ground. We've introduced significant automation so that from the time the flight crew uplinks the flight plan, FDF monitors for hazardous weather events, security alerts, and anything else that might impact their flight path. This streamlines the workflows, synchronizes information delivery, and keeps the flight team updated about all elements of the flight. With vital updates pushed to them to enhance situational awareness, the crew remains focused on flying.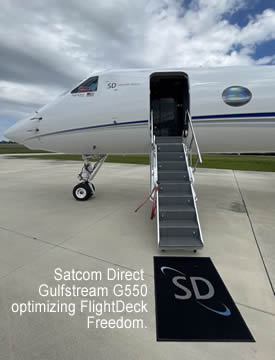 FDF can also identify potential hazards that could impact travellers, even after reaching their destination which, in today's turbulent operating environment, is invaluable. Even critical security events are advised, which can significantly impact the travel experience. On one such occasion this year, an FDF subscriber filed a flight plan for a trip to Israel for C-Suite executives. Our FDF automated processes vigilantly monitored the flight, which was calm for much of the trip. However, with the jet about six hours away from Tel Aviv, a security risk developed on the ground. Unrest in the city located close to the airport was heating up, and while the airport was running normally, the FDF system alerted the flight team about what was unravelling. Within an hour of the flight's estimated arrival time, a curfew had been introduced, which, while not affecting the flight directly, would have been a problem for passengers had they landed. SD informed the customer of the critical update, and trip plans were modified to ensure the passengers were kept safe and could rearrange the itinerary accordingly. Without FDF, the flight would have landed blind, and both passengers and crew could have walked into a dangerous situation.
Unfortunately, the Israel story is not so irregular in what appears to be an increasingly unstable world. The need for situational awareness is higher than ever, and that is precisely what SD delivers with FDF. The FDF datalink solution is integrated with flight operations and forms part of an ecosystem that connects multiple components of the aircraft to ground-based solutions. It also includes configurable features and monitoring of industry datalink compliance to support secure and reliable datalink services between the crew, air traffic control, and ground personnel. Connectivity reliability for passengers is also managed by the FDF platform advising flight crews of sensitive airspace, potential outage, or coverage loss situations.
FDF undoubtedly plays a significant part in communicating dynamic situational changes during flight. This augmented support for flight crew, ground personnel, and passengers raise industry standards by improving safety and compliance levels through bolstered communications. We are proud that more than 2000 subscribers are benefiting from its capabilities. From terrestrial events to galactic debris, FDF gives aircraft operators true freedom to fly.