Washington DC
NBAA marks the passing of EAA Chairman Emeritus Tom Poberezny
The National Business Aviation Association joined the global aviation community on Monday in mourning the passing of Tom Poberezny, chairman emeritus of the Experimental Aircraft Association (EAA) and a driving force in general aviation for more than half a century.
"Tom was a world-class aviator, leader and human being," said NBAA President and CEO Ed Bolen. "General aviation was his life, and he was a passionate advocate on behalf of our entire industry and for making our aviation community better, stronger and more accessible."
Among Poberezny's many accomplishments were leading the 1992 formation of EAA's Young Eagles program and, in September 2004, being a pivotal figure in the creation of the light sport aircraft (LSA) category and sport pilot certification.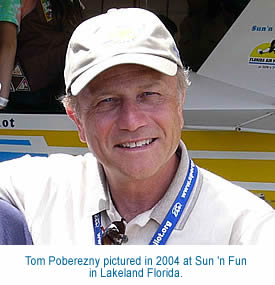 The son of EAA founder Paul Poberezny, Tom Poberezny was first elected president of EAA in 1989 and served as chair of the annual EAA AirVenture Fly-In Convention for more than 30 years. He assumed additional duties as the association's board chair in February 2009 before retiring from EAA in August 2011, at which time he took on the role of chairman emeritus.
Poberezny was also an accomplished aerobatic pilot. He was a member of the world champion U.S. National Unlimited Aerobatic Team in 1972 and winner of the U.S. National Unlimited Aerobatic Championship the following year. He also flew for 25 years as part of the civilian precision-flying Eagles Aerobatic Team.
In the late 1970s, Poberezny led efforts that supported construction of EAA's Aviation Center headquarters and museum at Wittman Regional Airport (OSH) in Oshkosh, WI.
In 2003, he served as a member of the Centennial of Flight Commission to commemorate the 100th anniversary of the Wright brothers' first powered flight and led EAA's Countdown to Kitty Hawk program that commissioned the construction of a fully authentic reproduction of the 1903 Wright Flyer.
According to an EAA statement, Poberezny passed away the morning of July 25, the opening day of EAA AirVenture 2022.