CARIBAVIA'22:

eVTOL the future connector for the Caribbean archipelago

By Cdr. Bud Slabbaert, CARIBAVIA Founder & Chairman.
Think drones. Now think of drones carrying passengers and the abbreviation eVTOL for Electric Vertical Take-Off and Landing, begins to make sense. eVTOL is a new segment of the private/business aviation industry and it will be faster growing than one imagines.
It is all about moving people fast from point to point without hurdles. What is the hurdle in the Caribbean? The water between the islands. The Caribbean is considered the world's region that is the most depending on air transportation. These flying machines can deliver on-demand flights at a more affordable price, and trips from island to island will be quick and easy. It will bring joy of flight to islanders and tourist visitors.
The Bahamas consists of a chain of islands spread out over some 800 km/500 mi. There are some 700 and 2,400 cays in total. Thirty are inhabited. The Turks & Caicos has eight main islands and more than 22 smaller islands. The British Virgin Islands comprise around 60 tropical Caribbean islands. Saint Vincent and the Grenadines, a main island and a chain of 32 smaller islands. These are just examples in the region.
Just imagine what inter island transportation with passenger drones could mean for the development of these territories. Island air mobility with the new flying vehicles will be a game changer for smart archipelago nations. In the future one may read about the many passenger drones moving people around the hundreds of islands, islets and cays of the in the Caribbean. Tourism and travel magazines will highlight the new opportunities to enjoy the region. In an area that is highly dependent on hospitality and tourism, passenger drones will become a tourist attraction to see the islands from above.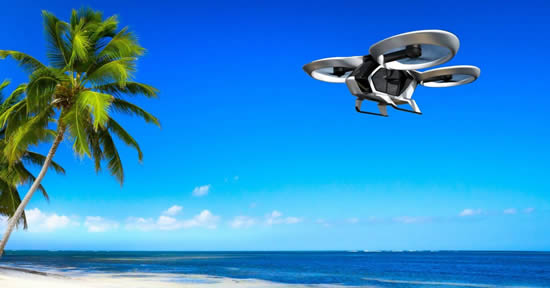 Sustainability must be a priority for the interisland transportation of the future. Inter-island air mobility with passenger drones will provide a fast, safe, eco-friendly, affordable mobility option to connect the islands like never before. It will help the development of smaller islands. As island mobility evolution progresses, new investment will bring more jobs and economic growth opportunities and increase community accessibility. Today's fast connections by aircraft and rotorcraft are still associated with high cost and cause considerable noise and high fossil fuel consumption.
Once the air taxi drone is well introduced, the islands could be an interesting market for passenger drone manufacturers and related service providers. It doesn't stop with interisland connections. Mega yachts visiting the region usually have helicopters on board. Passenger drones will be a considerate alternative, also for yachts that are not as mega. With the increasing demand of the drones, there will also be an increased need for vertiports. Thus, an airport development segment that should have an interest in the region.
The Caribbean region needs economy diversification. Having a drone support representation centered in the region may be needed. After all there is not only such a thing as sales, but also after sales service. The support for these small aerial vehicles cannot be provided from a long distance. Also, the passenger drones may be customized for the region to adjust to differing circumstances. Accessories typical for the island needs may be developed. One or more of the island territories may welcome and support such a representation as it will contribute to diversification and provide different employment opportunities.
Urban Air Mobility is definitely coming to metropolitan areas worldwide as a solution for traffic congestion on roads and in cities. Island Air Mobility will be coming to the Caribbean as a solution to bridge the inter-island hurdles. Flying cars are no longer science-fiction and the future comes faster than one thinks. It is going to be the third dimension of traffic from island A to B, more sustainably and quickly. The Caribbean looks skyward.