WINGX Global Market Tracker:
European charter market hits new heights, US trends at plateau
Twenty-seven days into the month of June 2022, global business jet and turboprop activity, 17% of global fixed wing flights, is outpacing pre-pandemic June by 16%.
According to WINGX`s weekly Global Market Tracker published today, business jets have a stronger trend, sectors up by 20% in the month-to-date. Scheduled operations are recovering, with all airline sectors up by 26% on June 2021 but still down by 24% compared to June 2019.
Cargo operators, whose operations were resilient throughout the pandemic, have dropped off slightly this year, though still up by 2% versus 2019. Other aircraft activity, comprising much of the airliner aircraft available for charter, has now rebounded above comparable 2019 activity.

---
Global fixed wing sectors June 2022 .

(click for larger format)

---
North America
So far in June, business jet operations in the United States are flying 7% more than in June last year, almost 20% more than 3 years ago. Successive weeks this month are showing slightly declining trends compared to 2021, indicating that the red-hot US market is cooling.
Indeed, Part 135 and 91K sectors flown in the US in the last 4 weeks are trending 3% below the same 4 weeks in 2021, and in week 25 the YOY comparable activity fell off by 5%. Florida has 10% of the total US business jet activity, second only to California, but the super-trend of the last 18 months is clearly ebbing, with the last 4 weeks´ business jet departures down 10% compared to June 2021.

---
Departures and hours flown by operator type, United States, June 1-27 2022.

(click for larger format)

---
Europe
The European region is seeing its hottest ever summer for business aviation activity. The most recent week, week 25, has seen 16,000 business jet flights, 16% more activity than week 25 in 2021, slightly below the 4-week trend of 23% growth versus last year. Compared to 2019, June 2022 has seen a growth of 19% in business jet departures, in line with the 20% growth in May 2022 vs 2019.
The most conspicuous growth compared to last year is in UK and Italy, respectively 73% and 28% more business jet flights in week 25 than in June last year. There are signs of an even stronger rebound in the European charter business. Both France and Germany have seen 40% increases in business jet charters in week 25 in 2022 and 2021 respectively.
Caribbean
The Caribbean has been an important source of business jet demand throughout the pandemic, with trends ahead of the US domestic market. So far in 2022, through the end of June, 37,855 business jet flights have been operated, up by 20% on last year, up 30% on January-June 2019.
In June so far, business jet arrivals in the Caribbean are down 3% compaerd to June 2021, still holding up 28% on comparable 2019. Turks and Caicos saw an early and significant rebound in business jet activity in 2021, 89% higher than in 2019, and the islands are on track for another record year in 2022, with over 2,600 business jet arrivals through June.
In terms of Caribbean airports for business jet arrivals, Lynden Pindling is the busiest this year, with 7,500 business jet arrivals to-date, a 26% growth on comparable 2019. Of the other busiest airports, Cyril King Airport in the US Virgin islands, Juan Santamaria airport in Costa Rica, and San Juan Airport in Puerto Rico have all seen more than 60% growth compared to the first half of 2019. Many of the connections are with the the United States, with Nassau´s links to Miami, Fort Lauderdale and New York being the key metro routes. Beyond intra-Caribbean and US-connections, the busiest international links are with Canada, UK and Brazil, with Barbados being the top spot for these arrivals.

---
Business jet activity by selective country/airport Caribbean 2022.

(click for larger format)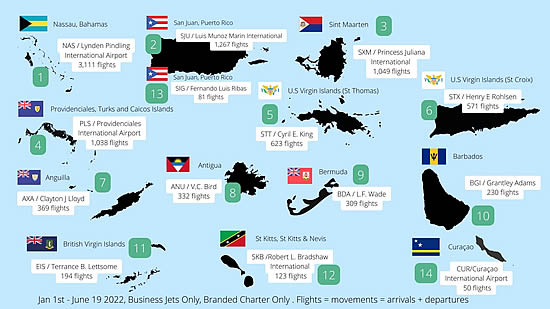 ---
Rest of World
Business jet activity outside United States and Europe is up 16% this month compared to June 2021, up 12% compared to June 2019.
Flights in Asia, Africa and Oceania this month are up 22% compared to last year. Business jet flights in South America are up 8% this year compared to last year, up by 80% compared to June 2019. Brazil and Colombia are two of the strongest regional markets, with respective growth of 7% and 19% compared to last year. In Asia, strong growth in Indonesia and Thailand contrasts with embedded slowdown in China, where lockdowns have seen a drop of 47% in business jet departures in June YOY, taking the volume of flights down by 39%.
Managing Director Richard Koe comments: "European business jet demand is hitting peak season, which is showing up in a record-strong charter market.
"In the US, business jet activity is still well ahead of 2019 but summer 2021 may have marked the rebound in terms of charter activity, more likely to be a reflection of fleet capacity than surging demand."
WINGX is a data research and consulting company based in Hamburg, Germany. WINGX analysis provides actionable market intelligence for the business aviation industry. Services include: Market Intelligence Briefings, Customised Research, Strategic Consulting, Market Surveys. WINGX customers range from aircraft operators, OEMs, airlines, maintenance providers, airports, fixed base operators, fuel providers, regulators, legal advisors, leasing companies, banks, investors and private jet users.