CARIBAVIA'22:

Textron SkyCourier has potential in Caribbean

By Kathryn B. Creedy.
Cessna is a venerable name in the Caribbean with its Caravan a mainstay of the Caribbean airline fleet, most notably with St. Barth Commuter. So, it is little surprise the company's new Cessna SkyCourier - purpose built for cargo services but offering improved passenger services - is drawing attention.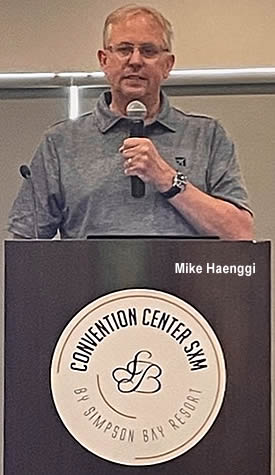 On the heels of its first delivery to Fed Ex earlier this year, Mike Haenggi, manager of fleet sales at Textron Aviation, parent company to Cessna, spoke of the aircraft's potential at CARIBAVIA, saying it is built on the success of the Caravan. However, it offers increased utility and promises low operating costs. He sees it as a perfect replacement aircraft for older Caravans which already play a large role in cargo transport in the region.
"You can use these aircraft as low-cost market developers to generate more demand to build to larger aircraft," he told CARIBAVIA attendees. "Or you can put the SkyCourier on a high-volume route and deploy the Caravans to route development. The SkyCourier is a perfect island-hopper aircraft. Minimum ground support is needed nor is cabin crew. It is the ideal aircraft to test new routes at low cost. This allows operators to develop routes where they have no competition."
FedEx has a broad range of regional cargo carriers in its stable and is devoting its 50+50 order to that fleet to accommodate the overwhelming growth of e-Commerce and demand for quick cargo delivery to remote regions. With the ability to carry three LD3 containers and wide cargo door it offers seamless service connecting to larger airlines serving Caribbean hubs. Alternatively, it is a 19-passenger, five-foot-nine-inch cabin height commuterliner.

Source: Textron Aviation
With the next delivery position in 2024, the SkyCourier can be operated in a combination passenger/freighter version and its flexibility including a one-hour, no tools needed, single-person, quick-change from passenger to freight and back.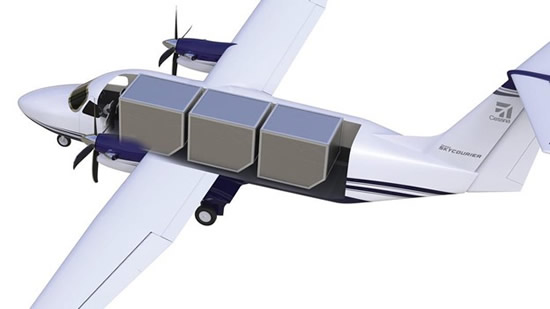 Source: Textron Aviation
The first aircraft to be certificated under the new FAR Part 23 rule, it is powered by twin trustworthy, Pratt & Whitney PT-6 engines, powering much of the current Caribbean fleet. It is operated under US Part 135 regulations, which allow single-pilot operations and the fight deck is outfitted with the Garmin G1000NXi integrated flight deck avionics suite which is also on the newest Caravan. The engine, said Haenggi, is optimized for low-altitude/high-cycle operations so familiar to Caribbean operators and comes with a 6,000-hour TBO and engine sensors to ease maintenance and pilot workload.
Haenggi touted its $1,316 per hour operating costs and 34 cents per mile cost per seat mile and $2.14 cent cost per ton mile. He compared the SkyCourier to the Twin Otter also a mainstay of Caribbean aviation, saying it was about 40% larger than the de Havilland Twin Otter. The new, clean-sheet design has allowed for the incorporation of the latest state-of-the-art assembly and fabrication processes and techniques into the manufacturing of the aircraft.