CARIBAVIA'22:

Talking Aviation and Tourism in St Maarten

By Melanie Reffes
The Caribbean's first and longest-running conference focused on regional aviation, the sixth annual Caribavia Summit & Retreat was held at the Simpson Bay Resort on the Dutch side of the dual-nation island June 13th to 15th.
The conference welcomed delegates from the US, Canada, Portugal, UK, France, and United Arab Emirates and Caribbean participants from St.Maarten, The Bahamas, Barbados, Curacao, Dominica, St. Eustatius, Saba and Turks and Caicos Islands.
Delivering opening remarks, Hon. Silveria E Jacobs, Prime Minister, St Maarten referenced the challenges of the pandemic noting the region still faces hurdles relating to aviation access, "Sint Maarten whose economy is almost 100 percent based on tourism has shown great resilience, if we as a government are to adopt economic and regulatory policies that encourage the development of air transport, demand could increase in our region."
Discussing the importance of air transport for St. Maarten, a hub for the surrounding islands, and the Caribbean, Jacobs cited three-pronged priorities for the government - Improving connectivity, making fares more affordable and improving networks and trade. In response to a question on climate change, she concurred that this is an especially important issue for the Caribbean.
"The entire world has a role in maintaining island nations, to ensure our very existence and to act more sustainably," she said.
Curacao-based, Ivo Oduber, Quality Manager at EZ Air, announced new flights taking off by the end of this year. "We're looking to add scheduled service from Aruba to Colombia and from Curacao to St. Maarten in time for the holiday season," Oduber said.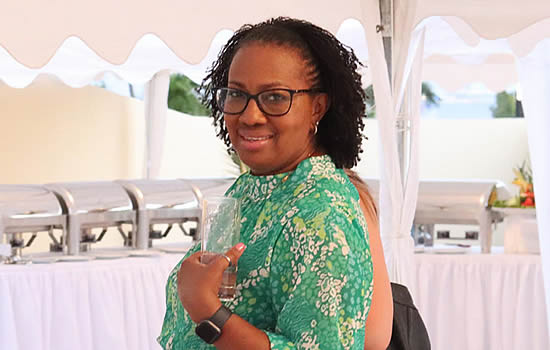 St Maarten Prime Minister Silveria E. Jacobs.
From the Turks and Caicos Islands, Lyndon Gardiner, founder, interCaribbean Airways advocates the region should be one economic area when it comes to air service. "I encourage more airlines and more competition which keeps us on our feet and provides the customer with lower fares and better service, but we must get to the place where costs are down to encourage traffic to the region."
Vincent Vanderpool-Wallace, former Minister of Tourism and Aviation of The Bahamas and principal partner of the Nassau-based travel industry consultancy Bedford Baker Group, explained that as the Caribbean is the most tourism-dependant region in the world, it is also the most aviation-dependant region.
"As a result of the pandemic, "he said, "I've seen a substantial increase in private jets coming to The Bahamas and to many other islands, we must take full advantage of this surge."
"I am pleased to see the International Air Transport Association (IATA) will host Caribbean Aviation Day on Sept. 14 in the Cayman Islands," he added.
Caribbean Islands well represented at World Routes
Taking place in Las Vegas during October 16th to 18th, 'World Routes' is a win-win for destination decision-makers pitching new routes to airport and airline movers and shakers.
"The Caribbean is well represented with advance registration looking good," said David Appleby, director, Routes, Latin America & Caribbean, "Tradeshow interest is high with confirmations already from U.S. Virgin Islands, Puerto Rico, Turks and Caicos Islands, Punta Cana and Guadeloupe with additional destinations expected in the coming months," he said.
---
About the Author
Melanie Reffes is a seasoned travel journalist and television producer who specailizes in writing about the Caribbean.

She circles the globe in search of a good story and racing through airports trying to make a flight. Melanie is a much-published contributor to many newspapers and magazines including USA TODAY and CaribbeanTravel.com , she covers the Caribbean for Montreal's The Suburban newspaper and is the author of the blog ' The Caribbean Romance Report' on MarryCaribbean.com.
When she she's not taking five under a palm tree in the Caribbean, you'll find her writing at home on the sunny island of Montreal.
Instagram: www.instagram.com/melanietravel2019 | Twitter: @Reffes1
LinkedIn: https://www.linkedin.com/in/melaniereffes
Facebook: https://www.facebook.com/melanie.reffes/