CARIBAVIA'22:

St Barth's new President highlights connectivity drive

By Alison Chambers, CARIBAVIA Editor.
"Aviation is crucial to St Barth's," highlighted Xavier Lédée, the Island's newly elected President who took time out of his busy schedule to meet with a few CARIBAVIA media and tourism representatives of the Caribbean Islands of St Maarten and Saba during a Mini Summit on the Island on 16th June.
"We are a small Island, with a small airport and small harbour, so aircraft connectivity gives us the opportunity not only to welcome tourists, but for our people to move outside the Island and go on vacation," he told us. St Barth's, home to 10,000 residents, is a perfect example of how private aviation and regional aviation work in harmony - St Barth's Executive with its Pilatus PC-12s, available for private charter and St Barth's Commuter with its regular Cessna Grand Caravan commuter services.
We flew from the smaller Grand Case Airport aboard a very comfortable Cessna Grand New Caravan. Flight time was just seven minutes.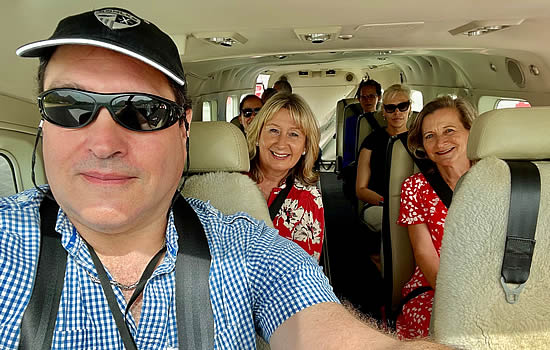 Flying to St Barth's in an eight seat Grand Caravan Journey time from Grand Case Airport, St Martin - the French side - seven minutes.
Sustainability in tourism is high on Xavier's agenda, together with a focus on quality of service and high safety standards. It's important to have special relationships with our neighbouring Islands, including St Maarten, he said. Its Princess Juliana Airport is the main hub for connectivity, accounting for 70% of feed traffic into the Island, followed by Guadeloupe and Puerto Rico.
Elected on March 29th, to lead the Collectivity of Saint-Barthélemy, Xavier Lédée is determined his tourism commission takes a leading role in determining the policy of the Island for the next five years. The Commission will work to solidify the historic North American market and strengthen links with customers from Western Europe and South America. Chair of Comite du Tourisme de Saint-Barthelemy (CTTSB) Pascale Minarro brings 45 years of experience to her role.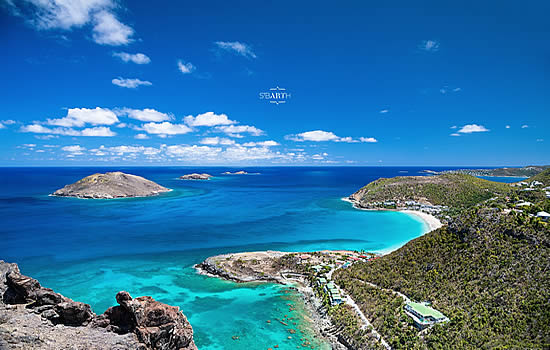 Flamards Beach in St Barth's is the largest on the Island with its fine white sand.
St. Barth's is an overseas collectivity of France located in the French West Indies, renowned for attracting the jet-set. It's a see-and-be-seen Island, but nearly 200,000 visitors flock to St. Barts for its lush landscape, white sand beaches, and craggy coastlines. The nine-square-mile island takes around 20 minutes to drive around. The island's peak season is December through March. Low season, April through to August.
Fabrice Danet, General Manager of Aeroport de Saint Barthelmy, works closely with the Collective. Relations are good with the airport and we are working to see what we can do to make it better, he said, but that doesn't include expansion at the airport. St Barth's isn't interested in mass tourism, he says and it doesn't cater for the big cruise ships. There aren't any big hotels on the Island and this is deliberate. "We want people to want to come to our Island, not want to be seen on it," Xavier Lédée added.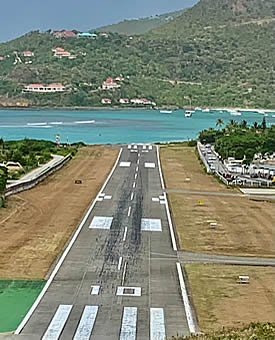 St Barth's Gustav III Airport (pictured) opened in 1984. It has one of the shortest runways in the world at 2,100 feet.
Aircraft movements stop at 1730hrs sunset. Islanders arrive by commercial airline or private jet into St Maarten and take St Barth's Commuter Cessna Caravans or St Barth's Executive PC-12s.
Commercial pilots coming in require special training to land on is challenging, steep approach 2,100 m runway).
Juancho Airport on the Dutch Caribbean Island of Saba has the shortest paved runway in the world at 400 metres. WinAir operates Twin Otter and BN-2 Islanders in and out on scheduled and charter flights from St Maarten.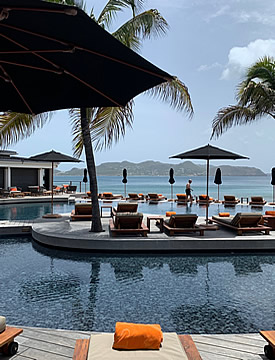 We were treated to a delicious ocean front lunch at Christopher St Barth. A villa focused hotel with a serene infinity pool combines urban chic ethos with contemporary French design and tropical island vibes.
Its large minimalistic rooms feature peaked wooden ceilings with four-poster beds and glazed concrete floors. The shower rooms are works of art. In the lush grounds is a Sisley Spa with the beautiful aroma of roses as we walked through.
Here, guests can enjoy a massage or facial overlooking the ocean. We were unanimous - a short stay next year is strongly desired.
St Barth's is also home to the legendary Eden Rock Hotel with its colourful art deco, bohemian vibe. It has its own private beach. A fleet of BMW Minis are available for guest transport - just perfect for St Barth's narrow and windy roads.