CARIBAVIA'22:

St. Barth Commuter fills a unique niche

By Kelly Murphy.
Being a premium destination in the Caribbean, the beautiful island of St. Barthelemy (St. Bart's) in the French West Indies deserves its own airline. That opportunity was fulfilled in late 1994 by Bruno Margras and Michel Martinon when the pair founded St. Barth Commuter.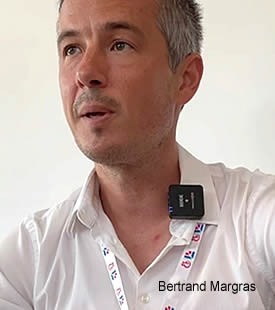 Today, the airline is run by Bruno's son, Bertrand Margras, who has been general manager since January 2017. Bertrand joined the airline in 2004 and has held roles as airworthiness manager and head of flight crew training. An Embry-Riddle Aeronautical University graduate with a Bachelor of Science in aviation, he also holds both FAA and EASA pilot certificates and acts as an instructor and examiner for St Barth Commuter.
"I like to define ourselves as an air service company that also provides air medical service, and sometimes cargo. We will keep providing a good service to our clients with the nicest aircraft possible," Bertrand says. He notes that since the formation of St. Barth Commuter the goal continues to be providing a solution to take private clients and tourists from St. Martin. "That's what we do, and our DNA is to provide connecting charter flights from the private jets that fly into neighboring St. Martin - a short eight-minute flight."
"On a normal year we provide service to 38,000 to 40,000 passengers with 20 scheduled daily flights from St. Martin's Grand Case Airport on the French side as well as Princess Juliana, and Guadeloupe. Sometimes during the season, we will have 35-minute flights to Antigua."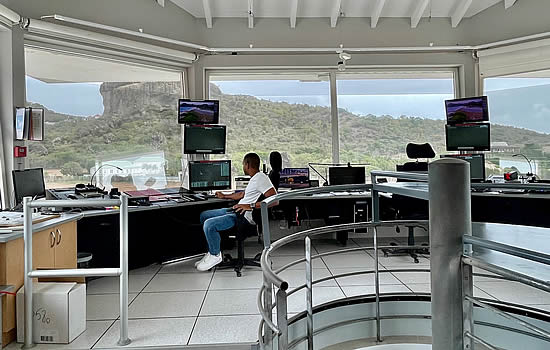 Gustav III Airport St Barth's control tower.
Bertrand is proud that approximately 40% of the company's staff of 34 is female. Women at the company work in purchasing and operations. Some are gate agents. They have one female mechanic and one female pilot, Captain Maeva Lhuillier, who flew us home from St Bart's to St Martin's Grand Case Airport. Bertrand's sister, Stephanie, is COO and a partner in the company. She has been a part of the airline's team since 2009 and is responsible for ground and flight operations and managing compliance and safety.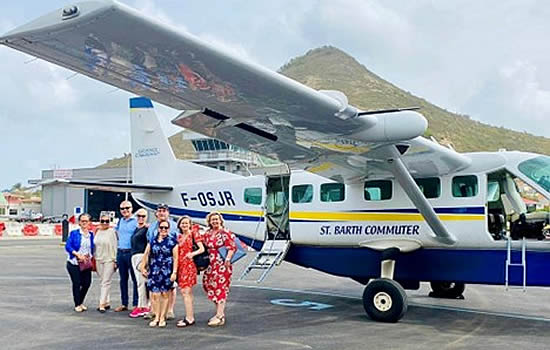 CARIBAVIA participants enjoyed a privately chartered 8-minute St. Barth Commuter flight from Grand Case Airport (SFG) to SBH.
"Our clientele is very committed to St Barth," Bertrand said, adding: "We closed for two months in March 2020 because of Covid-19, then re-opened in June for the summer season. People couldn't wait to come back and we were pleased to keep a safe environment on our small Island. Some families would come for several months, taking advantage of the high-speed internet." (Their kids would do schooling online and enjoy outdoor activities like windsurfing in the afternoon).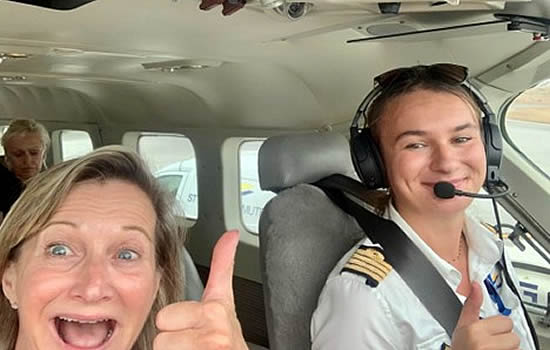 Kelly Murphy, Director of Communications at Women in Aviation International especially enjoyed flying with St. Barth Commuter's female pilot, Capt. Maeva Lhuillier.
Part of the island's allure is its large number of villas - 500 plus of them - privately owned and managed, complementing the luxury hotels on tiny St. Barth and adding to the high-end service visitors expect. (See related story)
World renowned airport
St. Barth's' Gustaf III Airport (SBH) is one of the most unique airfields in the Caribbean. Sitting at the edge of St. Jean Beach, it is a major talking point among first-time travellers to the island. In the aviation community, the "thrill" of the short landing is a sought after viewing. (We had to be hurried along in case we missed our flight but stayed long enough to capture this.
All pilots coming into St Barth's receive additional training including theoretical use of the airport that covers a non-conventional traffic pattern with an approach surrounded by terrain and the short runway with a down slope toward the sea, and sometimes windy conditions.
"I don't like to say it's dangerous, it makes it interesting," Bertrand notes. In season, the airport can see eight to 10 aircraft in the air bringing visitors to the island. It is open only during daylight hours from 7 a.m. to sunset. The exception is for medevac missions that can depart in the evening and overnight in St. Martin or Pointe-a-Pitre (PTP) in Guadeloupe.
Sixth Cessna Grand Caravan arriving this month
The aircraft of choice for St Barth Commuter is the Cessna Grand Caravan. On the day of our visit - June 16th Bertrand was getting ready to accept a sixth (EX model) from Textron. All of the Caravans are equipped with Garmin G1000 avionics. Its Pratt & Whitney PT6A-140 engine is exchanged every 2,000 hours for ultimate safety. "We are constantly traveling with new engines, and we have a 4,000-square-metre hangar here at the airport dedicated to maintenance," Bertrand says.
"Obviously we are not destined to get larger aircraft," Bertrand says, but added he is very interested in the upcoming next gen, alternative power STOL aircraft and the company is looking at a number of new programmes. He was very interested to meet with Ampaire at CARIBAVIA, he said.