CARIBAVIA'22:

Presenting the Caribbean to overseas media - the do's and don'ts

By Alison Chambers, CARIBAVIA Editor..
Melanie Reffes is an island girl living on the sunny island of - Montreal. Born in New York, Melanie is an award-winning travel journalist with an insatiable appetite for the Caribbean.
She writes for USA TODAY TRAVEL, Caribbean Journal, CaribbeanTravel.com, Quebec's The Suburban, 10Best and others. She was delighted to be back in St Maarten to offer her expertise on how best to present the Caribbean to overseas media, how to 'pitch' a story and strategies that are best to avoid if you are in PR.
"Please don't email me late at night to pitch a story. I would rather not be disturbed. And don't be familiar if you don't know me, call me Margaret, when my name is Melanie," she started - immediately grabbing audience interest. Don't send me messages 'from the desk of,' or sign off with a faceless media@ contact. I like a name and a telephone number, she continued. And, if I send you an email asking for something, professional to professional, please don't copy 12 other people in the hope that one of them might answer me.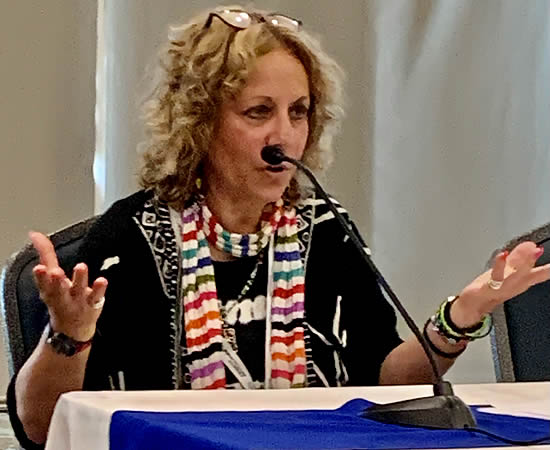 Melanie was back in St Maarten to offer her expertise on how best to present the Caribbean to overseas media.
The pandemic has brought a massive change in the editorial landscape, Melanie stated. The freelance world has exploded and there is a lot of competition to pitch strong, authentic, truly interesting travel stories. "The editors I pitch too are very picky and rightly so." In your press releases, don't tell me about turquoise waters and swaying palm trees – it's such a cliché. And if you must write that yours is one of the most romantic hotels in the Caribbean, tell me why. Similarly, if your villa property is the prettiest in Anguilla or you have the second largest freshwater pool - what are your comparing this with, what's the source?
Don't send me press releases that read like a brochure or an advertisement and if you send me a photograph to illustrate the appointment of a new hotel manager or resort – put him or her outside the property with a pretty background – not behind a desk with a blank wall in formal attire. It there's no space for the story and the photo fits the bill a short caption will suffice.
Don't send photos via convoluted platforms or PDF attachments. Most of the time journalists, especially travel writers, work off their phones. The PDF is unusable - you can't cut and paste it.
What is interesting about St Maarten? - that you can reach six other islands from its primary hub; what to do there for multi-generation families, resorts where kids stay free; incentives and offers that are appealing, always. Because we like to be connected all the time - how is the Wi-Fi? - it's good in St Barth's (see related story). Also, increasingly, what's the sustainability programme. Think of all the angles that make editorial sense.
Airlift is paramount so highlight how to get there, ease of travel and frequency of air service. If the trip is too complicated - involves three flights, extensive form filling and one swab, it just won't fly. Aviation (airlines and airports) and tourism working together in harmony is smart PR.
The booking window for travel has shortened so assurances like hurricane guarantee, flexible windows for cancellation, is smart. "There is no price tag for peace of mind," she said. "And remember, we travel writers like to cook up our own headlines. St Maarten - booming wedding market – yes. Look for the niche in your destination and the smaller, the more diverse, the better - that's good for bragging rights among friends and colleagues.