CARIBAVIA'22:

Inter-Island Caribbean Air Service is advancing - despite obstacles

By Kathryn B. Creedy.
Airlines have been created throughout the Caribbean precisely to address one of the region's major problems - inter-island airlift - making these airlines some of the most important economic drivers in the area.
But governments' stubborn resistance to liberalization and harmonization are blocking what could be overwhelming new economic activity as they continue to protect their local airlines.
For years, regional airlines and visionaries like CARIBAVIA Founder Bud Slabbaert have pushed for a single-Caribbean sky, described by Slabbaert in BlueSky. They know that doing so would unlock billions in economic activity throughout the region if only government policies protecting incumbents and imposing taxes would change.
Winair, St. Barth Commuter, Inter-Caribbean Airways, EZ Air provide the connectivity between islands that would otherwise only be done over Miami, a long slog not only requiring long waits that stretch trips sometimes to days to complete the door-to-door trip. (See related story on St. Barth Commuter in this issue).
Outside the Box
Slowly, but surely, however, islanders are developing their own solutions to get people around the region. They wish governments would understand aviation's value. These entrepreneurs are plowing through using some outside the box thinking.
Innovative carriers such as Tropic Ocean Airways are working to develop seaplane bases, a far less expensive way to expand air service throughout the archipelago, not requiring the expansive infrastructure required for an airport.
Tropic Ocean is benefiting from the farsightedness of the Bahamian government which opened a pre-clearance customs and immigration facility at TOA's base in Ft. Lauderdale offering a considerable competitive advantage Here, passengers can go straight to their island of choice rather than clearing immigration and customs at Nassau. Pre-clearance also prompted interest from several island resorts who partner with TOA for direct charters.


CEO Trevor Sadler with InterCaribbean Embraer ERJ 145 | Source: InterCaribbean
Increased connectivity improves the efficiency of inter-island travel creating new business opportunities and jobs in the region. In addition, creating new, easy airlift could increase a growing new tourism trend, an inter-island, multi-cultural experience combining the Dutch, French and British. This creates new interest in the Caribbean and new excursions for those more used to the one-island, airport-resort-airport experience.
Island hopping does exist today as evidenced by EZ Air's connectivity between the ABC islands - Aruba, Bonaire and Curacao and Barranquilla and Medellin, Colombia. There is also Winair's connectivity from St. Maarten (SXM) to the eight islands that depend on SXM for their connections including St. Lucia, Anguilla, St. Barth, Saba, St. Eustatius (Statia), Nevis, Dominica, Tortola.
Obstacles
Sadly, however, nothing has changed in government policies against development of a more efficient way to get from one end of the Caribbean to the other - which stretches nearly 2,000 miles (3143 km) from Miami to Georgetown, Guyana. They continue to impose exorbitant taxes which often doubles the fare.
"Civil Aviation Authorities don't seem to grasp the commercial impact aviation has on the economy and the people," EZ Air BV Quality Manager and Consultant Ivo Oduber told CARIBAVIA attendees.
"Projects are delayed to the point where we get a better response from the US and Europe than we do from the local governments. The complexity of the foreign flight crew licensing and work permits takes three to four months while FAA takes three to four weeks. Aviation regulations depend on the interpretation which can vary from place to place. The preparation for the eventual return to normal operations post pandemic will require significant additional effort in comparison to what we've seen in the past. We could do so much more if governments would work with industry and understand what industry needs to maximize the value of aviation. Taxes and regulations are the barriers we face but government doesn't help. Yet, at the same time, government is responsible for a healthy economy."
Taxes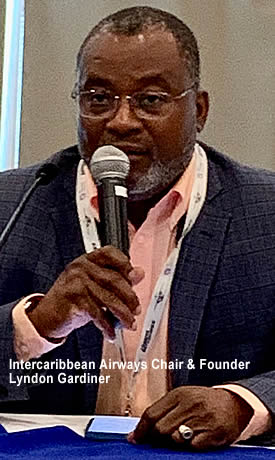 "When you have a family of four coming into the region and taxes are $140 per person, that's an extra $600 dollars or an extra two nights stay," Intercaribbean Airways Chair & Founder Lyndon Gardiner concurred. "We can get more people coming to the region if these taxes were lower."
Government actions are also stalling one of the most popular activities when it comes to travel to the Caribbean - Visiting Friends and Relatives (VFR). VFR fares for US carriers such as JetBlue, prompted a significant increase in traffic, Taxes, however, make such intra-Caribbean reunions prohibitive.
Taxes have long been a talking point at CARIBAVIA with speakers pointing out Caribbean governments are making their destinations less competitive by soaking travellers. Given rising inflation, coupled with air travel chaos, the current post-pandemic travel boom in the region is likely to soften as families look for less expensive destinations.
Oduber echoed Gardiner. "Aruba-SXM taxes are up 14% and for other international services taxes are up 25%," he said. "Meanwhile, there has been no change in our ticket prices. Unwarranted or excessive taxation on international air transport has a negative impact on economic and social development. The demand for air travel is highly sensitive to cost changes and now there is a new Bonaire tourist tax."
Gardiner agreed. "Cuba has a $25 departure tax, perhaps the lowest in the region," he explained. "But Jamaica is the most expensive. We have a $160 air fare but the government charges another $145 in taxes. That's a terrible burden, especially for locals and we incur huge overhead in remitting that tax to the governments. If you lower the taxes, people will flock to the airports. Only one country has reduced the tax burden in the region. The original idea was taxes would support airport infrastructure, but governments today see it as a profit center and have successfully transferred the burden of collecting taxes to airlines."
Oduber noted airports also represent a challenge, especially for commuter services because restrictive opening hours often forestall early morning flights, so necessary for business travellers. He also pointed to rising fuel and airport passenger facility charges and noted immigration and customs procedures where late-arriving officers forestall easy clearance.
Competition
"There is fierce competition in the Caribbean airline industry from both new and existing airlines," Oduber explained, adding Avianca may force EZ Air out of the Colombia market. "Collaboration between airlines is difficult. We tried partnering with Avianca but instead it started the route right on top of us. We continue to look at collaboration, but it is difficult especially if you choose the wrong partner."
This is especially hurtful because the ABC Islands are still recovering from the traffic drop from the political and economic upheaval in Venezuela.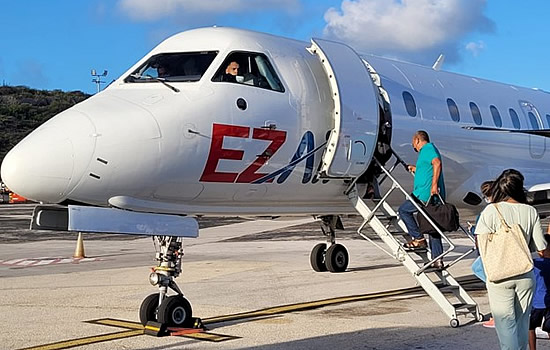 Source: Ez Air
But InterCaribbean, using the right aircraft, being nimble and innovative, has somehow, made it work as described in last year's coverage of the airline for BlueSky.
"Today we operate from Havana to Georgetown, Guyana and all the islands in between," Intercaribbean Airways Chair & Founder Lyndon Gardiner told this year's CARIBAVIA attendees. "We started 30 years ago as a way to get me from Turks and Caicos to see my lady in the Dominican Republic which was nine hours via Miami and seven hours by boat. Flying there took three hours."
That brings a whole new meaning to "all you need is love."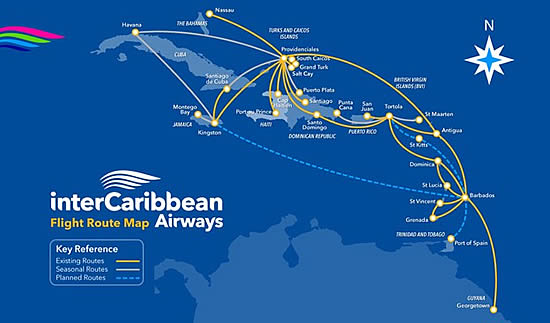 Source: InterCaribbean Airways

InterCaribbean CEO Trevor Sadler joined what was then Air Turks & Caicos in 2013 helping Gardiner create the airline infrastructure and continue to build the airline. It's strategy has since developed to capitalize on both tourists and locals.
"We had a real vison where you could get from one island to another easily," Sadler told attendees. "There was some connectivity, but it wasn't viable over Miami because you had to get a visa which is not an easy process. The alternative was ferry but that took a long time. The first thing we did was rebrand the airline to InterCaribbean which better described our mission."
The airline launched scheduled flights, overnighting aircraft at outstations for early morning takeoff to its mini hub at Providenciales, providing good scheduling and fast connections cross feeding traffic to make each route successful.
"That gave us the ability to create frequency two-to-three times per week with an eye toward creating daily frequency," said Sadler, who explained InterCaribbean leveraged fifth- or seventh-freedom rights to expand its network. "We went from three flights to 18 flights per week in San Juan. A lot of North American traffic comes in over San Juan while Europeans come in through Antigua, so we timed our schedules to meet incoming North American and British flights which has proved very successful with 30- to 40-minute connections. What this did was change the dynamics in attracting tourists which increased our focus on creating connectivity around the Caribbean. With frequency, the dynamics changed to where we see a massive number of tourists complementing the locals traveling between islands."
Gardiner cited another obstacle. "We are under pressure from local airlines and some of those freedoms have been cancelled," he said. "Governments must respect air service agreements. If we are going to have what they have in Europe and North America, we must have a liberal aviation policy. Anyone with an Airline Operating Certificate in the Caribbean should be able, with government ensuring regulatory and safety compliance, to rely on market forces rule."
Expansion
The death of LIAT to the pandemic afforded the InterCaribbean the opportunity to include Barbados in its service although it was hampered by the increase in pandemic-related forms and requirements. Despite that, it continues its Barbados service as well as that for St. Vincent, St. Lucia and Dominica and its full flights make its investment pay off.
Last year, the airline added Georgetown, Guyana to its network with 12 flights per week from Barbados timed to connect to the rest of its network.
"Georgetown has been ignored over the years and North American airlines have come and gone," Sadler explained. "We are now seven months into operations, and we now have recognition for our brand in the market and demands for adding service. We are developing something that didn't exist in the Caribbean - a broad route network with the end goal of connecting the people of the Caribbean and tourism so we can create the frequency needed to keep the market successful."
Its route map shows plans to launch Kingston, Jamaica-Barbados and Tortola-St. Kitts-Barbados-Port of Spain.
InterCaribbean has faced many challenges, said Gardiner, adding it is hard to convince lenders to finance inter-island connectivity.
Willemstad, Curacao-based EZ Air, has its own obstacles, not the least of which is entering and developing an untapped market between the ABC Islands and Colombia only to have Avianca fly in on top of them.
EZAir to add Saab 2000's
In a significant service upgrade, the 22-year-old airline uses venerable Saab 340Bs to on its five-point route network after partnering with Jetstream Aviation Capital to acquire the aircraft in 2021. It is also planning on adding 50-seat Saab 2000s to serve long haul routes. EZ Air partnered with Hahn Air providing the all-important access to the global distribution systems and putting it on the world map for the travel community.
Arrested Potential
Perhaps Sadler said it best during the conference in describing InterCaribbean's future. "We are, by no means, done," he concluded. "We still see a lot of untapped opportunities." Given the right policies, other small airlines in the region will have equal opportunity to provide better service and affordable fares to the Caribbean population.