St. Maarten/St. Martin:

Girls in Aviation Day launches in St Martin

By Kelly Murphy.
To the delight and surprise of schoolgirls on St. Maarten/St. Martin, a pair of US Marine Corps V-22 Ospreys made an impressive start to the first Girls in Aviation Day in the Caribbean, organized by Women in Aviation International (WAI.org) and supported by a dozen local businesses and aviation volunteers.
Some 30 participants from both the Dutch and French side of St. Maarten/St. Martin were welcomed by WAI Corporate Member HeliRiviera at Grand Case-Esperance Airport. These 11- and 12-year old students from Dr. Martin Luther King Jr. Primary School and College Soualiga were introduced to all the various segments of aviation by meeting positive female role models who assisted with educational hands-on activities during a morning session that was capped off with a delicious lunch before the girls returned to school.
Eleven hands-on activity stations included: Fun with Drones; Aviation Jewelry; Dress Like A Pilot Photo Booth; Learn about Air Traffic Control; Read A Sectional Chart; Aircraft Marshalling; Colouring Corner of Aviation Puzzles; Speak Like An Aviator; Race Your Glider Aircraft; Dream Board-What's your Dream Job?; and Make a Helicopter.
In addition, an aircraft static display offered the schoolgirls an opportunity to see various aircraft up-close - including a Robinson R22 helicopter; Cessna 152; an executive Pilatus PC-12 supplied by St Barth's Executive; as well as the dramatic landing of the pair of V22s conducting a training mission. They had flown in from Guadeloupe - giving notice just the evening before.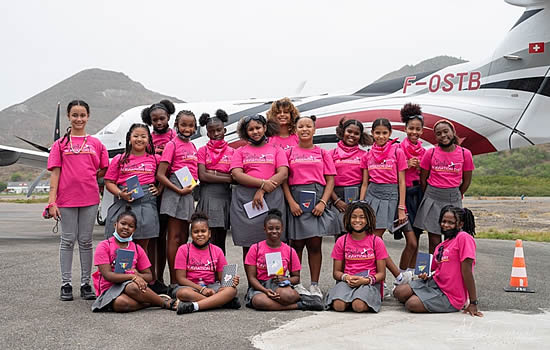 Each student received a special GIAD passport to enrich their learning at each of the 11 hands-on activity stations.

Each girl received a free GIAD merchandise kit, T-shirt, as well as a GIAD Passport that was stamped after she completed each station. Fun raffle prizes were awarded, and 50 books charting the stories of female aviators including current authors the UK's Mandy Hickson 'An Officer not a Gentleman' and Shaesta Waiz's 'Fly Girl Fly' were donated to both schools for their respective school libraries.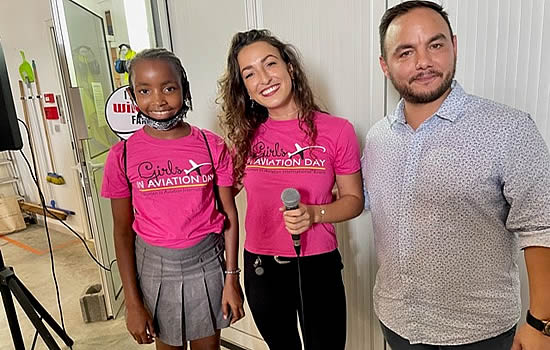 HeliRiviera, which kindly hosted the event in their FBO, donated a helicopter flight for a lucky winner (pictured left) and her family. The girls had to correctly guess the age of Ludmilla Cuzenard (pictured centre), Manager of HeliRiviera Caribbean.
GIAD participants received donations of 50 books for their respective school libraries highlighting stories about female aviation pioneers to inspire their learning.

Kelly Murphy

, WAI director of communications, said the organization will help to organize and support annual giving to help grow the number of book titles.
Many volunteers from both St. Martin Airport-Grand Case (SFG) and Princess Juliana Airport (SXM), Winair, the island's tourism board, as well as CARIBAVIA attendees, brought their enthusiasm and support for this very successful event which, judging by the smiles and hugs from the students - was a grand success!
Ludmila de Weever

, member of St. Maarten Parliament, poses with Dr. Martin Luther King Jr. Primary School students.
Planning for the next GIAD St. Martin coinciding with CARIBAVIA 2023 is already under way with plans to extend invites to schoolgirls from neighbouring islands including Anguilla, Antigua, Dominica, Curacao, Saba, and St. Barth's. Please get in touch for sponsor opportunities !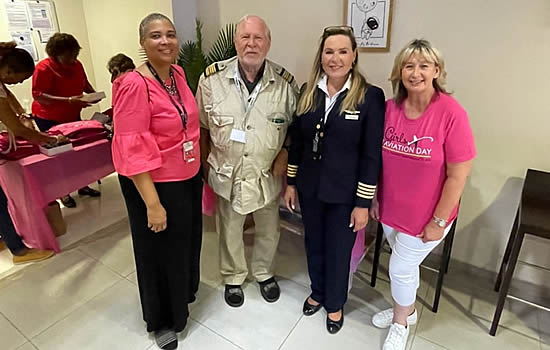 Many GIAD volunteers helped make the first Girls in Aviation Day St. Martin a great success. (L to R) Sabrina Charville, director of quality control at Grand-Case Airport; Cdr. Bud Slabbaert, organizer of CARIBAVIA; Kristina Tervo, WAI member and commercial pilot; Alison Chambers, WAI member and founder of Emerald Media Ltd.
A special thank you for the support of local photo/video team Alvin Prescod (www.AlvinPrescod.com) for visually capturing this inspiring and unique day and providing two-minute highlight videos.

And to St Maarten Minister Ludmila de Weever and Sabrina Charville, Director at Edeis Aeroport St Martin, for propelling the idea forward following our initial breakfast meeting post Caribavia 2021 in June.