CARIBAVIA'22:

CARIBAVIA success leads to new European event - RIVIERAVIA - this September

By Kathryn B. Creedy.
With the success of the annual CARIBAVIA Summit rising, organizers are launching another conference - this time to boost private aviation in Europe.
"It is important to connect and network and we are launching RIVIERAVIA because the same people who visit the Caribbean with yachts and business aircraft also have their residence in the Riviera region or do business in Monaco, Founder Bud Slabbaert told CARIBAVIA attendees on the last day of the conference. "So, there is a large community of interest between the two regions. Depending on the season, Nice is the busiest or second busiest airport in Europe, making it an ideal setting for RIVIERAVIA."
A solutions-oriented communication platform, the conference is scheduled for September 27th to 30th, 2022 in Nice. The inaugural RIVIERAVIA Summit coincides with the Monaco Yacht Show, leveraging a widespread attendance of aviation companies at the show and promoting nearby Albenga Airport, which is celebrating its 100th anniversary this year. Albenga is a quiet private aviation gateway to the Côte d'Azur.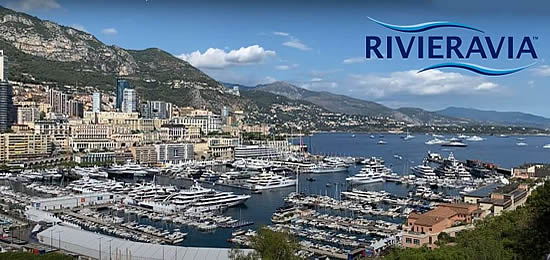 To be held at Business Centre in Terminal One at Nice Airport, RIVIERAVIA will gather business aviation interests in the same intimate conference style that has made CARIBAVIA so popular. Widely known as the "unconference," CARIBAVIA and its companion event, RIVIERAVIA, are designed to enable open exchange between speakers and attendees while networking opportunities result in concrete solutions to local challenges such as the St. Maarten/St. Martin Women in Aviation International Girls in Aviation Day and the current initiative to develop aviation training in the region.
In breakout sessions, emerging technologies including electric and hydrogen powerplants and advanced air mobility networks will be featured, which is important, since the venue, Airport Nice and the Groupe Aéroports de la Côte d'Azur, are all committed to reducing their carbon footprint to zero CO2 emissions in the future.
"The focus of RIVIERAVIA will be on all aspects of private/business aviation and the air transportation and travel needs of a high-end clientele who do business or spend time in the Riviera region," organizers state. "This isn't a show for tyre kickers, but rather an open exchange platform for serious business. The RIVIERAVIA Summit concept will accommodate the needs and wishes of stakeholders from participants to presenters, sponsors, and the media."
The Côte d'Azur event in September will include an exclusive aircraft static display at Albenga Airport which will close to other traffic during RIVIERAVIA, also allowing drone or advanced air mobility demonstrations.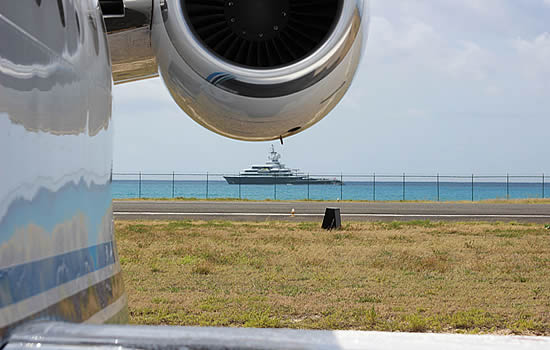 A business jet parked at SXM as a yacht gets underway to St. Barth | Photo:Kathryn B. Creedy.
The static display will feature a limited number of aircraft, serving as a quasi-showroom for private aviation companies like Dassault, Textron and NetJets, who all take hospitality chalets at the yacht show. This allows manufacturers to connect their customers to their aircraft in an intimate setting. A major helicopter manufacturer already plans to offer complimentary short helicopter shuttles for delegates between the yacht show and Albenga Airport, less than an hour away by car along the stunning Riviera coast.
Albenga was chosen because it is exclusively a private aviation airport catering to HNWI's without any reliance on commercial airline traffic. Nice, with its uptick in commercial and private aviation traffic, is the closest airport to the yacht show but Albenga represents a quiet oasis for business aviation and customers to do business. It is also expected that visitors to the yacht show will park their aircraft at Albenga.
For more information click here