CARIBAVIA'22:

CARIBAVIA Attendees dedicated to establishing Aviation Education in Caribbean

By Kathryn B. Creedy.
What do you do when 30 girls and an equal number of adults get completely psyched about aviation careers after attending the Inaugural Women in Aviation International's Girls in Aviation Day on St. Martin?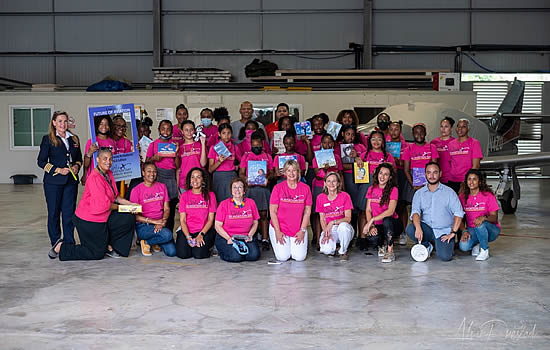 Photo: Alvin Prescod Photography
While not easy, you make sure they have the educational and training opportunities to pursue their dreams. That is exactly what attendees at this year's CARIBAVIA conference committed to doing - not just at SXM but across the region.
The annual conference has long advocated for creating educational opportunities in the Caribbean and this year local and international attendees - academics, air traffic controllers, airline and airport executives, drone operators, advanced air mobility advocates, tourism officials and parliamentarians - formally dedicated themselves to bringing Caribbean-based aviation educational opportunities to reality.
Tipping Point
Two forces are now colliding to stall significant progress in improving inter-island connectivity - the brain drain of its young people who go to Europe and US for education and find no jobs to lure them home and the critical workforce shortages now crippling airlines and aviation organizations around the world.
This year these twin crises reached a tipping point with local airlines urging changes to immigration policies to allow the freedom to work throughout the Caribbean, to move to seize opportunities for high-value jobs such as pilots, flight dispatchers, aviation maintenance technicians, air traffic controllers, airline managers, advance air mobility careers and airport executives. (See related story).
InterCaribbean Airways Founder and Chair Lyndon Gardiner spoke for many when he described his challenges.
"It is a struggle to get the human capital needed to run a successful business," he said. "There are a lot of talented people in the Caribbean and some of our policies on immigration and being able to work in different Caribbean countries work a hardship. I'd like to see the Caribbean as one community so talent can transfer throughout the region. All we need is a Caribbean passport and people will move to where the opportunities are. The Caribbean market is full of potential but we must be able to get the operations in place and create more business and job opportunities."
The trick is to create more opportunities throughout the region, so the brain drain is not repeated in microcosm as some islands adopt education programs and other don't. And attendees had plenty of ideas.
Gavin Eccles, professor of aviation and tourism, Duncan van Heyningen, manager Air Traffic Services Training and Development at Princess Juliana International Airport, Dr. Sean Gallagan, CEO Workforce Development Solutions | Photo by Kathryn B. Creedy
With Duncan van Heyningen who created and manages Air Traffic Services Training and Development at Princess Juliana International Airport taking the lead, attendees and two other speakers - Dr. Sean Gallagan, CEO Workforce Development Solutions and Portugal-based Gavin Eccles, professor of aviation and tourism at the Universidade Lusofona - brainstormed on how to make this dream a reality.
In addition, Aarti Baran, who developed a drone business – Fly4USXM – in St. Maarten, not only outlined a vision of the future for using drones for everything from transportation to medical evacuations and disaster recovery, expressed her desire to create a training center for drone operations in the Caribbean. (See related story on advanced air mobility).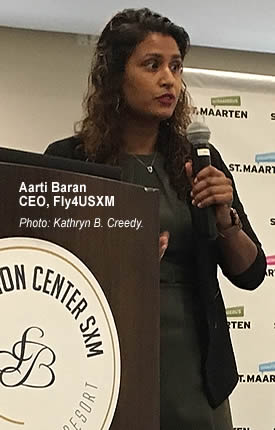 "I'm passionate about drones and the future," said Baran, who received her drone training in the Netherlands. "The future is closer than you think. We've always had helicopters, but they are very high cost. These new air taxi concepts would fly smarter and greener - an extremely important consideration for a Caribbean threatened by climate change. Ministries are already coming together to strategize on these new technologies."
Baran, a lawyer, outlined the vision for both crewed and uncrewed inter-island transportation operations throughout the Caribbean.
"It's important to develop good training and no one does that in the Caribbean right now," said Baran, who provided drone demonstration for the St. Maarten/St. Martin Girls in Aviation Day. "We have a simulator, but it needs certification and recognition by the government. I went to the Dutch Drone Training Academy, so the curriculum exists, but nothing is regulated and we need those regulations to ensure the safety of flight and the public."
Funding Not Possible? Nonsense
The first reaction many have is the lack of funding, but attendees soon put that myth to rest saying public/private partnerships and the priority governments around the world were putting on education were the solution. The key question is whether or not governments should invest in education, yet if they do nothing the brain drain will continue unabated.
The reality is corporations are already investing in their own workforce pipelines and formalizing this through cooperation with governments is a way to provide funding. While government funding would be important, companies are not waiting for governments to pry tax dollars for such initiatives. Such government/private partnerships provide a pathway for the future.
Eccles noted education is a top priority for every government in Europe and the US. "That could be a source of funding - develop the programs here and the EU pays for it," he said. "Ministries must get close to global donor agencies and the private sector. By creating centers of excellence within the region we share that excellence around."
Centers of Excellence
The idea for the Caribbean would be to create Centers of Excellence through the Caribbean to coalesce education for different disciplines in different parts of the region. Working with private industry to create centers of excellence dramatically helps companies because they can stop reinventing the same wheel on each island and turn training over to professionals which enables them to concentrate on their core business. Meanwhile, they will continue to invest in these new programs.
"Right now, there is a disconnect between the government, education departments and our industry," explained van Heyningen. "They have a list of degrees they say they need for the island, but aviation is not among them. They don't have a clue what's going on at the airport. I've never seen aviation on that priority list and there are thousands of people making their living in aviation. This lack of awareness is despite the fact Caribbean economies are overwhelming dependent on aviation. Because we don't connect the dots between education and aviation, we have a serious brain drain. We send our young away to train but they don't come back because they can't find work or salaries that match their education."
Eccles provided a cautionary note.
"It is important to understand we need to avoid all islands creating the same programs whether it is flight training or airport development," he said. "What is needed is to create critical mass for training for each discipline. For instance, flight operations could be the center of excellence on one island, while airport development and management could be a center of excellence on another island. This creates an international matrix of aviation education. Duncan has already created air traffic services training on St. Maarten, but the entire idea is to spread the educational opportunities regionwide, so everyone benefits."
St. Maarten-based CARIBAVIA Founder Bud Slabbaert has clearly been thinking about this for a long time, already identifying two abandoned venues for possible use including the old Tourism office in St. Martin and an empty university in Dominica where a new airport is being developed.

The Old Office of Tourism on St. Martin, abandoned after Hurricane Irma | Photo: Bud Slabbaert.

"Our vision is to start small, with a learning resource center which would house a library, workshops and teleconferencing for online courses," Slabbaert told attendees. "It could become an institution of higher learning and ultimately do research and development right here in the Caribbean. It could work with other research institutes in the U.S. and Europe. We must have a vision which creates opportunities here so our young people can find employment and better paying jobs.
"How many airports are there in the Caribbean?," he asked. "We need training for all of them. If they all create their own training program it is too fragmented. We need a center of excellence where students from throughout the Caribbean come to the learn about airport management, tourism, airlines and aviation. Then we have critical mass, we share best practices, and they benefit from learning together and about each other."
Eccles agreed. "We have to have critical mass because the education and workforce development needs to extend beyond any one island," he said. "It is about bringing the vision together."
Slabbaert suggested van Heyningen, Eccles and Gallagan could become the core faculty recruiting other aviation educators and creating local and online workshops to help develop the local talent needed in the region. Through this vision, Baran could be the drone faculty.
Education Evolving
The development of workforce training programs in the Caribbean coincides with changes to education in general. Owing to workforce shortages, companies are creating their own workforce pipelines, working with high schools, community colleges and universities to develop the workforce of the future, one that is continually learning.
Higher education has shifted because rising educational costs and acute shortages have conspired to developing career and technical education programs developed by company/education partnerships. The old method of going to college, graduating and being done with formal education is a thing of the past. Smart corporations are reskilling or upskilling current employees and training them for jobs to ready both the company and the workforce for the future.
Creating centers of excellence capitalizes on a strong trend in education toward career and technical education and speakers pointed to several examples that can be leveraged for Caribbean aviation education.
Eccles noted that the hospitality industry worldwide has already developed its workforce training solution from which the Caribbean workforce training could take its guidance.
"We work closely with the wider aviation and tourism community to develop certification programs, degrees and master's programs," he said. "We need industry to help us understand how to apply management to a discipline - academics - that doesn't really understand their needs. The aviation industry is only now becoming involved by aligning with universities as hospitality has done.
"Previously we've only had business degrees perhaps with an aeronautical minor, but the hospitality sector relies on professional certifications rather than degrees with short causes leading to an 'executive MBA' which has worked very successfully," he continued. "Students are part time working Friday's and Saturdays while continuing with their jobs. What we found is, as they learn, they bring new thinking both into their jobs and their studies improving both. There is a huge opportunity to bring aviation and hospitality people together for professional business disciplines like marketing and revenue management. With this approach we bring real life training to those who have no other way to go."
Educational Resources
Meanwhile, the aviation industry created technical education programs where students ultimately obtain a certification addressing the two most acute global needs – pilots and aviation maintenance technicians. What is happening around the world is these aviation students, once they have achieved their certification as they graduate from high school, get a high-paying aviation job and then leverage corporate education programs to complete their higher education.
One such industry program is the Aircraft Owners and Pilots Association Foundation high school aviation curriculum that is now in more than 300 schools in the United States. Similarly, Choose Aerospace recently launched an aviation maintenance technician curriculum.
Gallagan specializes in technical skills such as aviation maintenance technicians (AMTs). Boeing estimates we will need 626,000 AMTs and 612,000 pilots globally by 2040 and we are woefully short even today. It is also estimated that maintenance, repair and overhaul companies leave $1.4 billion in business on the table every year for lack of workforce.

Gallagan noted learning management systems have been created as electronic platforms for hosting free online courses that run three days a week for three weeks. Certificated instructors lead students from all over the world and at the end of all the coursework there is a job offer.
"We can find different projects and opportunities including internships and apprenticeships that move students into jobs," he said. "They don't need a degree, they just need a certification. We need to find those courses that are needed for career development to get them started. This is a low-cost, low-expense, high-return proposition. If we invest in these programs, we will reap benefits by keeping our human capital in the region."
Free Online Courses
In addition, organizations and universities have developed free online aviation courses. Last year, the Experimental Aircraft Association (EAA) launched EAA AeroEducate, its newest youth aviation initiative bringing an interactive, educational experience to young people ages five to 18. This web-based resource provides clear, age-appropriate pathways to aviation and aerospace engagement including career paths and offers a multitude of turnkey, easy-to-use aviation-themed activities for teachers.
In addition, Embry-Riddle Aeronautical University (ERAU), in partnership with Women in Aviation, is offering self-paced Massive Open Online Course (MOOC) tailored to students ages 8-17. The free course leverages Embry-Riddle expertise and instructional design to inspire the next generation of aviation professionals.
The point is the wheel has already been invented. While these free online programs must be tailored to reflect the European or local regulations, the template is there only awaiting adaptation to education programs in the Caribbean.
ATC Already Here
The first class of air traffic controllers to be trained in St. Maarten graduated in 2018, said van Heyningen, with an additional five expected to join the force this year.
"I'm so proud to be educating our young to become air traffic controllers," he said, adding students also come from Saba and Stacia. "We also developed in-house refresher training required by the Dutch Civil Aviation Authority. Our vision was our own training academy on the island which saves money and is better training since it gives students complete familiarization with the Caribbean airspace."
Conclusion
The next step is to infuse regional government and corporate entities with the ideas and energy, clearly evident at the CARIBAVIA conference to move from words to action.
Judging from the enthusiasm of Caribbean tourism and aviation officials in attendance coupled with the excitement of the girls and volunteers at Girls in Aviation Day, there is plenty of momentum so, in the not too distant future, Caribbean society will ensure these inspired girls will have a clear pathway to achieve their aviation futures.